Conservatory Furniture – The Complete Guide
What makes Fair Trade Furniture different from other conservatory furniture companies out there? For one thing, our furniture has an innovative design. Many of our chairs feature one side that is higher than the other. This aesthetically pleasing asymmetrical appearance is as comfy as it is stylish!
With one side higher than the other, our conservatory furniture creates a cosy corner for you to snuggle up into. You can relax into your chair's high side and easily reach down over your low side for your favourite book or beverage of choice.
What also sets us apart from the rest is our focus on Fair Trade values. These beliefs are in our name and are at the heart of everything we do. We work closely with our suppliers and manufacturers across the world to ensure they are treated fairly for their hard work. Our conservatory furniture wouldn't be what it is without them, after all!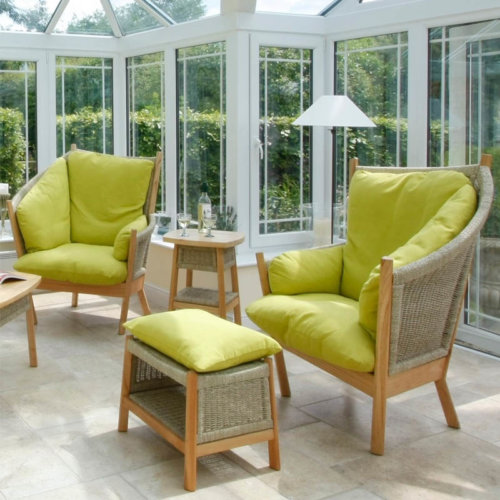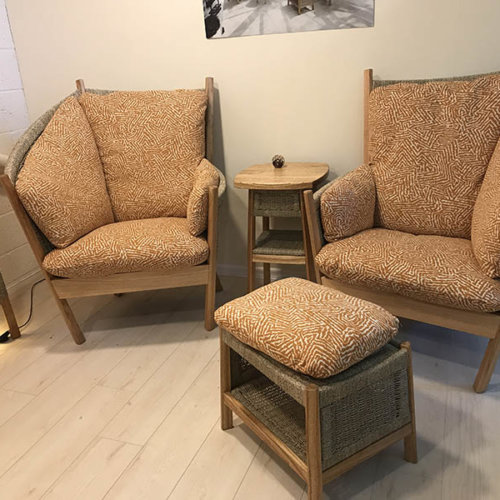 Here at Fair Trade Furniture, we feature three main ranges for you to choose from.
Any of these would make a stunning addition to your conservatory – or anywhere else in the home. Some of the products in the ranges are different, and they will use unique styles. But they all offer exceptional levels of comfort and are sourced and manufactured with our Fair Trade values.
Semarang
The Semarang is our flagship range. Here you can find a wide range of conservatory furniture, including high-left and high-right sided chairs, as well as companion chairs, and two and three-seater sofas. The collection includes coffee tables, side tables, footstools and lighting for the complete conservatory furniture aesthetic.
More Conservatory Furniture Styles
Jogya
The Jogya range of conservatory furniture wraps you up in a cocoon of comfort. Their designs feature rattan, which is one of the most enduringly popular materials. Here you can find both asymmetrical and symmetrical chairs, plus coffee table and side tables, sofas and footstools. They're a great choice for grand conservatories or more compact spaces if you're looking to make the most of a small conservatory.
Bantul
The neat and petite Bantul range is a collection of conservatory furniture that is perfect to help you make the most of the space you have available. The space-conscious homeowner can choose from high-back or standard chairs and sofas as well as accompanying side tables and coffee tables to give you the complete way to relax in total comfort, no matter how big your space.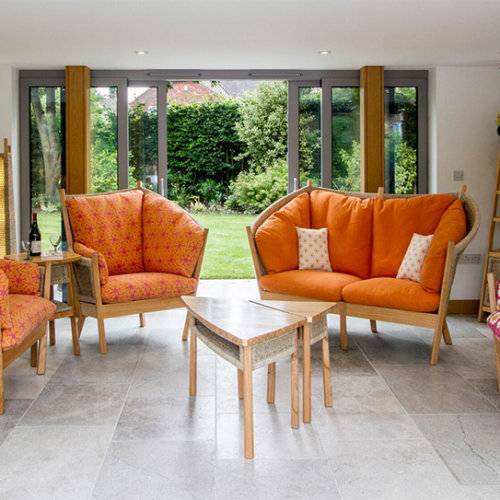 At this point you might be wondering, what conservatory furniture is right for my home? With so many options available, it can feel a little overwhelming. The great thing about a conservatory is that it's a space you can customise to enjoy any way you want, so you can choose the furniture that looks and feels right for you.
If you're looking to explore ethical furniture, you can rely on us. Take a look at the range we offer to help you decide. Ideal for any size or shape of conservatory, you can enhance the look and feel of your space with your choice of collection, style and fabric. These are all sustainably sourced even as demand continues to rise to create eco friendly conservatory furniture you can be proud of.
What's more, if you want the complete package, we have stunning conservatory furniture sets and suites available. Adorn your home with the full Semarang, Jogya or Bantul range to relax, unwind and put your feet up with our complete collections. Ever wondered why you should pair your armchair with a footstool? When you've tried ours, you'll wonder no more!
Explore our website for more modern conservatory ideas and how to modernise a conservatory if you have one that needs updating. With so many ranges available and different pieces within these to choose from, we're sure to have something that's right for you. Discover our eye-catching selection of fabrics to suit your space and your personality. Alternatively, you can opt for something traditional – our guide to modern or vintage summerhouse or conservatory furniture can help you to decide.
There is lots of competition out there in the marketplace, so take some time to look around our website and see what sets us apart. Once you start comparing conservatory furniture brands, you'll see why we're head and shoulders above the rest.
There are many ways to enhance your conservatory furniture further with your choice of accessories, such as accompanying tables or cushions. With so many stunning fabrics to choose from, our conservatory furniture cushions add to your comfort exponentially.
Our chairs feature back and side cushions with a foam core and impossibly soft duck feather. They're easy to maintain and will quickly pop back into shape with a gentle smack of encouragement. There is so much to consider in what makes modern conservatory chairs, and we understand that the accessories and cushions add a lot to the look and feel.
You can enhance your overall aesthetic by setting the mood as well. Take a look at our conservatory lighting ideas to set the tone and create an ambient feel for your space. There are lots of creative ideas for decorating your conservatory. So whether you're looking to relax, dine or entertain, you can discover the top uses for a summerhouse or conservatory and start enjoying yours right away.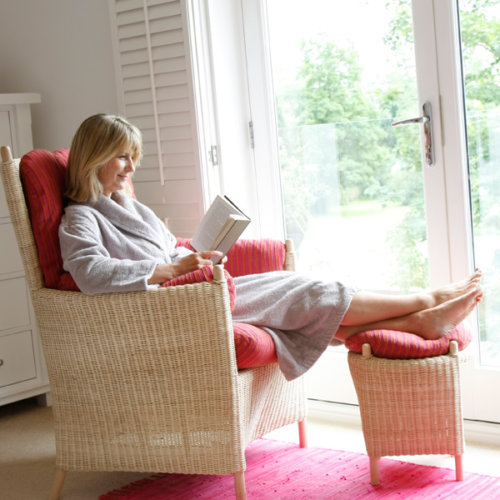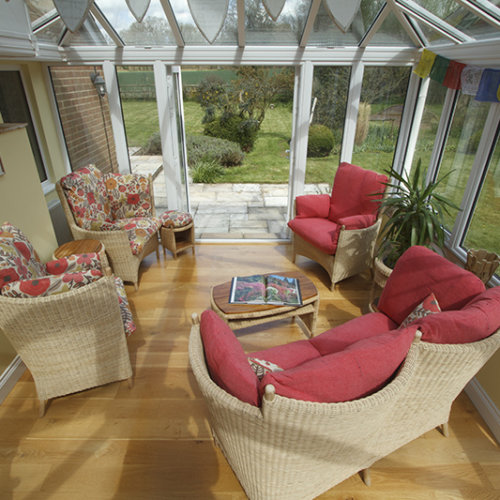 One of the most popular choices for homeowners is rattan conservatory furniture. Also known as cane conservatory furniture, this is an excellent choice for a conservatory as these pieces are resistant to heat and humidity, and they will not dry out.
Our Jogya range of conservatory furniture features rattan as the main element and boasts a structure of rattan poles and wickerwork that features pine peeled rattan. These features make this one of the most popular collections and ideal as the conservatory furniture collection of choice.
Fair Trade Furniture's guide to rattan furniture will tell you everything you need to know to make the right investment. A common concern is, can rattan furniture be used outside? If you're careful and keep an eye on the elements, you should be able to.
Our weatherproof garden furniture looks as stylish in the garden as it does in your conservatory, making it the ideal indoor-outdoor furniture. The versatility of Fair Trade Furniture's products includes various rooms around the home and the garden, so you can use it in the way that suits you and your lifestyle.
Once you've decided to decorate your conservatory, you can then look into buying conservatory furniture online. This is one of the quickest and easiest ways to improve your space, as you can explore the wealth of options available and then make your choice from the comfort of your own home! (Although you should be more comfortable when it arrives.)
At Fair Trade Furniture, we have a wide range of options available and you can explore all of these on our website. There are images available for up to 25 of our most popular fabrics on each individual piece of conservatory furniture, so you can see what your favourite chair, sofa, footstool and more will look like in some of the most classic and on-trend prints to make sure you have the most trendy conservatory furniture for your home and understand the most important features.
For a little inspiration, you may want to browse online for some of the most popular fabrics for conservatory furniture. You can then talk through your options with our team in more detail – we'll be happy to help you find the perfect fit for you.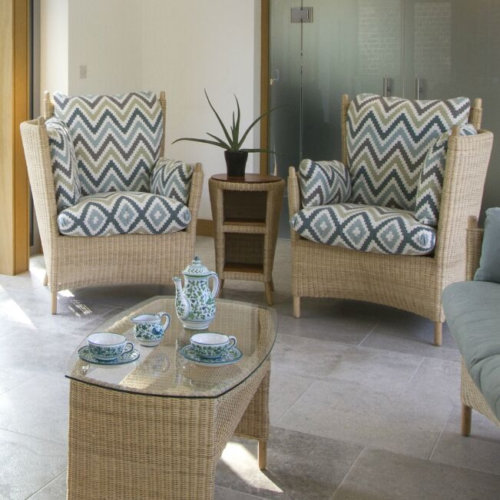 While the first step in the process may be how do you furnish a conservatory? The next step is the most important one – how are you going to use it and, most importantly, enjoy it? Wherever you are in your journey, make your next conservatory furniture investment the right one – make it Fair Trade.
Conservatories, garden rooms and summerhouses have soared in popularity over recent years due to the continuing shift in people working from home. In 2020, this was a necessity for many. Now, it is a choice and one that more and more people are opting for.
That's what makes our Fair Trade products ideal as contemporary home office furniture. Our chairs and sofas are as comfortable when you're working as they are when you're relaxing. Whether you're scrambling for your laptop on a hectic work day or reaching for a cool drink on a warm summer evening, our conservatory furniture is as versatile as it is stylish. Explore our guide to sustainable furniture companies in the UK to see what else sets us apart from the rest, and why we're the perfect choice for your new living space.
There are so many conservatory decor ideas that are timeless and those new ideas for 2023 to choose from that we're sure to have the perfect fit for your home. From inspiring home offices to welcoming social hubs, our furniture can be tailored to suit your needs, specifications and preferences with a range of sizes, shapes and configurations for our sets and suites. If your space is in need of a full interior transformation, you can find out how to revamp your conservatory and get some revamp ideas for inspiration.
Fair Trade Furniture's conservatory furniture is versatile enough to suit any space. In fact, you'll be able to enjoy it in your living room as much as you would in any conservatory! It's so stylish and comfy that it fits in anywhere.
If you're looking for summerhouse furniture, orangery furniture or even veranda furniture to sit below your canopy on your patio, we can help. Our Semarang, Jogya and Bantul ranges are perfectly suited for all kinds of spaces to give you the comfort you need.
Summerhouses are increasingly popular, as some of the top summerhouse uses allow people to work from home and relax at weekends in the same space. They're not just for summer either! Additionally, garden rooms, also known as garden buildings, are similarly standalone structures that more and more people are investing in.
If you're unfamiliar and aren't sure how to use garden buildings – well, you can use them however you like! Just like conservatories, they're great for working and relaxing, sometimes at the same time. Our Fair Trade products are excellent choices as furniture for garden rooms if you're looking for the most stylish and ethical garden room furniture available. And if you would like to know which is most popular, our data on conservatory vs summerhouse vs garden room searches has the answer – and it might surprise you!
And for those who are a little more space-conscious, our furniture for small garden rooms means you can make the most of your space with our wide range of space-saving (yet extremely comfortable) garden room sofas and chairs. We feel ours are the most comfortable garden room chairs around – and everyone who sits in them seems to agree!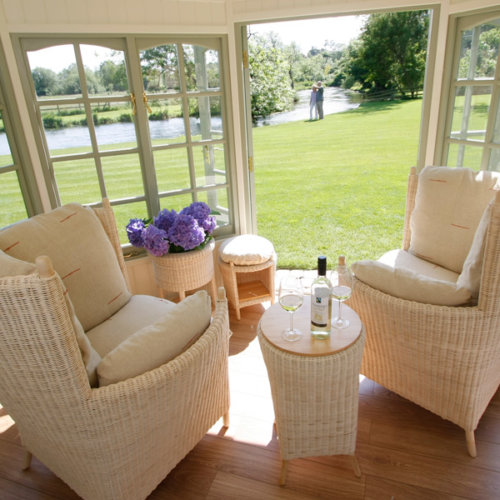 If you are looking for the most stylish and comfortable conservatory furniture on the market, choose Fair Trade Furniture. Our stunning products are sustainably sourced and ethically manufactured with our Fair Trade ethos at the heart of everything we do.
Discover our wide range of conservatory furniture on our website. Our Semarang, Jogya and Bantul ranges are available to order online and you can explore a stunning array of fabrics and colour options that will complement your living space and enhance your home. With so many choices available, we're sure to have the perfect fit for you.
You can visit us at our home showroom in Dorset where you can see and try our conservatory furniture in situ. Find the perfect shape, look and feel for you, so you can relax in total comfort all through the year. As we always say, sitting is believing! We invite you to make an appointment to come and see us.
Alternatively, you can find a limited selection at various retail display outlets across the UK. If you have any questions, please get in touch and we'll be happy to help!