Buying Conservatory Furniture
How do you go about buying conservatory furniture? While it might seem as simple as picking your favourite table or chairs, getting the right design isn't quite as easy. It's because a lot of furniture designs aren't built for sitting inside a conservatory. Builds like these are almost fully glazed, meaning furniture inside them is more vulnerable to intense light.
So, what should you consider when buying conservatory furniture? It could help to think about fabric designs and whether they are durable and hard-wearing. Another helpful way to pick the right designs is to consider the decor. You could also consider the size of your conservatory and how new furniture would fit into it. And, if you care about sustainability, then maybe that'll be an important factor in your decision.
As a result, there's a lot to think about when buying conservatory furniture. However, there's one company that does all of the above. At Fair Trade Furniture, we create durable conservatory furniture designed around spaces like these and are available in a range of colour options. And, as Europe's only independently verified Fairtrade furniture company, you'll make a sustainable investment as well.
Conservatory Furniture Design
Firstly, what your conservatory furniture will be made from is crucial. If you have old furniture with leather in the design, it's the perfect example of what not to do for putting furniture in your conservatory. Leather gets hot in the sunlight, becomes sticky, and can easily wear down. Because of this, sofas and chairs with leather become a nightmare to use on a warm summer's day.
Buying fabric conservatory furniture is much more sensible. Fabric designs are more hard-wearing than leather, meaning sofas and chairs with fabric in them are more durable and last for a lot longer. Not only that, the fabric won't fade, stain or wear down in excess sunlight. It means you can use these sofas and chairs on those bright days without having to worry about them.
At Fair Trade Furniture, we create some of the most durable conservatory furniture money can buy. You'll be able to choose from a range of fabrics, and some of our designs also incorporate sturdy, stylish rattan. Our Jogya range is also weather-resistant, meaning you could use it outside! If you want to buy conservatory furniture designed to last, look no further than our range.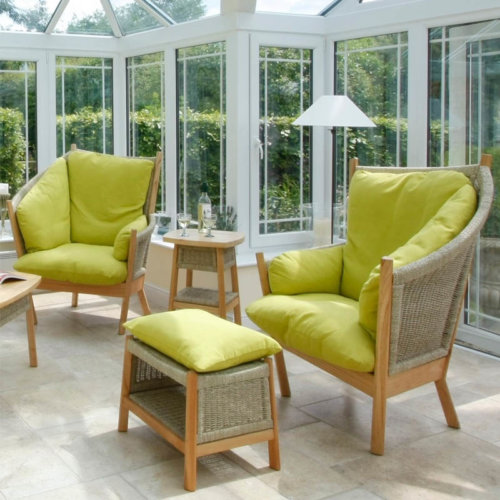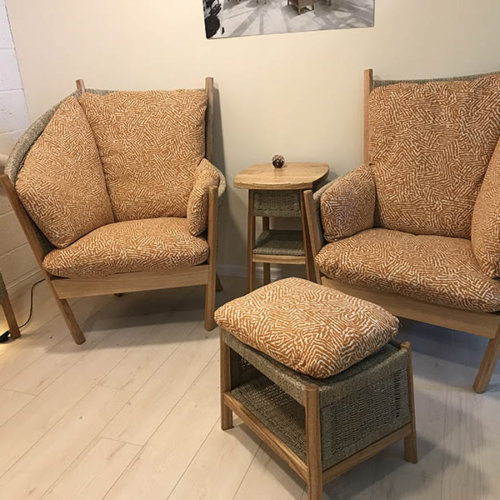 Conservatory Furniture Fit
Another thing to consider when buying conservatory furniture is how your new designs will fit your living space. If you have a smaller conservatory, then you might not have room for a big sofa. Alternatively, a large conservatory might still feel empty with only the addition of a couple of chairs. And, depending on the decor of your current design, some conservatory furniture may appear dated while some might look a little too modern.
However, our range of conservatory furniture caters to all shapes and sizes. Some of our ranges are modular, meaning you can pull them apart and reconfigure them depending on your needs at the time. And, with all of our furniture collections, you only need to pick the precise furniture you want for your space. As a result, you'll always get the right fit for the size of your conservatory.
When it comes to buying conservatory furniture around your decor, we can help there too. It's because all of our conservatory furniture is fully customisable for your home! You can choose unique fabrics in various colours to make sure your new sofas and chairs fit your living space seamlessly. We also offer unique designs, such as our distinctive asymmetrical Semarang chair.
Buying Conservatory Furniture Sustainably
When you buy conservatory furniture, you want it to last. After all, there's no benefit to buying a sofa or a chair that breaks down after only a few years. However, at Fair Trade Furniture, we think differently about how our conservatory furniture can be sustainable. It's why we're a Fairtrade company which carries those values in every aspect of our conservatory furniture.
Designed in Sweden and manufactured in Java, our conservatory furniture is the product of fair, international cooperation. We work with leading designers and pay them fairly for that work. As a result, buying our conservatory furniture doesn't only help you relax at home, but it means the people who made it will be able to relax about their earnings. And, with the sustainably sourced designs, you won't have to worry about environmental impact, either.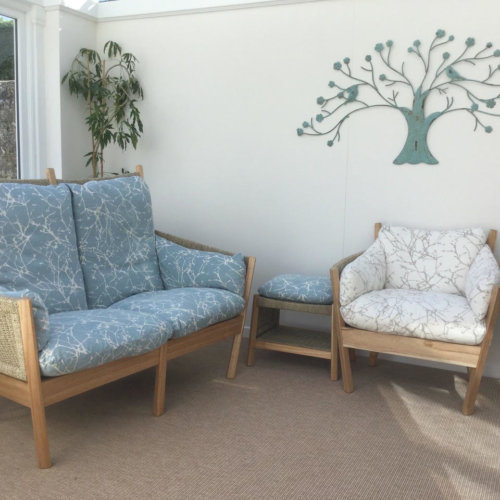 Buying Conservatory Furniture Prices
If you want to buy sustainable conservatory furniture for your home, why not get in touch today? You can explore our website, too, to have a look at the collections of conservatory furniture we offer.
And, if you'd like to speak to our friendly team, you can also give us a call on 01722 340 882. You can even visit one of our conservatory furniture showrooms to see our unique, sustainable designs for yourself today!