Comparing Conservatory Furniture
Conservatories are the perfect place to sit and relax with your friends and family at home. But to do this, you of course need to make sure you have somewhere comfy to sit and other supplementary furniture items to complete the look.
With this in mind, you want to make source you source the right furniture from the right place. That's why we've put together this handy guide to compare some of the most popular furniture options available so you can see the similarities and differences and make an informed decision.
Here at Fair Trade Furniture, we know that our conservatory, summerhouse and garden room furniture sets us apart from the rest and compares favourably to others on the market in lots of important ways – from their ethical manufacture to their innovative style and supreme comfort. Take a look at some of the other options below and make your choice.
Next is one of the largest furniture and home decor retailers in the UK, offering chairs, sofas and many more options for the home – including your conservatory. So how does it compare to other conservatory furniture brands?
Next is a popular high street furniture choice. While they don't offer bespoke products, they have a vast selection that combines quality and style, including different materials like rattan and wicker, alongside trendy fabrics and supplementary cushions to complete the look.
Nex conservatory furniture is a solid option if you're on a reasonably tight budget. It's a dependable choice, and the products are sure to last you for a few years before you need to think about replacing them. While they aren't crafted bespoke to your specifications, they have options available like cushions, throws and other accessories so you can refresh your look every now and then without breaking the bank.
As a trusted name on the high street, Next compares well to other conservatory furniture companies on the market.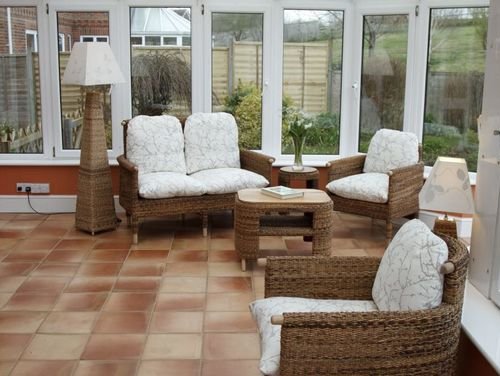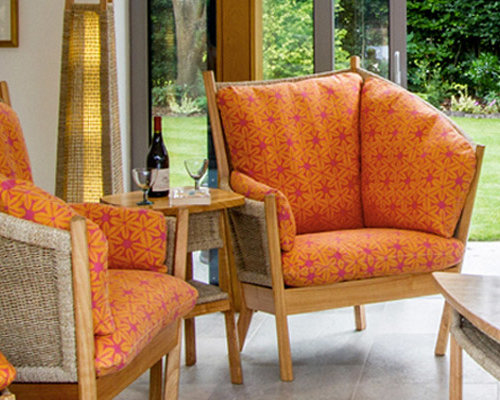 If you've ever shopped for furniture, you've likely at least glanced at IKEA's offerings! As a global furniture retailer, they have a wealth of (usually) DIY options for the home, which includes conservatory furniture. With their quirky product names and distinctive marketing campaigns, IKEA is one of the most well known options. But how do they compare?
IKEA conservatory furniture is designed for ease and affordability, offering an accessible way to meet the needs of its consumers in everyday life. These low prices are one of the main ways that they have set themselves apart. Their products are on the cheaper side – with some assembly required. If you're competent with an Allen key and have some free time, you're able to save compared to more premium brands.
There is more to IKEA than just accessibility and low prices. Their Swedish designs are as practical as they are affordable, addressing common decor problems such as limited space and storage, plus offering the ability to easily invest in new furniture and make a quick change to your decor without breaking the bank.
If you're happy to do it yourself (and if you even prefer it!) then IKEA's flat pack conservatory furniture is a good choice. When constructed correctly – and you make sure you read all the instructions in the right order! – the pieces are solid and durable, though of course they may not last as long as more bespoke, premium furniture.
Comparing one more conservatory furniture company, let's now look at Dunelm. They are a large retailer offering a range of furniture options. They provide a fair balance between quality, affordability and style. With a wide range of options, there is bound to be something to suit most, if not all, tastes.
Dunelm offers a fair balance, too, between modern and traditional. So whether you're looking to retain a classic feel or quickly update to follow the latest trends, you can readily find something available online or in store to suit your conservatory, summerhouse, garden room or any part of your house.
Unlike IKEA, you won't need to construct Dunelm's furniture yourself, generally speaking. This means they'll reach you already put together and therefore a little more durable than the DIY alternatives. With this in mind, the pieces are competitive priced, for good quality furniture at a fair cost.
Dunelm offers a good way to keep up with the trends, and its conservatory furniture and accessories will allow you to quickly and easily add a splash of colour to refresh a room without breaking the bank. As a high street store, it's easily accessible for most, plus it's online presence, so you should be able to find what you need without much trouble.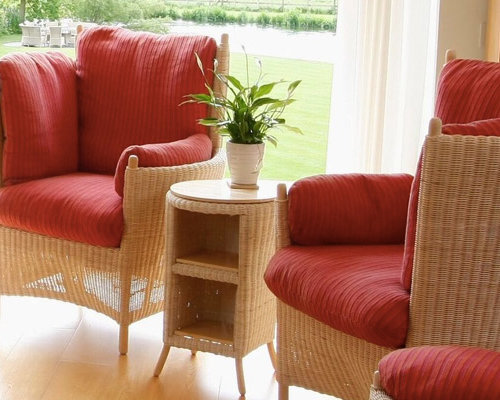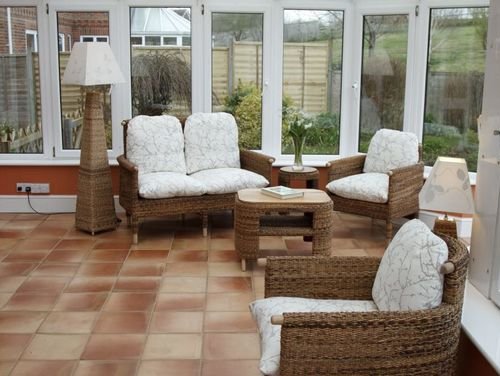 Now we'll turn our attention to ourselves. Here at Fair Trade Furniture, we're proud to offer an excellent balance between the benefits of the other companies mentioned above. Our ethical furniture is sustainably sourced and manufactured to suit your needs. We're Fair Trade through and through (that's why it's right up there in our name) so you can relax in complete comfort and with total peace of mind.
Alongside this, we know that what really matters is comfort. That's why our 'feelgood furniture' is the perfect choice for your conservatory, summerhouse or garden room – or, indeed, anywhere in the home. Innovatively designed by Swedish mastermind Tord Kjellstrom, we offer both classic style chairs as well as asymetrical profiles, with one high side for you to snuggle into and one low side to easily reach for your drink or book, giving you a cosy corner to relax in.
With our three primary collections and three more ranges available as special orders, we're sure to have the right choice for you. Browse our Semarang, Jogya and Bantul ranges – plus, many more – to find the right fit for you. Additionally, add a unique touch with your choice of the most popular fabric patterns available from market leaders, and complete the look with supplementary (and incredibly comfy) cushions for your furniture, your way.
At Fair Trade Furniture, you get sustainable, comfy, feelgood furniture at fair prices – for all involved. Take a look around our website to learn more about our products and the people and processes behind them. Then, you can visit our online shop to choose your perfect combination of range, style and fabric to suit your conservatory, summerhouse or garden room.
Conservatory Furniture from Fair Trade Furniture
Ready to invest in new furniture for your conservatory, summerhouse or garden room? Choose Fair Trade Furniture for the comfiest, most stylish and sustainable furniture around. You can see how we compare to other brands, and we how you get the best of all worlds when you make the commitment to our products and Fair Trade lifestyle.
Browse our online shop and explore our website to learn more about us. Take a look at some of our retail partners across the UK to see if there is a store or garden centre near you. Alternatively, if you're local to Dorset, you can visit our stunning showroom to meet our team and see and try the furniture for yourself. Sitting is believing – until then, you won't believe how comfortable our furniture is! Come and see for yourself.