Contemporary Home Office Furniture
With our contemporary home office furniture, you can work and relax in style inside your home. A lot of us have been working more from home as of late, but many of us aren't doing it comfortably. Some of us are sitting on old chairs and stools trying to perch on any table we have, and we've all spent a day in bed trying to get our jobs done. However, at Fair Trade Furniture, we think there's a better way to work from home.
It's because we haven't stopped working to sustainably source and supply contemporary home office and conservatory furniture of the highest quality. Our furniture has an intuitive design that lets you sit back and relax, and gives you the comfort and support you need to focus. Also, we make our furniture with modern ethical values, and we work internationally with expert designers and craftspeople. We're proud to be a Fair Trade company with strong values.
So, if you've been working from home, why not do it with our furniture? We offer a wide range of quirky, feel-good furniture collections that have unique designs you won't find anywhere else. And, with our wide range of colour and fabric options, you can create a design that complements your home and stands the test of time. Our Semarang, Jogya and Bantul ranges are sure to have designs that work perfectly for your working environment.
The Benefits of Our Home Office Furniture
With our contemporary home office furniture, you can work and relax in comfort. It's because we design our furniture around you, including unique options that are perfectly suited to working. For example, we can offer asymmetrical chairs that allow you to reach over to your drink with ease while getting more support from the other side. Not only that, we use cushions from Somerset that stay plump and soft for years to come.
Our home office furniture can also be used in several other areas of your home. If you have a conservatory or garden room, our designs are ideal for turning it into a brighter space while also dealing with harmful UV rays from the sun. And, if you ever want to sit outside in the summer, many of our furniture ranges use weatherproof rattan in their build. Because of this, you can sit in the sun while knowing your furniture won't get damaged.
Finally, our contemporary home office furniture could be the final piece of building your home office. You could pair your furniture with a new side or coffee table from our collections, or match it to your desk. That way, you can create a specific place to work and focus, and you'll free up the space you might be using to work around your home. As a result, our contemporary home office furniture could make working a lot more relaxing.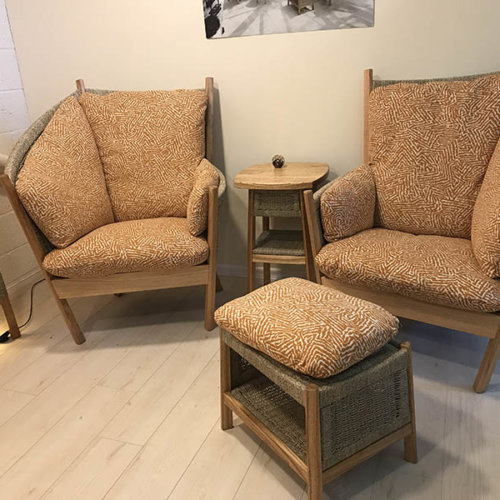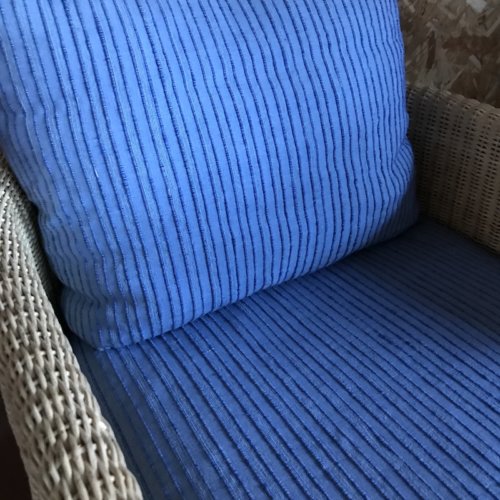 Contemporary Home Office Furniture Collections
Semarang
Our flagship range of contemporary home office furniture is the Semarang collection. This design has chairs, sofas and footstools that are comfortable for years to come, and come with hard-wearing fabrics in a range of colours. The rattan in the design is also durable, providing plenty of support, while the cushions let you sink into your chair when you want to unwind. This collection also has our unique, asymmetrical Semarang chair!
Jogya
The Jogya collection of contemporary home office furniture is our most durable. With a robust rattan structure, these chairs and sofas are just as at home outside as they would be in your home office. Because of this, you can move them around with ease when you aren't working to seat guests in your home. And, when you take them outside, wind and rain won't cause any major wear to the structure of your furniture.
Bantul
You could also opt for our Bantul range of contemporary home office furniture for your home. The Bantul range has a retro feel, with a banana fibre design that is both stylish and sturdy. Additionally, this range comes with several furniture options, meaning you can decide exactly how you like to work and focus. You can also customise these furniture designs with our fabric and colour options to suit your office space seamlessly.
Sustainably Sourced Home Office Furniture
What makes Fair Trade Furniture unique is our strong belief in our values. We not only believe that home office furniture should be comfortable and long-lasting, but that it should come from people who've been properly paid for their work. That's why we've set out and achieved the goal of being Europe's only independently verified Fair Trade furniture company. Because of this, we can sustainably and ethically source our designs in a fair way.
It's this commitment to Fair Trade values that allows us to take a global approach to our work. Our furniture collections are designed by Swedish innovator Tord Kjellstrom, while many of our sofas and chairs are hand-made by expert craftspeople in Java. From there, we can deliver these designs to your home in the UK, all while making sure everybody gets their fair share. You won't only invest in home office furniture with us – you'll invest in people too.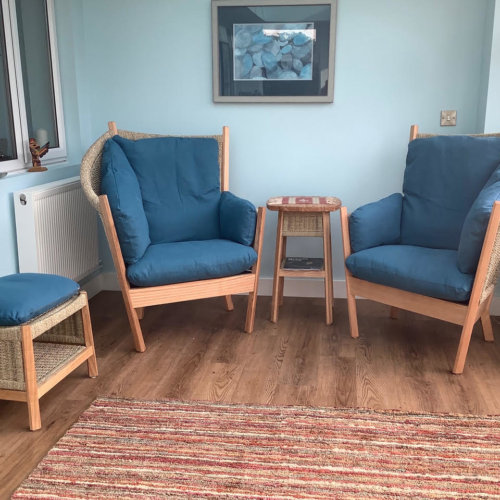 Contemporary Home Office Furniture Prices
If you're interested in getting some of our contemporary home office furniture, get in touch with our team today. Alternatively, explore our site to discover our full range of options for your home.
You can also speak to our team by calling us on 01722 340 882. And, if you'd like to see our home office furniture, visit one of our furniture showrooms to get up close and personal.