Conservatory Furniture – Sets & Suites
At Fair Trade Furniture, we offer a range of conservatory furniture sets and suites. That means you can pick from various options to find a set that works best for your space. We have a range of collections that all come with sofas, chairs and much more besides. And, with us, you can pick the perfect set you want to suit your home.
When you choose our conservatory furniture, you'll get a bold design that lasts for decades. We combine Swedish design with handcrafted manufacturing in Java, meaning you get furniture that stands out straight away. Not only that, but our conservatory sets are tailored to these areas. As a result, they can deal with the intense sunlight without staining, ensuring they stand the test of time.
Also, you'll be working with the first independently verified Fair Trade furniture company in Europe. That means you won't only get a great deal for your home, but you'll make sure everybody who's made it does to. If you have the same values we do and want conservatory furniture suites and sets that lift your home, Fair Trade Furniture is the ideal choice.
Why Choose Conservatory Sets & Suites?
With our conservatory furniture sets and suites, you can design a new look for your space. The sets have one design, meaning every part of it will blend in with the other. That way, your space will look more cohesive, and it will feel more comfortable. We offer a range of coloured fabrics, meaning we give you more choice in how your conservatory could look.
Not only that, but many of our conservatory ranges are modular. That means you can combine different parts of the range into one set, and you can change the way they come together. Because of this, it's easy to move the furniture away to create more floor space or bring it back for guests. No matter what your needs are, you can tailor our conservatory sets and suites around them.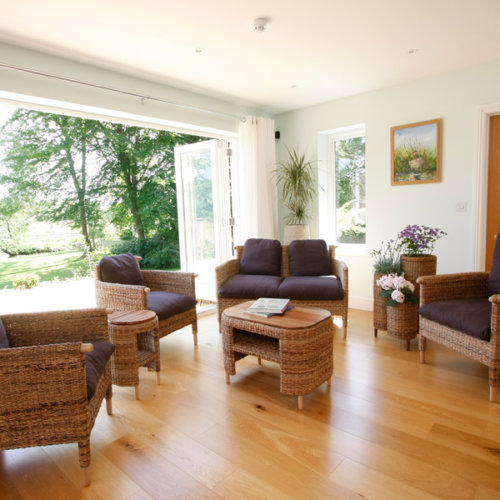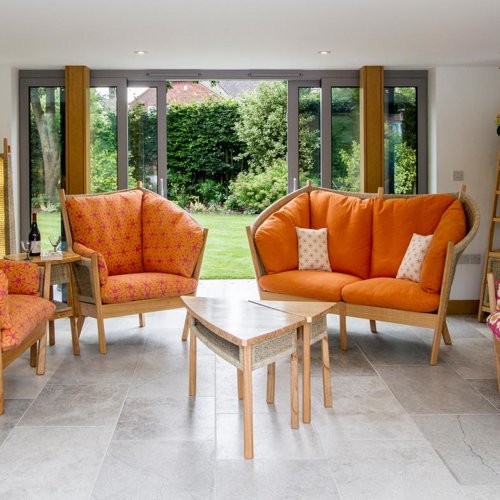 Semarang Conservatory Furniture
Our flagship range of conservatory furniture sets is the Semarang range. With durable fabrics, plush cushions and a range of unique designs, the Semarang collection is the ultimate in feelgood furniture. You'll find sofas, chairs, coffee tables and more that are bold designs for your home. They include the Semarang chair, which has a high side that's perfect for relaxing into after a long day.
The Semarang range of furniture is also adaptable. As a result, you can put this furniture in a sunroom, garden room or another space and it'll work just as well. Because we use hard-wearing fabrics, the furniture won't wear down or grow heavy inside your conservatory. That way, you can make an investment that lasts for years to come.
Semarang Conservatory Suites & Sets
The main option of the Semarang conservatory furniture sets and suites is the 4-piece conservatory set, ideal for summerhouse and garden rooms as well. This set works superbly in a smaller build, giving you enough furniture to relax and unwind in. The set features two unique Semarang chairs, a footstool to put your feet up, and a side table so that everything you need is to hand. However, you don't have to stick with that collection.
You could choose to add other designs within the Semarang range, such as a cabinet, or a more adjustable footstool should you feel you need it. Additionally, we offer 12 popular colour and fabric combinations, with other options available, so you take full control of your conservatory's design. We even offer a 5-piece conservatory suite if you have a larger space!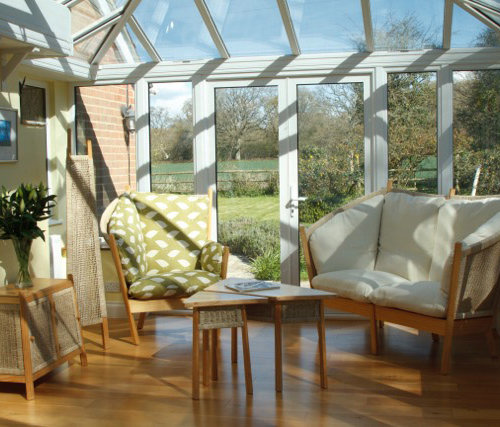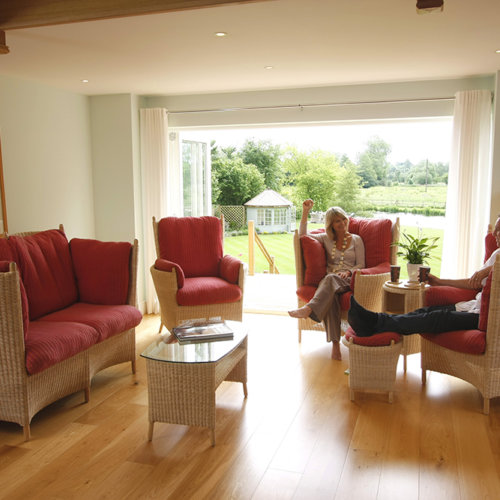 Jogya Conservatory Furniture
Another popular range of conservatory furniture sets and suites that we offer is the Jogya collection. The Jogya design is more hard-wearing, meaning it can deal with more of the elements. Their sofas, chairs and other designs make use of rattan, a durable material. With rattan, your furniture won't stain in the sunlight or wear down in most conditions.
You'll even be able to take the Jogya range of furniture outside without hassle, ideal for enjoying warm summer days. And, should the weather turn on you, the Jogya range can withstand a downpour should you accidentally leave it out. It's hard-wearing fabric and plush cushioning retain their softness for years to come.
Jogya Conservatory Suites & Sets
The most popular option in the Jogya range is our 4-piece sets and suites. The main 4-piece set has a left and right chair, with an asymmetrical design that wraps behind you depending on which side of your space you'd like to sit in. Your set will also come with a comfortable footstool and a useful side table, using a structure of rattan poles and wickerwork.
You could, however, choose to go for a different set. The Jogya range features other designs, including a two-seater sofa, and you can opt for a 7-piece sofa set to turn your conservatory into an open social space. Our range of fabrics and colours is just as broad within the Jogya collection, giving you total control over the look and feel of our conservatory furniture sets.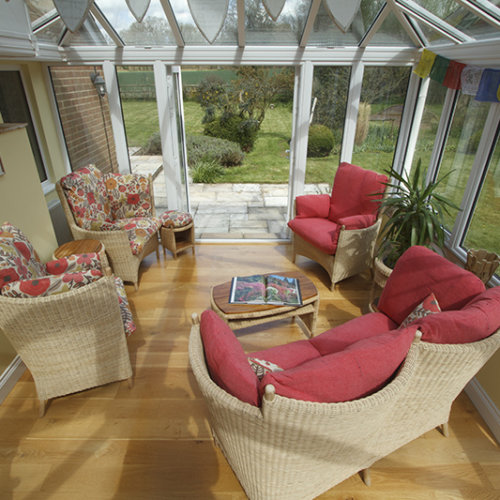 Fair Trade Conservatory Furniture Sets & Suites
You can find out more about our conservatory furniture sets and suites by exploring the Fair Trade Furniture website today!
Discover our stunning designs in our online shop, and get in touch using our online contact form for further information about our conservatory suites!
You are also welcome to call us on  01722 340 882 and book an appointment to visit or showrooms or retail show sites across the UK.