Conservatory Furniture Bournemouth
Choose feelgood furniture for your Bournemouth home.
Are you looking to enhance your conservatory, summerhouse or garden room in Bournemouth? Perhaps you have a space that's in need of reinvention or are planning a new build that needs a completely new suite. Whatever you need, we can help!
Here at Fair Trade Furniture, we specialise in stylish and comfortable furniture for all kinds of living spaces. Plus, with Fair Trade at the heart of everything we do – it's right there in our name, after all – you can rest assured that you're choosing ethical, sustainably sourced and supremely comfy chairs, sofas and much more.
Here, you can find out more about the flagship conservatory furniture collections that we offer to homeowners in Bournemouth and the surrounding areas. With the Semarang, Jogya and Bantul ranges available, all of which can be chosen in various on-trend or traditional fabric colour options, there's sure to be the perfect fit for you. Talk to our team for more information, or arrange your visit to our Dorset showroom.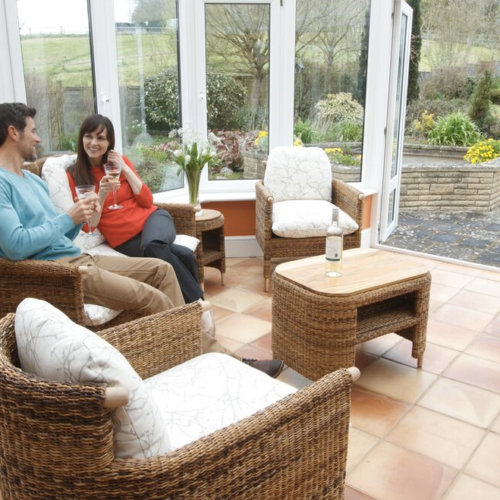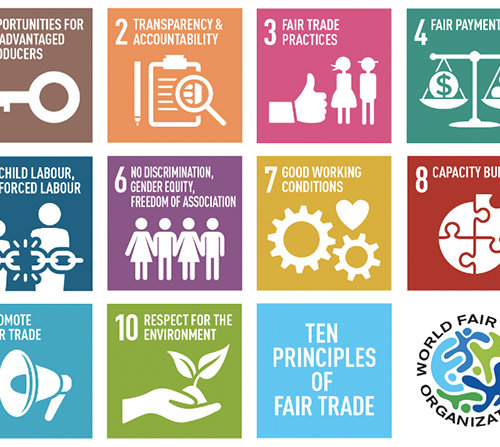 Proudly Fair Trade in all our products and values.
Our Fair Trade values sit proudly at the heart of everything we do. From the manufacture of our conservatory furniture with our partners in Java, Indonesia, right through to setup and delivery from our UK team, we know that the passion and commitment that goes into the process is evident when you finally settle down to sit in your new chair or sofa.
In fact, we were the first company in Europe to be independently verified as Fair Trade. That means there's far more to us than other conservatory, summerhouse or garden room furniture stores in Bournemouth and nearby areas. We truly care about our footprint and our legacy – when it comes to people and the planet. That way, you can truly sit comfortably and with total peace of mind in your new conservatory furniture.
Style and comfort are at the heart of our flagship range.
The Semarang collection of conservatory furniture is our flagship range. It features both classic symmetrical styles and asymmetrical options, with one high side and one low side. This creates a cosy corner for you to snuggle into, while allowing easy access for you to reach over and grab your favourite book or refreshing drink.
Choose from chairs, sofas, sidetables, footstools and more to build the Semarang suite of your dreams. Ideal for transforming any conservatory, summerhouse or garden room, these pieces are available in a wide range of fabric options. So whether you're looking for something traditional or modern, there are choices abound. With the addition of feather filled cushions, you'll never know style and comfort like this.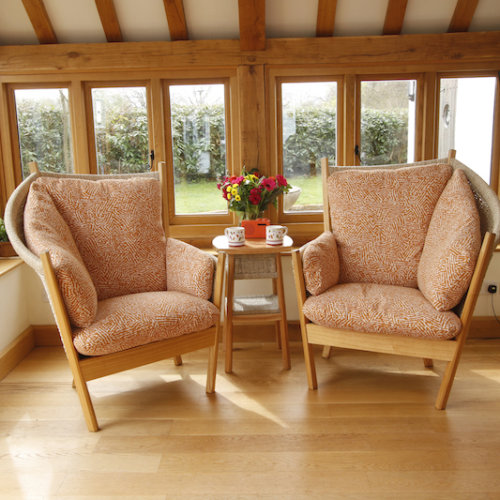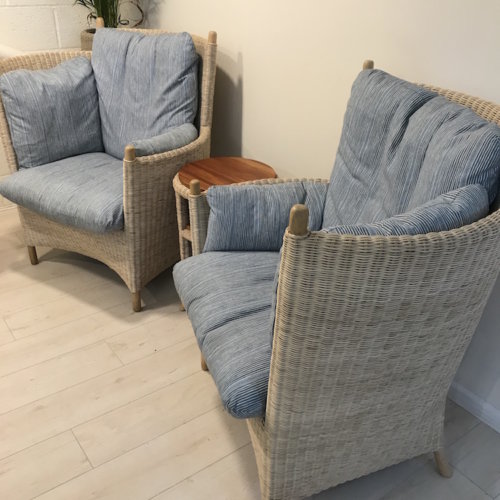 Let our Jogya conservatory furniture wrap itself around you.
Take a look at our Jogya conservatory furniture range. It's tough and durable, meaning it's just as comfortable (literally and figuratively) in the garden as it is in your conservatory, summerhouse or garden room. Just remember to bring it in if it rains to keep it protected and looking pristine.
The Jogya range of conservatory furniture is perfect for homeowners in Bournemouth and surrounding areas. It boasts a distinctive hand woven design that's also tough and durable, combining style and performance in abundance. Pair your chosen Jogya chair with a sofa, side table and footstool from the same range to complete and look and transform your conservatory, summerhouse or garden room today.
Comfy and compact for smaller spaces.
Our third flagship option for your conservatory, summerhouse or garden room furniture in Bournemouth is our Bantul range. This array of pieces is neat and petite. Its compact yet comfy style can fit into the smallest rooms, making them ideal for the space conscious homeowner or those limited by a challenging space.
It features a beautiful banana fibre weave, with wickerwork woven onto rattan poles. This gives it a classic conservatory furniture feel that's even comfier than you could imagine thanks to the addition of luxurious feather filled cushions. For a truly feelgood chair that can slot neatly into the snuggest spaces, choose our Bantul conservatory furniture.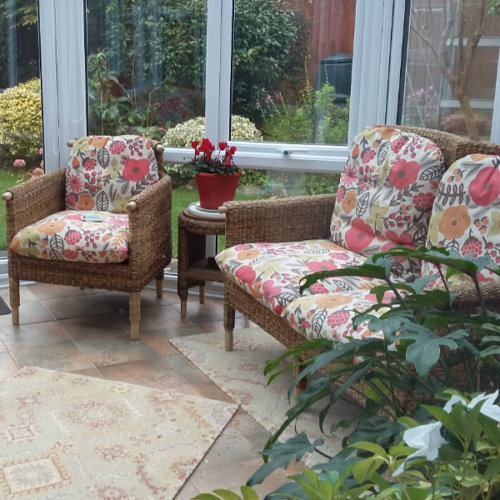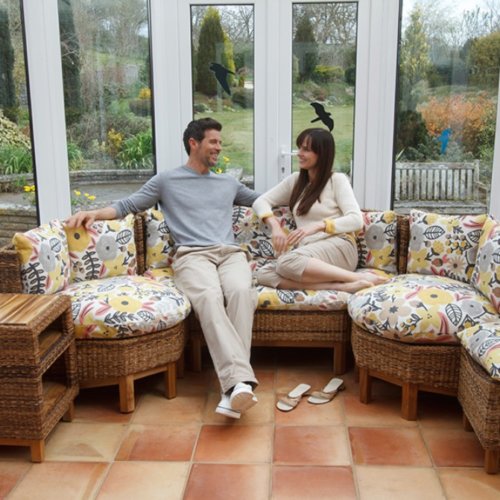 Conservatory Furniture Prices Bournemouth
Competitive conservatory, summerhouse and garden room furniture prices for your home.
Start your conservatory furniture journey today with Fair Trade Furniture. Courtesy of our Fair Trade values that are at the heart of everything we do, you can rest assured that you're making a wise investment in stylish, comfortable and ethical pieces.
Once you've explored our website, you can purchase via our online Shop or arrange a visit to our local Dorset Showroom. Here, you can see and try our conservatory, summerhouse and garden room furniture in situ, and discuss your transformation plans with our team. Sitting is believing, so take a seat – until then, you won't believe the comfort!