Trendy Conservatory Furniture
Trends are ever-changing and it can be difficult sometimes to keep up. This is true in many walks of life, including your conservatory, summerhouse or garden room. You want your home to look its best for you and visitors, so it's important to know what are the latest conservatory furniture trends for 2022 and beyond.
Here at Fair Trade Furniture, we know what it takes to keep up with the Joneses and go one better with timelessly stylish and comfortable conservatory furniture. While trends will come and go, there are certain features of furniture that will always be in fashion – bespoke looks, designs suited to your space, and the ability to relax like never before.
Additionally, sometimes you'll want to go against trends and create something entirely unique. If you consider yourself something of a trendsetter, or if none of the currently in-vogue options seems right for you, why not create something completely unique! We have the range of fabrics and styles to make any stylish and comfy conservatory furniture a reality – no matter how on- or off-trend it may be!
Trendy Conservatory Furniture Materials
Two of the most popular and trendy conservatory furniture materials are cane and rattan. These both bring a distinctive look and feel to any piece, and they are often associated with conservatories – this is one trend that has stood the test of time, and looks set to continue to remain popular, making them a sensible investment.
At Fair Trade Furniture, our Jogya range embraces rattan, making this collection one of our most desirable. Plus, rattan's inherent strength makes it impressively durable too, so this is one range of trendy conservatory furniture that is built to last in every sense. Many of our ranges evoke classic conservatory furniture trends, while taking them in a new direction with bold, innovative designs for a modern take on a traditional feel.
While it seems wrong to call it 'trendy' an increasingly aspect that homeowners look for in their conservatory furniture is where it is sourced from. Is it sustainable and eco-friendly? People's passion for this goes beyond trends, but it has nonetheless become an important consideration for customers. At Fair Trade Furniture, our view on the importance of this is right there in our name – every part of the process, all throughout manufacture, is Fair Trade in every way, sustainably sourcing materials that are developed and crafted in an eco-friendly way.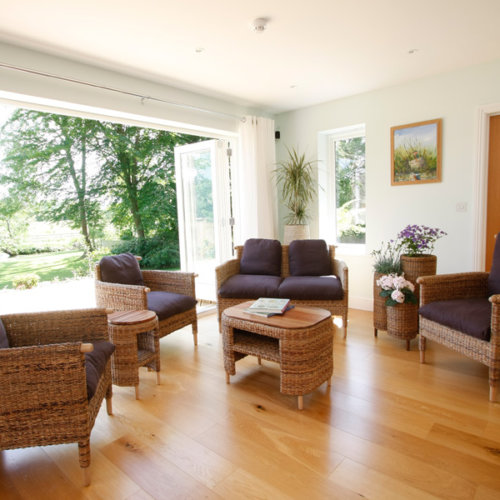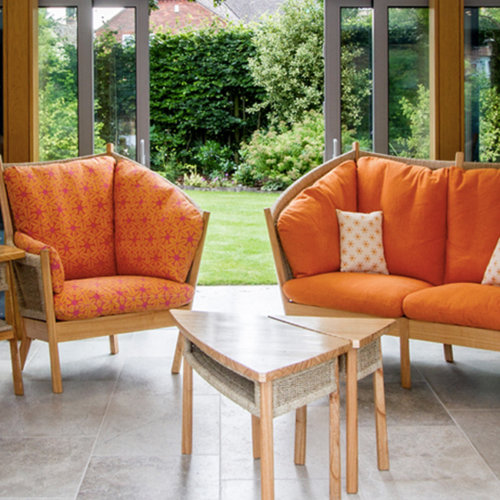 Trendy Conservatory Furniture Fabrics
One of the most important considerations for your furniture is the fabric. With the basic shape and frame in place, you want to be able to put your own stamp on the design and decorate it in a way that looks and feels right to you. Here at Fair Trade Furniture, we're proud to offer a vast range of fabrics from Romo, Linwood, Vanessa Arbuthnott and more!
So what are the most trendy conservatory furniture fabrics in 2022 and beyond? One popular aesthetic is to embrace the way your conservatory exists almost between your home and garden, halfway between the two, by bringing the outside in. Floral prints, bright colours and flower patterns are some of the biggest and best trends. Yellows and green can really make your new chair or sofa pop, and nature-inspired prints help these to stand out even more.
The best way to understand just how much of a difference fabrics can make to your chosen conservatory furniture pieces – whether you're looking to follow trends of just your own inspiration – is to see how they look. Visit our Fabrics page to try various colours and designs on our collections using our innovative interchangeable swatch feature. We're sure to have one you love!
Trendy Conservatory Furniture Designs
Beyond materials and fabrics, what's really important for a chair or sofa – be it for your conservatory, summerhouse, garden room or anywhere in the home – is how comfy it is. At Fair Trade Furniture, our ranges were designed to be 'feelgood' in every way. Not only in how you can appreciate their craftsmanship and where they are sourced from, but also how they make you feel when you sit in them.
Many of our most popular pieces feature an asymmetrical design – that is, one side is higher than the other. This means you have a corner that you can snuggle into with a high side that wraps itself around you to make you cosier than you ever thought possible. With the other, lower side, it's easy to reach for your drink or your favourite book, so everything you need is at hand to be totally relaxed and carefree in our comfy conservatory furniture.
While asymmetrical conservatory furniture may not have been one of the most trendy conservatory furniture designs, it's certainly one of the most popular and is one of our most popular. This just goes to show how, while you can take a look at furniture trends for ideas and inspiration, you don't have to be bound to them and you don't always need to follow as others do. We took the lead in conservatory furniture designs with our unique vision, and everyone who has sat in them will tell you how much it has paid off.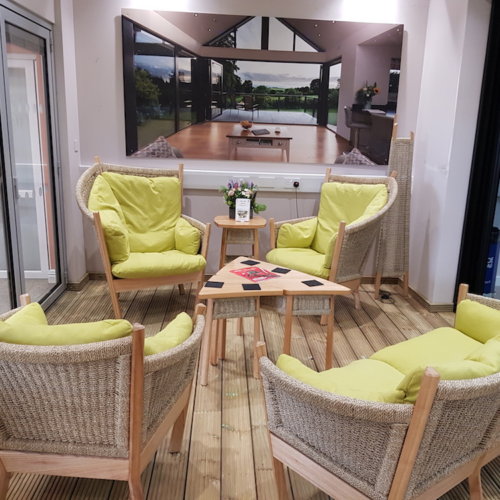 Trendy Conservatory Furniture from Fair Trade Furniture
Take a look around our website to see our various collections and how they can line up with the latest trends – or defy them. Whether you're looking to follow others or stand out from the crowd, we're sure to have something for you.
Trying our stylish and comfy conservatory furniture and seeing it in situ is the best way to know what is right for you, so why not arrange a visit to our stunning showroom ? And remember, you can see our full range of fabrics online, and even explore our online shop.
Talk to our team about trendy conservatory furniture today and what is right for you. We look forward to speaking with you soon!