Our summerhouse furniture brings comfort and style to your home.
At Fair Trade Furniture, we have seamlessly combined our ethical outlook with high quality design, offering great summerhouse furniture that can be enjoyed year-round.
We believe customers everywhere should enjoy the great quality of our summerhouse furniture. We offer a wide variety of different ranges, all of which can be customised with your choice of fabrics and accessories, so you can be sure to find the right summerhouse seating for you.
At Fair Trade Furniture, we understand that a summerhouse can become a very special space. It's full of potential, and the perfect furniture set can really complete the look. Whether it is being used as an additional room or even just for relaxation, we aim to offer unique summerhouse furniture that you can cherish and enjoy.
Stylish and Functional Summerhouse Seating
Swedish design and Fair Trade crafting creates unbeatable summerhouse furniture.
Our partnership with Swedish designer Tord Kjellstrom has led to the great look of our furniture. He was tasked with creating supremely comfortable and stylish summerhouse seating, which led to the inspired invention of his asymmetrical furniture designs. This means it's never easier to relax with your new summerhouse furniture, as you can reach down and grab your drink or book easier than ever.
Combining unique style with the highest quality materials has resulted in our summerhouse furniture looking wonderful whilst staying comfortable. When choosing any of our summerhouse furniture products you can rest assured that you will not only be getting quality but also committing to an environmentally conscious way of life.
With Fair Trade as the inspiration, we have created comfy summerhouse chairs, sofas and all kinds of furniture – with a dedicated balance between comfort and style, as well as people and planet.
Our feelgood mantra means we want you to enjoy complete relaxation of your body, mind and spirit. The result is the tsantai™ collection of summerhouse furniture. Its name comes from the word santai meaning relaxation and feeling good in Indonesian, and it's just one of the ways we pay homage to our craftspeople around the world in our summerhouse seating.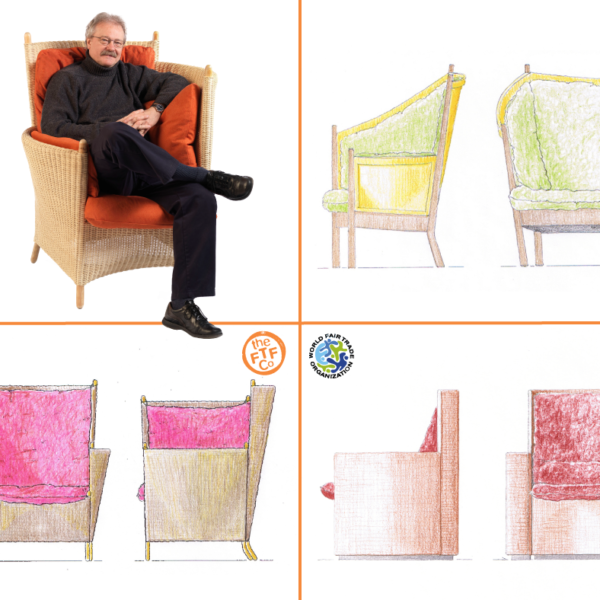 We are working to create an ethical process and legacy.
Our mission is to introduce fair trade as a way of life for our customers. By developing summerhouse furniture that only uses fair trade materials from a dedicated team of producers and craftspeople in Indonesia, we remain committed to developing the means for us to minimise our impact on the environment and leave a positive lasting legacy.
We can trace all the materials used in our summerhouse furniture to their source. This ensures that the environment is not harmed during the process. We can also monitor the quality of both materials and construction to ensure our summerhouse seating is of the highest standards and reaches you in great condition.
Our relationship with our summerhouse seating suppliers is so important, and that is why we focus on ensuring that they are paid a fair wage and promise to maintain a work environment that is both clean and safe. This level of workmanship is reflected in the outstanding quality and comfort of our summerhouse chairs, sofas and more.
We believe that everyone benefits from the fair trade of our summerhouse furniture; our suppliers, workforce and customers.
If you're interested to learn more and try our summerhouse furniture for yourself, why not book an appointment to visit our stunning showroom? We look forward to seeing you soon!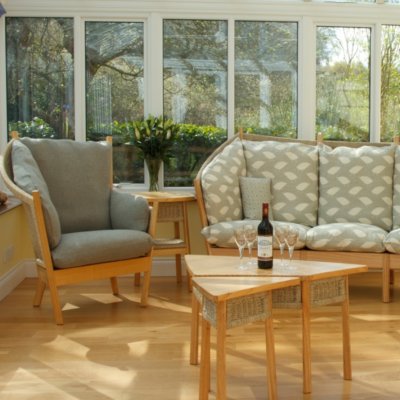 Our quirky and stylish flagship range.
Semarang is our flagship range of summerhouse furniture and one of our most popular. Named after the port just 45 minutes away from our partners' factory in Java, Semarang embodies that Fair Trade ethos that we stand for.
The quirky designs of this summerhouse seating range paired with its beautiful craftsmanship make for the perfect addition to a relaxing summerhouse that can be enjoyed by the whole family.
Semarang is a highly adaptable range. With a wide variety of fabric options to choose from, you can customise your summerhouse furniture exactly the way you want. Whether you're looking for something light and airy or trying to maximise your levels of comfort, we're sure that the Semarang collection of summerhouse seating is right for you. We'll help you find the perfect summerhouse house chairs and more that are as good to look at as they are comfy to sit in.
Bold, unusual and uniquely comfortable.
Our Jogya summerhouse furniture range stands out from the crowd with its bold and unusual design. The wrap-around high sides of the asymmetrical Jogya chairs embrace you, while the low sides create a practical space for your drinks station!
Left and right chairs combine to make a wonderful social area as part of your living space. The sofas and symmetrical chairs allow you to make up a suite for whatever number you want to accommodate as part of your summerhouse furniture.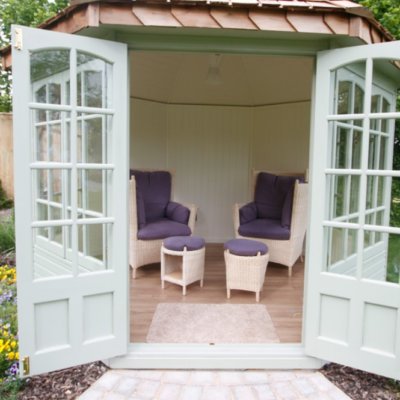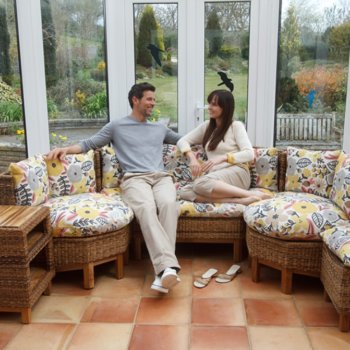 Fair Trade summerhouse furniture that's ideal for your home.
The modular design of our Jepara summerhouse furniture range allows you to create various layout options to suit your home depending on the space you have available.
As one of our most flexible summerhouse seating solutions, products from the Jepara range perfectly complement smaller summerhouses. By maximising on space, you can make the most out of your living area and keep it versatile and flexible all through the year.
Cylindrical and supremely comfortable.
The Kartosuro summerhouse furniture range is a classic design. The straight vertical lines of the chair structure contrast with its nearly circular cross-section when seen from above. From behind you see an impressive woven sculpture and from the front, a comfortable, well-balanced armchair!
This range adapts well in a range of summerhouse seating layouts, whether it is as a standalone piece or introduced as a set of summerhouse furniture. The main material used in our Katrosuro range is pale banana fibre, which is then woven onto a rattan pole skeleton. The materials used make it a perfect addition to a light and airy summerhouse.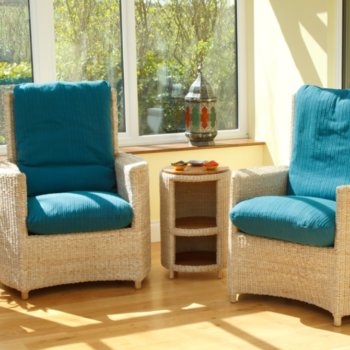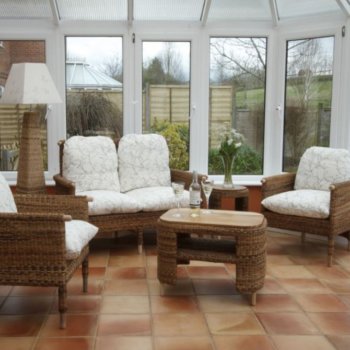 Neat and petite to maximise space.
The Bantul summerhouse furniture pieces have a retro feel to them. The distinctive weaving in this range of summerhouse seating is done with banana fibre and the beautiful wickerwork is woven onto a structure of rattan poles. The result is a compact chair which exudes quality and shows off the sheer craftsmanship of our weavers.
The Bantul range of summerhouse seating is great for smaller spaces due to its petite dimensions and lightweight frame, making it even easier to move around. Our summerhouse furniture is versatile and flexible, so you can choose the right decisions and combinations to suit your needs.
Summerhouse Furniture Showroom
Visit our stunning showroom in Dorset.
We would encourage homeowners to come and try our ethical, stylish and comfortable summerhouse furniture for themselves. We have a stunning showroom in Dorset with our extensive summerhouse seating range on display.
With a wide range of summerhouse chairs, sofas and more to choose from – all of which are incredibly comfy and available with bespoke fabric options – we're sure to have the perfect fit for your home.
Book an appointment and pop in to see the incredible summerhouse furniture designs for yourself – sitting is believing!