Eco Friendly Conservatory Furniture
At Fair Trade Furniture, we're committed to the wellbeing of our Fair Trade partners across the world in Indonesia. We put people at the heart of everything we do. That includes making sure our expert craftspeople are living and working in comfortable conditions, as well as ensuring all our valued customers are completely happy with our comfortable and stylish conservatory, summerhouse and garden room furniture.
As part of our Fair Trade commitment, we also look to support the environment as much as we support people. One of our four key central values at the heart of our daily operations is to minimise our environmental footprint. Our love of the environment and our passion to create sustainable products has led to our eco friendly conservatory furniture.
Committed to Sustainability
Commitment to the environment and implementing and encouraging sustainable practices is one of our ten primary Fair Trade principles. Our eco friendly conservatory furniture is the result of this. If you would like to find out more details, you are welcome to contact us to learn more.
Here, we'll take you through how our Fair Trade values have influenced and driven the creation of our eco friendly conservatory furniture across all our ranges. We believe that everyone benefits from our people- and planet-focused commitments, which is why we're keen to share our passion for eco friendly conservatory furniture with you.
Mindi Wood – An Eco Friendly Discovery
Many of our stunning pieces of furniture use Mindi wood, found in many parts of Java. Our implementation of Mindi in our Fair Trade designs is another revolutionary aspect of our products. This material was brought to our attention with the help of our partners in Indonesia. Previously, it had never been used or even considered for use when constructing furniture. Now, it is a vital part of our process for creating eco friendly conservatory furniture.
Mindi wood is featured in our elegant and functional Semarang Dining range. As part of our flagship range, it is named after a port in Indonesia, close to our partners' factory – and is another way we honour our Fair Trade commitments and make them clear for all to see. The Semarang Dining range of eco friendly conservatory furniture combines Mindi wood, seagrass and glass to create a design with flair with enhances any dining experience with friends or family.
Until we at Fair Trade Furniture discovered Mindi's potential in the furniture construction world, it was previously used only by farmers to demarcate land. Its tall and fast-growing nature makes it ideal for this. We visited the town of Boyolali to ensure our Mindi wood was being sourced in a sustainable way for our eco friendly furniture.
Our founder, Hugh Ross, personally visited to ensure our eco friendly furniture is sourced and created in a sustainable way. We ensure that our Mindi wood is regularly replaced, whenever there is space and saplings available to fill the gaps we may create. Mindi's versatility means that all of what we harvest is used – any additional branches or small pieces are sold off to make sure our conservatory furniture is fully eco friendly.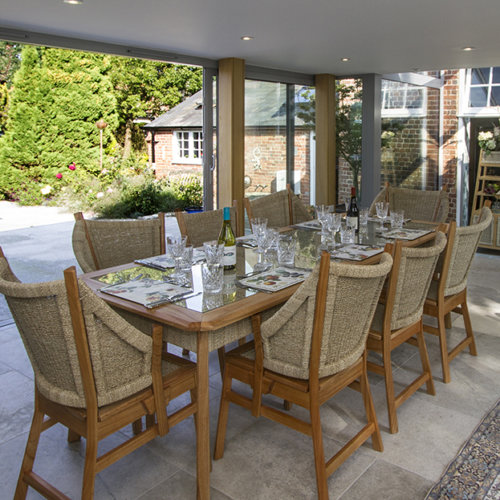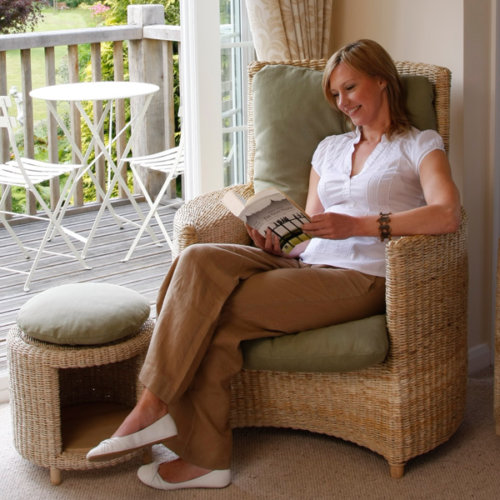 Banana Fibre – Weaving An Eco Friendly Future
Many customers are intrigued to learn that our stunning eco friendly conservatory in the Bantul range uses banana fibre. This creates the distinctive weaving that contributes to these chairs and sofas' eye-catching appearance.
If you're wondering how banana fibre factors into our eco friendly furniture, we will explain. The material itself comes from the stems that surround the trunks of the banana tree. They are peeled off and plaited into a fibre which is as strong as it is beautiful. The banana trees grow rapidly, and as such as cut down each year once they have fruited. They are an eco friendly conservatory furniture solution, the leaves used in creating the banana fibre are a by-product that would otherwise be wasted. As part of our Fair Trade commitments, we want to make sure we use everything that we can.
Banana fibre has multiple benefits for our customers in that we utilise something would otherwise not be, to contribute to meeting our Fair Trade commitments. It is also versatile due to its colour, which allows it to be used in multiple ranges of our eco friendly conservatory furniture. While dark banana fibre creates the distinctive appearance of the Bantul range, we use pale banana fibre to craft our Kartosuro eco friendly conservatory furniture.
The Kartosuro range boasts a design inspired by cylindrical drums. It is a beautiful piece that looks its best when viewed from the back and sides to highlight its recognisable shape. Pale banana fibre contributes to this appealing piece of eco friendly conservatory furniture that makes a stylish and comfortable addition to any living space. With banana fibre woven onto a rattan pole skeleton, it's a stunning look that won't be forgotten, created with Fair Trade values that deserve to be remembered.
Eco Friendly Conservatory Furniture For Your Home
If you're looking for eco friendly conservatory furniture, you've come to the right place. While the Mindi wood and banana fibre that we use are only two small parts of our environmental commitments, they highlight the revolutionary ways that we design and craft our pieces to make sure they lead the way in Fair Trade commitments for all.
You can read more about our commitment to our environmental sustainability. We welcome you to explore what we've done and what we plan to do in order to meet our goals for a more environmentally friendly way of life. Our eco friendly conservatory furniture is an extension of the Fair Trade values that drive everything we do. For everyone at Fair Trade Furniture, this is a passion, a commitment and a way of life. We would love for you to join us.
Our eco friendly conservatory furniture is available in customisable designs that look their best in large of small conservatories, summerhouses, garden rooms or anywhere else in your home you like to relax. Their innovative design makes them as stylish and comfortable as they are eco friendly, so you are investing in furniture that will look as good as it will make you feel.
If you would like to try our feelgood furniture for yourself, we would love to welcome you to our stunning Dorset showroom. We have our vast collection of eco friendly conservatory furniture on display, and they're all available for you to try. Book an appointment and visit us today to find out more.
We look forward to seeing you soon!