Conservatory Furniture Nottingham
Discover the ideal feelgood furniture for your Nottingham home.
At Fair Trade Furniture, we offer brand-new conservatory and garden room furniture for homes in Nottingham. However, our designs are brilliant. Unlike other options, we make our furniture to be perfect for conservatories. That means they're durable enough to deal with the light in the space and hard-wearing enough to last for decades as well.
You'll also get a bold, stylish look for your space with Fair Trade Furniture. We work with Swedish designer Tord Kjellstrom, who has created quirky, unique furniture ranges for us. Tord's designs are bold and bespoke, with furniture options that make life at home a little easier. And, with our range of designs and customisable colours, you can style them to your needs.
We've also made it easier to see our conservatory furniture for yourself. We've partnered up with Malvern Garden Buildings, meaning you can explore our ranges at their showroom. Not only that, we offer our full range at our showroom. You'll be able to see our unique designs, our quality materials, and our commitment to Fair Trade values.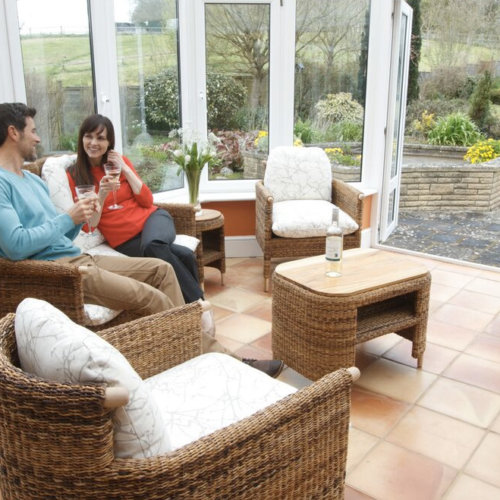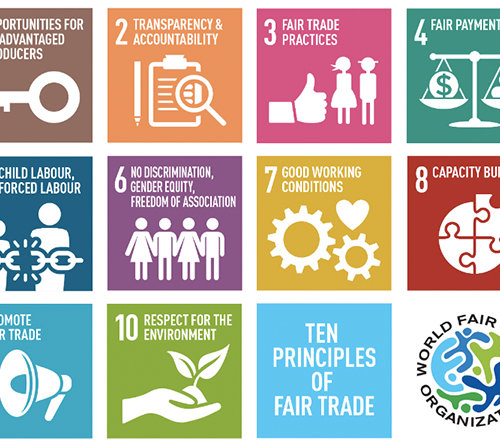 We are committed to Fair Trade throughout our whole process.
When you choose our conservatory furniture, you'll be investing in more than just tables and chairs. Instead, you'll be helping the people who make it possible. That's because all our furniture is Fair Trade. We take an international approach, working with designers in Sweden and craftspeople in Java to create our furniture. And, as a Fair Trade company, we make sure they get their fair share.
We're the only furniture company in Europe that the World Fair Trade Organisation independently verifies as a Fair Trade company. As a result, you can be sure that your investment is more ethical and sustainable with us. Not only will you be helping to make your conservatory more comfortable, but you can make other people's lives more comfortable too.
You'll be able to see our commitment to these values when you see our furniture at a showroom. Whether it's at our site, or Malvern's, you'll see the handcrafted quality of our chairs, the durability of our tables and the innovation of our bespoke designs. That way, you can get conservatory and garden room furniture that gives your Nottingham home a new lease of life.
Explore our feelgood furniture at a showroom near you.
We've made it easier than ever to discover our conservatory and garden room furniture for your Nottingham home. That's all thanks to our showroom partners, Malvern Garden Buildings. When you visit their showroom, you can find out what our conservatory furniture can do for you. Explore our ranges and try them out at a showroom today to see just how comfortable they are!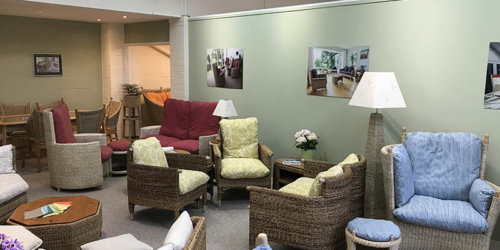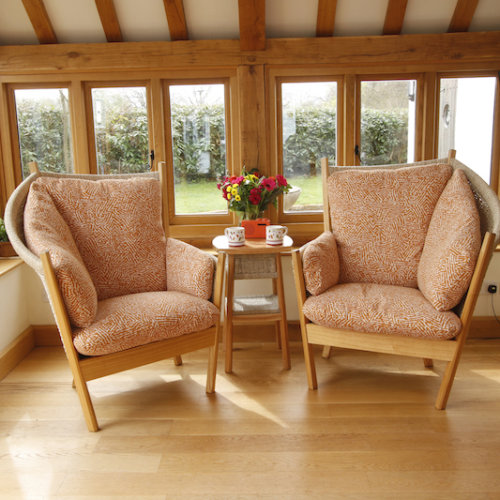 Beautifully quirky, supremely comfy.
Our Semarang collection of feel-good conservatory and garden room furniture is our flagship range for homes in Nottingham. With Swedish design and handcrafted quality from Java, our furniture takes the best of both worlds. You'll get unique designs and fabric options, as well as high-quality tables and footstools. The seat legs and frames are Mindi wood, a durable Indonesian species that is soft and light.
With Semarang chairs, you can make your Nottingham home both stylish and comfortable. These chairs are much higher on one side, meaning you can lean into it to relax, sleep, and unwind. However, the other side is much lower, making it much easier to reach over to your new side table to pick up a drink.
With the Semarang range, you can also pick the bits you want for your home. We offer chairs, sofas, coffee tables and footstools, which you can chop and change to get the perfect collection for your home. And, if you'd like to enjoy mealtimes in your conservatory, why not consider our Semarang Dining range of conservatory furniture for your Nottingham home?
Wrap yourself up in a cocoon of comfort.
However, you'll get more choice with Fair Trade Furniture. With our Jogya range, you can get conservatory and garden room furniture that's stylish but even more durable for your Nottingham home. The Jogya designs have rattan, a soft but sturdy material that is weather-resistant. Not only that, but the fabric in the design won't stain in the sunlight or struggle in damp conditions.
Because of this, you could use Jogya furniture outdoors if you wanted to on warm summer days. The light won't cause discolouration or fading, while the rattan won't wear down outdoors either. Even if it starts to rain cats and dogs, your furniture won't break down straight away. Our Jogya range is weather-resistant to make it a lasting design for your home.
The Jogya range is full of options. You can get sofas, coffee tables and footstools, as well as unique left and right chairs which you can move around as you see fit. However, our Jogya armchair is a standout addition. With it's high, enveloping sides, it feels like your own cocoon of comfort inside your conservatory.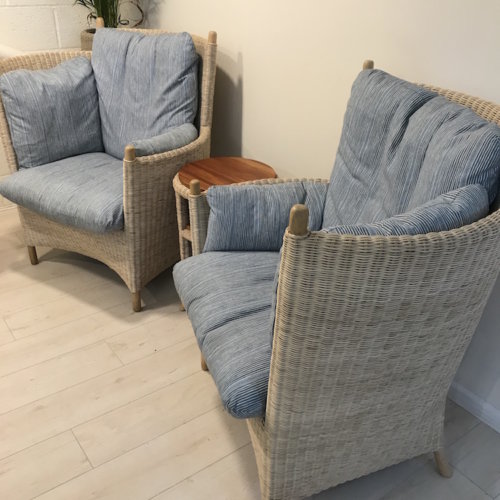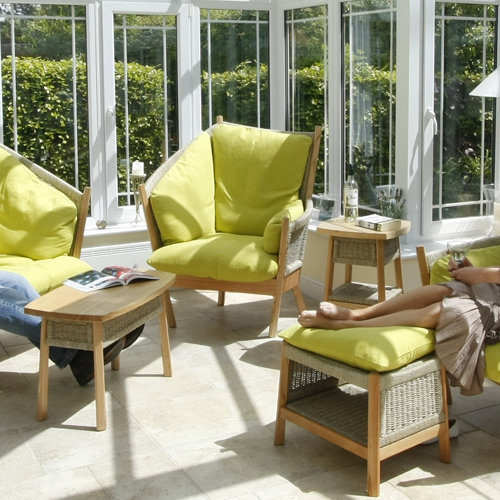 Conservatory Furniture Prices Nottingham
Feel better than ever with our truly feelgood furniture.
At Fair Trade Furniture, we design conservatory and garden room furniture for homes in Nottingham that follow our values. That means we take a global approach, valuing everybody throughout the design process as they should be. When you invest in our furniture, you'll invest in the people who make it. And, once you see our designs at either ours or Malvern's showroom, you'll see the benefits of this for yourself.
You can visit our stunning Dorset showroom today! All you have to do is call us on 01722 340 882 today to book an appointment. Alternatively, you can get in touch with Fair Trade Furniture today using our online form to ask our friendly team any questions you might have.