Conservatory Decor Ideas for 2023
It's a new year, which means new possibilities for you and your home. Your conservatory, in particular, can perhaps benefit the most from a style overhaul. And since it's a space that's a little separate from the rest of your home, you can afford to take a few risks or revamp it without worrying about needing to change the whole cohesive aesthetic of your property.
In this handy style guide, we're revealing some of the most popular conservatory decor ideas for 2023 and giving you some of our favourite recommendations to help you make the most of your extra space this year.
For furniture that truly transforms your conservatory, summerhouse or garden room, look no further than our online shop right here at Fair Trade Furniture. Our stylish, comfy and ethical furniture is exactly what you need to get the most out of your conservatory, and it's sure to fit with the other decor ideas for 2023 that we'll outline below.
Many people will start their renovation with a new colour in mind, and what better way to begin than by looking at the Colour of the Year for 2023? Pantone recently revealed their pick – a vibrant shade called Viva Magenta! Calling it "an unconventional shade for an unconventional time," it will certainly allow you to make a splash with an eye catching colour that will impress friends and family who come to visit and enjoy your conservatory.
For more design inspiration, take a look at our Fabrics page to see the range of classic and contemporary patterns we offer – from subtle, muted shades to bright and vibrant designs with Colour of the Year Viva Magenta. No matter what your tastes or preferences, we're sure to have the perfect pick for you.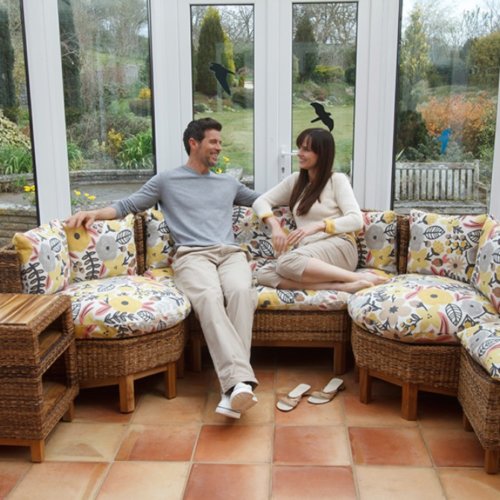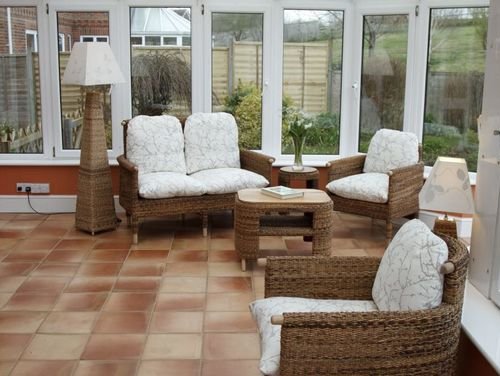 Another popular choice and a favourite of ours is to look at bringing the outside in. Conservatories are often a halfway space between your home and garden, so help to bridge the gap a little better with some plants (either real or, if you're worried about watering them or forgetting to, an artificial option) or perhaps a painting of a beautiful natural landscape.
Not only will they help to make your space feel more connected to nature, they'll also help you to feel more relaxed and calm, which is exactly what your conservatory should be for. Decor ideas that enhance your lifestyle are certainly good options to consider, so take a look at whether adorning your conservatory with some plants could be the right choice.
For smaller decorations, artistically styled candles, vases, containers and similar are becoming increasingly popular. Etsy's guide to decor trends in 2023 highlights their increasing popularity over time as searches for these sorts of items has risen bt 8% in the last year. Now more than ever, it's particularly trendy to fill a shape with gentle, curving shapes that sets this era of decor apart from a far more angular past.
With smaller items like this, you'll want to make sure you have larger furniture items to match this look and feel. Our furniture is as comfortable as it is stylish, available in different shapes including symmetrical, asymmetrical, modular, high-back and low-back — and much more. Take a look at our online shop to see how our furniture and decor fits in with your renovation plans for 2023 and beyond.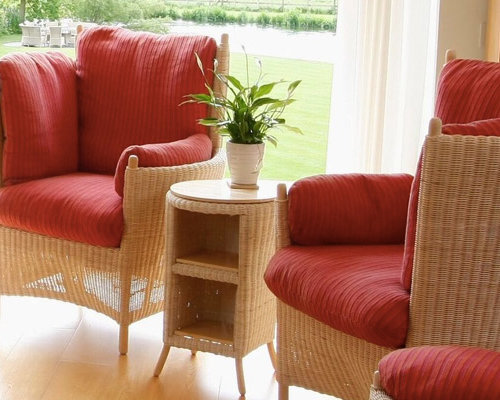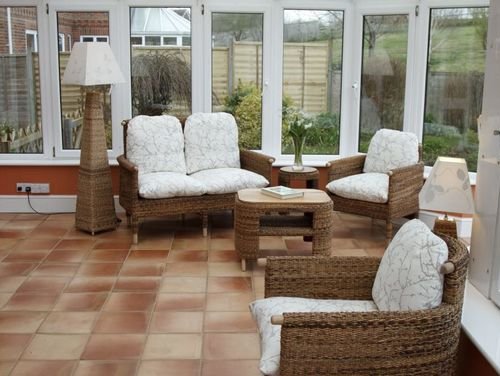 According to the Daily Express, the use of sustainable materials is the number one interior design trend. This is something we're incredibly passionate about as you can tell from our name. While we're a little reluctant to call this a "trend" since it's something that should be a focus always, and should always have been, we're delighted to see it getting more prominence in the media and in consumers' minds when purchasing furniture.
As we've mentioned earlier, customers are looking for more ways to connect their homes to nature, and sustainable furniture manufactured with ethical practices is a great way to achieve this. In fact, this is even informing the colour palette of pieces that designers are looking at, with more natural aesthetics and tones becoming increasingly sought after. Explore our website to learn more about sustainable conservatory furniture and why this is far more than a design trend for 2023.
Fair Trade Conservatory Decor Ideas for 2023
If you're looking to enhance your conservatory, then look no further than Fair Trade Furniture. Browse our product ranges to see our most popular collections – Semarang, Jogya and Bantul – and see which is the right fit for you and your conservatory.
Once you've got a favourite in find that fits with your revamped conservatory decor ideas for 2023, you can browse our online shop or contact our team directly. Additionally, you can arrange a visit to our stunning showroom in Dorset to see the furniture in situ and try it out for yourself.
There's no better place to be sat and to plan your conservatory decor ideas for 2023 than in our stylish, comfortable and ethical Fair Trade chairs!