If you're looking to create a comfortable outdoor space for you and your loved ones to enjoy, then finding the perfect veranda furniture could be the answer. There's no better way to enjoy the warmth and fresh air of a warm summer's day than relaxing outside on your patio, but many homeowners worry whether their furniture is really up to the job. Not all furniture is robust enough to be left outdoors for extended periods of time, in all kinds of wet and windy weather conditions, after all.
That's why verandas are soaring in popularity as the ideal solution. Homeowners are shielding their patios and outdoor living spaces with these beautiful and practical coverings. You can protect your outdoor living space from the wind and the rain with verandas, pergolas and awnings, earning you a reprieve from unexpected rain showers and even harsh sunlight as you and your family relax outside.
Fair Trade Veranda Furniture
If you have a veranda already, or if you're thinking of investing in one, you'll have a stylish and effective way to shield from the elements. And now you're able to sit outside in all weathers, you need to make sure you do so in total comfort and relaxation. That's why our Fair Trade furniture pieces are the ideal choice as furniture for verandas, pergolas and more.
Our chairs, sofas, tables and more are stylish and comfortable, not to mention wholly Fair Trade in their manufacture, making them the perfect way to relax in total comfort. Like most conservatory and versatile furniture, our Fair Trade furniture isn't intended to be left outside for any considerable length of time due to damage from the elements. When they're protected, you can use them outside, undercover, all year round.
Discover Veranda Furniture – Semarang
The Semarang is our flagship range, taking its name from a port close to Indonesia where our partners carefully craft our Fair Trade furniture. It boasts the distinctive design that we are renowned for, with an asymmetrical profile that is high on one side and low on the other, making it easier and more appealing than ever to relax into a cosy corner with a good book or cold drink on a hot day.
As a piece of veranda furniture, our Semarang chairs were designed by visionary Swedish creative Tord Kjellstrom, who was tasked with creating "a really comfy chair" above all else. It's safe to say that he succeeded! This, coupled with our chairs and sofa's Fair Trade manufacture, means you'll enjoy veranda furniture that's as comfortable and stylish as it is ethical.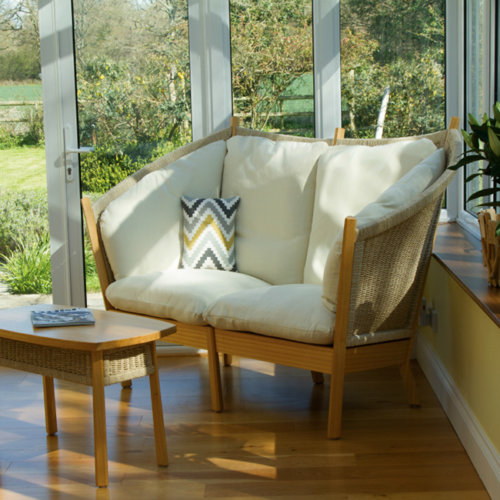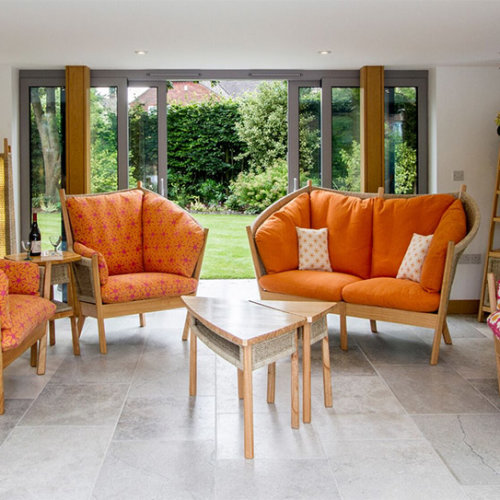 Buy Veranda Furniture – Semarang
If you're looking for furniture for your veranda, then our Semarang range is an excellent choice. With both high-left and high-right-sided chairs available, you can choose your perfect piece to make your patio or outside living space the place of relaxation you've always wanted. Snuggle into a cosy warmer and feel the warmth of the sun around you as you enjoy this innovative option of veranda furniture.
For an even more unique take on veranda furniture, you can join the rising ranks of homeowners who are looking to create an alfresco dining space. Entertain friends and loved ones with food, drink and fresh air. Our Semarang Dining range includes tables and chairs that are popular for homes, conservatories, orangeries and, with the protective roof above then, even verandas. With our veranda furniture styles, the possibilities are endless.
Discover Veranda Furniture – Jogya
Our striking Jogya range features high-sided chairs and sofas that wrap you up in a cocoon to keep you safe, warm and protected – which is exactly what you'll want outdoors on a cool night under the stairs. As veranda furniture options go, it doesn't get much better than this. To add to their appeal, Jogya veranda furniture feature rattan elements in their design.
Like most rattan outdoor furniture, it won't stay looking its best for longer in the wind and rain, so choosing it as an item of furniture for your veranda is ideal. Keep your comfy furniture stylish for longer and protected from the elements with a cover above them. But if the wind and rain manage to reach your Jogya chairs or sofa, their durable design means they'll maintain their gorgeous aesthetics better than most.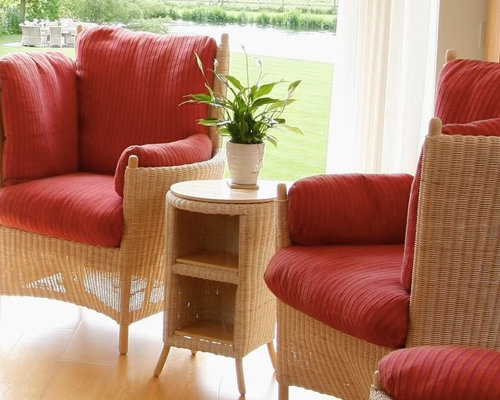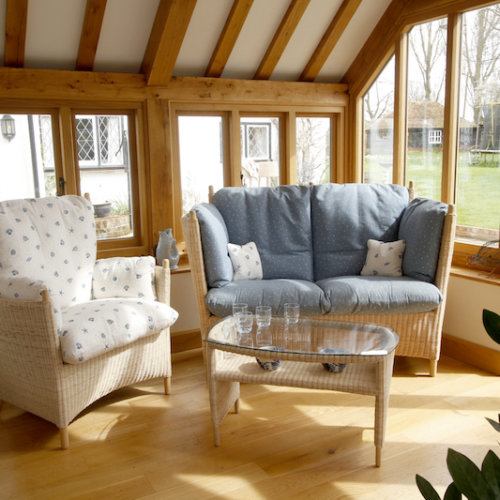 Buy Veranda Furniture – Jogya
Our Jogya veranda furniture is available with both asymmetrical and symmetrical variations, allowing you to build your outdoor suite any way you choose. That way, you can either have a cosy corner to snuggle into or a classic, versatile design for a popular and on-trend rattan chair profile. Whether you're looking for high-right, high-left or symmetrical veranda furniture, the Jogya range has what you need.
Welcome guests in style with our veranda furniture sofas. One of the many reasons to choose a veranda is because of its customisable style. You can choose the material, style and design to complement your home. What's more, you can take the customisation possibilities even further with our veranda furniture, available in a range of fabrics. Choose on-trend aesthetics or opt for a timeless look. With veranda furniture that's built to last, you can buy designs with peace of mind that they will stand the test of time.
Veranda Furniture Ideas & Prices
We all like to spend more time outdoors in the warm summer months, so make your patio or exterior living space as comfy and appealing as possible with our veranda furniture. Whether you're looking for a solo space to sit and relax in, or a social hub to entertain or even dine with friends, our Fair Trade veranda furniture is the perfect choice.
Contact us today to find out more about our stylish and comfortable chairs, sofas, side tables, footstools and more, designed with Swedish creativity and manufactured with Fair Trade values. Explore our shop to see all the stunning pieces we have on display or arrange a visit to our showroom to try them for yourself. If you have any questions, please contact us. We look forward to speaking with you soon!