Most Popular Fabrics For Conservatory Furniture 
At Fair Trade Furniture, we know the importance of using exceptional quality fabrics to complement our furniture ranges. We going to spend some time looking at the most popular fabrics we use for our Fair Trade Furniture and share a little bit about the history of our fabric selections.
While it is still our mission to identify an organic supply chain for fabrics, we have used our knowledge to source a Fair Trade textiles company that aligns its beliefs with our own.
The History of Our Fabulous Fabrics
We've partnered with UK company Chandni Chowk who supply us with beautifully handmade fabrics from India. It is with this fabric that The Fair Trade Furniture Company creates our most popular styles of upholstery. Here we're going to discuss what goes into the production of these textiles, how to make the decision on fabrics best suited for your home, and which of our fabrics are most popular.
Chandni Chowk has been our long term provider of Fair Trade fabrics with their production partners based in India. The company began its journey in 1978 with environmental, ethical and Fair Trade at the heart of its ideology. The unique and beautiful patterns created through ancient techniques are highly sought after and never go out of fashion. By sticking to an early recognised mantra from E. F. Schumacher's seminal book "Small is Beautiful" Chandni Chowk prides itself on producing small quantities of timeless, high quality products that last and are loved.
We chose to source a beautiful selection of these designs for our furniture collection to enhance the stunning aesthetic of our brand. With a variety of bright, patterned, or calm colours to choose from you can be guaranteed to find the perfect fit for your conservatory furniture collection.
This alongside the company's commitment to reuse and recycle renews our own beliefs in reducing our environmental impact. Chandni Chowk actively reuses the packaging from deliveries they receive as well as reusing their packaging until it can be used no more. This process minimises the production of new packaging materials and single use plastic drastically. Chandni Chowk also actively encourages their customers to reuse and recycle the packaging their order is received in.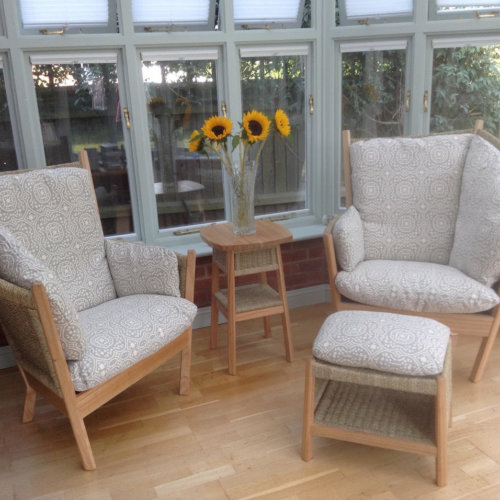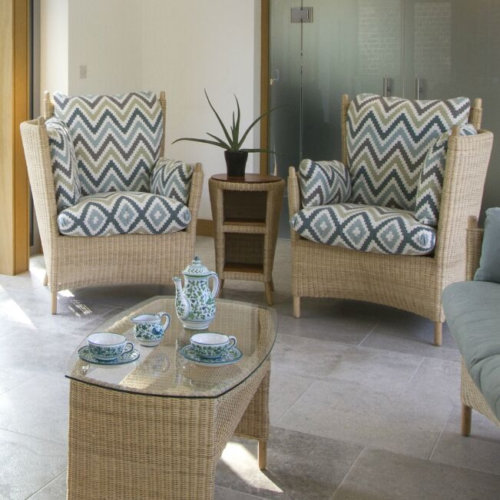 Distinguishing Between Fabric Bands
At The Fair Trade Furniture Company, we use fabric bands to group together different materials based on their cost per metre. It's the most effective way for our customers to browse the fabrics that can be used on our conservatory furniture.
Our fabric bands start at Band A, being the less expensive options per metre, through to Band D. From Band A to Band D the cost increases per metre because of several factors. The fabric itself and the dyes that are used, which are made from natural sources, are the two main reasons for price variation. The other reason is the printing of patterns on these stunning fabrics. The print is completed using an ancient Indian woodblock print technique that creates unique patterns for each piece, meaning no two pieces are exactly the same.
We also have filter options for style and colour which allows our customers to see clearly what's available within each fabrics band. Making the shopping process enjoyable for our customers is important to us because we want every part of the journey to be a positive experience.
A Selection of Our Most Popular Fabrics
We offer plain, semi-plain, pattern washable, pattern dry clean, and leather fabrics for our customers to choose from!
Let colour and pattern convey your style and personality!
Cadet – This beautiful shade of blue creates a calming, serene atmosphere with its gentle shade. 
Chartreuse – A vibrant green hue that brightens the space you choose to place your Fair Trade Furniture. 
Fox – This stunning orange colour is versatile and can be partnered with a variety of different colours.  
Jade – This fabric choice creates an exciting zig zaggy pattern with calm colours to bring a pop to a neutral pallet. 
Moss – A fabric that promotes the tranquillity of the forest with an earthy green print to tie any room together.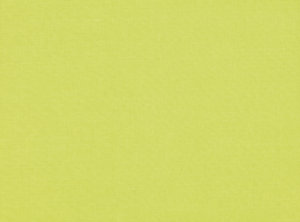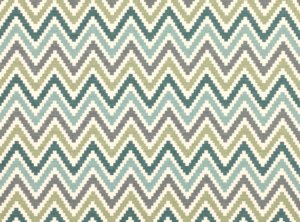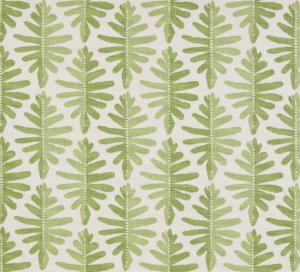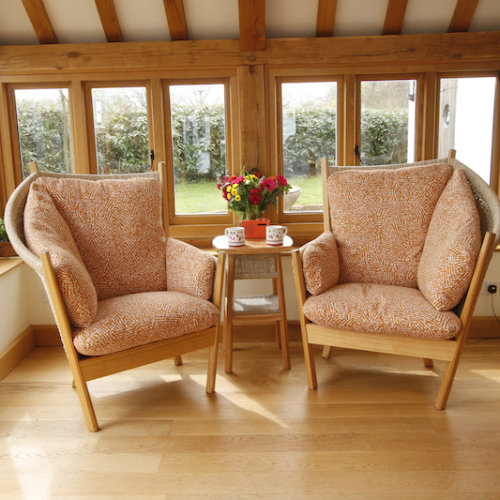 Fabrics to Suit Your Style
Our fantastic Fair Trade Furniture team is always on hand to help you find the right conservatory furniture and fabrics for your home. Maybe you'd like something that blends seamlessly with your current interior decor. Or perhaps you want to create a complete contrast and have a set of conservatory furniture that stands out from your current style?
Browse through the full list of fabric options and choose 
Whatever your desire, contact our team at 01722 340 882 or fill in our online contact form to get direct help with any enquiries you may have. 
Conservatory Furniture from Fair Trade Furniture
Ready to invest in new furniture for your conservatory, summerhouse or garden room? Choose Fair Trade Furniture for the comfiest, most stylish and sustainable furniture around.
Browse our online shop and explore our website to learn more about us. Take a look at some of our retail partners across the UK to see if there is a store or garden centre near you. Alternatively, if you're local to Dorset, you can visit our stunning showroom to meet our team and see and try the furniture for yourself. Sitting is believing – until then, you won't believe how comfortable our furniture is! Come and see for yourself.