Garden Room Furniture – The Complete Guide
Following on from our Complete Guide to Conservatory Furniture, we here at Fair Trade Furniture have put together our follow-up, this time focusing on garden rooms and the best ways to furnish them.
Our Complete Guide to Garden Room Furniture will give you the style tips to make the most of your space to suit your lifestyle. Whether you're looking for a bright and airy space to entertain friends and family, or a quiet, secluded space in which to relax alone, perhaps with a drink and a book, we'll make sure that your garden room furniture works for you.
If you're looking for the most stylish and comfortable garden room furniture on the market, manufactured with Fair Trade values at its heart, look no further than Fair Trade Furniture. Take a look at our complete guide, discover our most popular ranges, then explore our online shop or arrange a visit to our gorgeous showroom in Dorset.
What is Garden Room Furniture? | Most Popular Ways to Use Your Garden Room | Garden Room Furniture Styles | Wicker & Rattan Garden Room Furniture
Contemporary Garden Room Furniture | Fair Trade Garden Room Furniture
Let's start with the basics. Garden room furniture is exactly what you are likely imagining it to be – furniture for garden rooms. In many cases, you'll find similar sorts of pieces here as you would in a conservatory, summerhouse or even elsewhere in your home.
Garden room furniture can come in all sorts of shapes and sizes, from sofas and chairs to side tables, lamps and much, much more. It's all about furnishing your room in a way that looks stylish and makes you feel comfortable. At Fair Trade Furniture, we offer a range of garden room sofas and chairs, as well as complementary accessories, to create your dream, bespoke living space to enjoy all year round.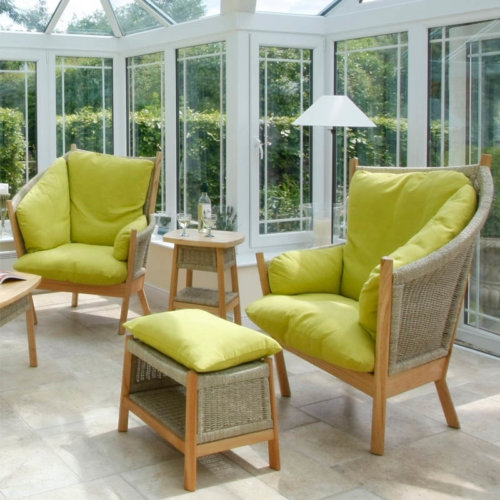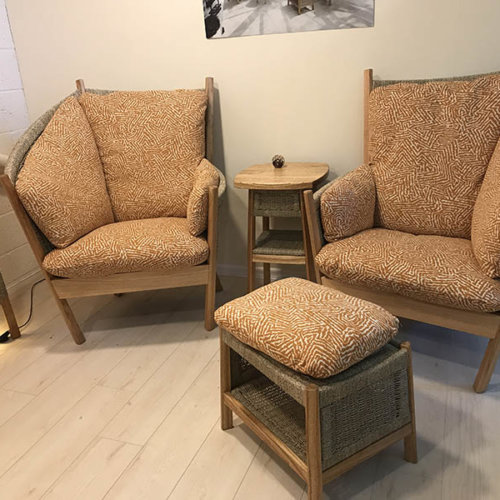 Like conservatories, garden rooms are becoming more and more popular for many reasons. With the rise in remote working in the last few years, people are looking for home offices – either dedicated spaces or makeshift ones with whatever room they have available. Garden rooms are great for this since they let you enjoy gorgeous views of your garden and fresh air, which can help with any stress or striking of inspiration while you're hard at work. 
Other common ways to use your garden room would be as a gym or home spa, or even a yoga studio. Or, more simply, you may just want a quiet room in which to relax and unwind. Any options are equally valid, and the versatility of garden rooms means that it's down to you to decide how to use them. Whichever way you're using your space, make sure you're doing it in comfort and style with the right furniture. 
We have three primary collections of garden room furniture for you to choose from. Each of these is incredibly popular for various reasons, and they boast different features that help to set them apart, while offering many advantages across the board, including supreme style and comfort, as well as representing our Fair Trade values. Each of these ranges is full of inspiring ideas for decorating your garden room.
Semarang
As our flagship collection, the Semarang range is one of our most popular. Its distinctive design embodies our 'feelgood furniture' values, with either symmetrical designs or asymmetrical ones that feature one high side and one low side. Our Semarang garden room furniture is beautiful from all angles and will make a fine addition to your space.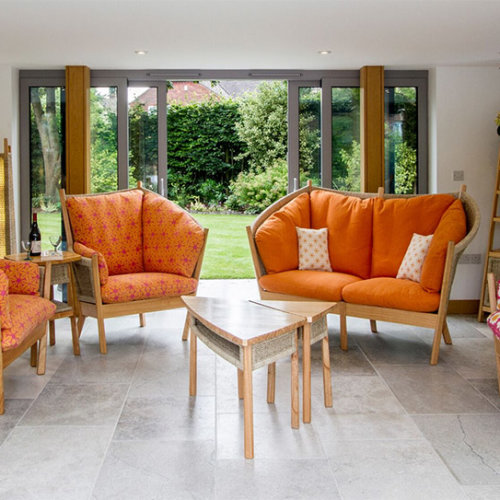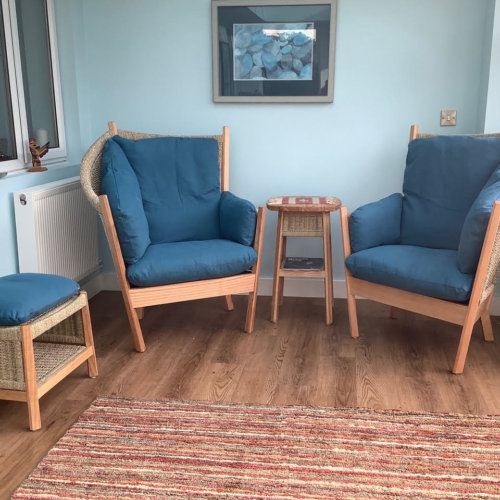 More Garden Room Furniture Styles
Jogya
The Jogya range encompasses stylish and comfortable designs for modern garden rooms. Many of the chairs in this collection feature high sides that can wrap around you and keep you warm and safe in a cocoon of comfort. Their asymmetrical adds to their versatility, allowing you to put your free up and reach for your drink as you sit back and relax.
Bantul
For small garden rooms, the Bantul range is the ideal choice. With curved backs and sleek, straight sites, they're neat and petite to slot into any space. Made with banana fibre in a distinctive weaving pattern, their design features 'legwarmers' and 'horns' that are as quirky as they are stylish, making them ideal for space-conscious garden room furnishers.
Some of the most popular options for garden room furniture are pieces made from wicker and rattan. This look and feel continue to be one of the most sought after aesthetics on the market, and this trend looks set to continue into the future.
Many of the ranges here at Fair Trade Furniture feature popular aesthetics like these, with a unique twist. Our expertly manufactured chairs and sofas combine style and comfort for a superior result. If you want to follow the trends, the Jogya collection is made with rattan, while the Bantul offering puts a twist on this by utilising banana fibre weaving.
If you're looking to decorate a truly modern garden room, you'll want to choose the right furniture to achieve this. But what counts as 'contemporary' here? You might want to define it by how it looks or how it feels. In either case, our options are truly the best choice. With comfortable cushions and innovative designs, Fair Trade Furniture is modern in all the right ways.
Modern garden room furniture will allow you to get the most out of your space. You'll be able to maximise the seating options and fill the room with complementary furniture and accessories to create a space everyone can enjoy – whether it's for friends, family or just yourself. Choose versatile indoor and outdoor snug garden chairs that are right for you, to relax in total peace of mind.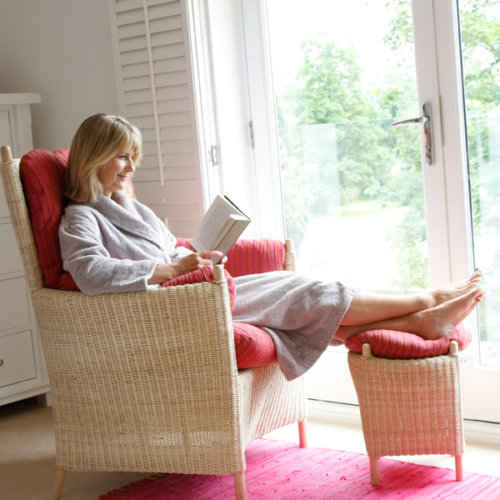 Talk to us at Fair Trade Furniture for the most stylish, comfortable and popular garden room furniture around. We offer a range of collections to choose from, including our Semarang, Jogya and Bantul range.
We have a wide range of furniture available via our online shop. Our chairs, sofas and much more are perfect for garden rooms, summerhouses and conservatories alike. Take a look at the wealth of fabric options on offer and find the perfect fit for your living space.
The best way to experience our garden room furniture is to try it for yourself. As we always say, sitting is believing! You can book an appointment to visit our stunning showroom in Dorset, where you can see our garden room sofas, chairs and more in situ to get an idea of how they will look in your own home.
Additionally, a selection of our collections is available at our retail display outlets across the country. We welcome you to get in touch with our team and we'll be happy to help.