Modern Conservatory Ideas
Conservatories, summerhouses and garden rooms are soaring in popularity like never before. Homeowners are choosing to expand their homes rather than go through the stress and upheaval of moving house. If you can make your current home your dream home, why wouldn't you want to stay and enjoy all those treasured memories as you make new ones?
So, once you've invested in a new, modern conservatory, the most fun, exciting and potentially tricky part of the process begins – how are you going to furnish it? If you're looking for the perfect way to decorate your new space, we've put together some modern conservatory ideas to find your dream décor.
Fair Trade Conservatory Furniture
Here at Fair Trade Furniture, we're experts when it comes to modern conservatory furnishings. Pieces like wicker and rattan are timeless classics that look as elegant now as they always have done.
We'll talk you through some of our favourite products and the features of them to make your modern conservatory as stylish, functional and of course comfortable as possible.
Modern Conservatory Ideas –
Unique Asymmetrical Design
If you know Fair Trade Furniture, you'll surely know about our innovative designs. The idea behind our stylish modern conservatory furniture was thought up by creative Swedish designer Tord Kjellstrom with the aim of creating a chair that was simply and impressively comfy above all else. Anyone lucky to have a conservatory furnished with one of our chairs, or who has tried them at a show, will surely agree.
No modern conservatory is complete without our flagship range, the Semarang. Named after a port in Indonesia, where our Fair Trade partners craft our pieces, it encapsulates everything that's so desirable about our pieces. Finely crafted with your comfort and the style of your space in mind, our Semarang chairs are available in high left and high right variations, so you create your dream suite for your modern conservatory.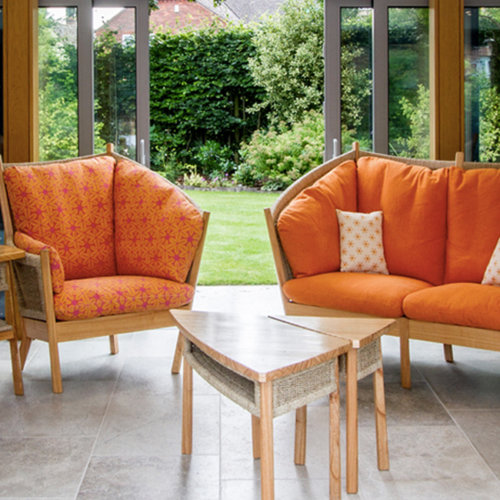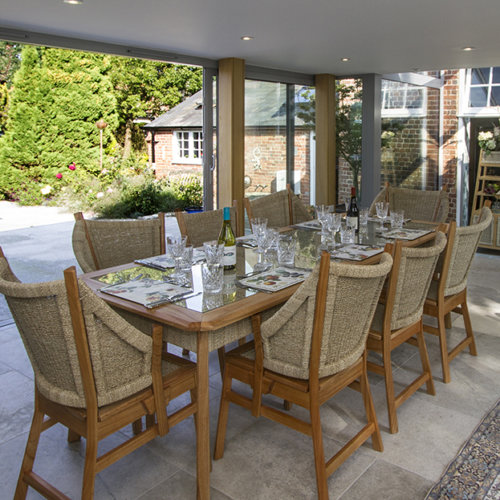 Modern Conservatory Ideas –
Social Dining Space
No conservatory is complete without the opportunity to show it off to family and friends. Many people invest in a modern conservatory as a social hub to host events, quiet gatherings and intimate get-togethers with loved ones. Contemporary conservatories are available with a range of stylish features that help you set the mood, including LED lights and speakers discreetly placed within the structure, helping you set the mood.
With our Fair Trade furniture pieces, you can enhance this further. If you're looking for a welcoming space to host dinners with those closest to you, our Semarang dining range is an excellent investment. Made with not only our Fair Trade values in mind but also the materials, including stylish mindi wood and woven seagrass panels, our modern conservatory dining furniture is available in a stunning set to immediately create an inviting aesthetic.
Modern Conservatory Ideas –
Unique Contemporary Décor
For a truly modern conservatory, you want to put yourself first. Above all else, a conservatory can be a peaceful and secluded space for you and you alone. Before you worry about what the latest trends may be and how others will react to your furniture and aesthetics, think about how you would like your space to look and feel.
The best conservatories are unique to their owners, designed, built and furnished with your needs in mind. We're delighted to be able to offer a wide range of different furniture styles to create a contemporary space that works for you. From the rattan structures of the Jogya range to the retro feel of the Bantul's banana fibre, we have the right choice for you. What's more, you can customise many of our pieces to express your personality – take a look at our swatches we have available.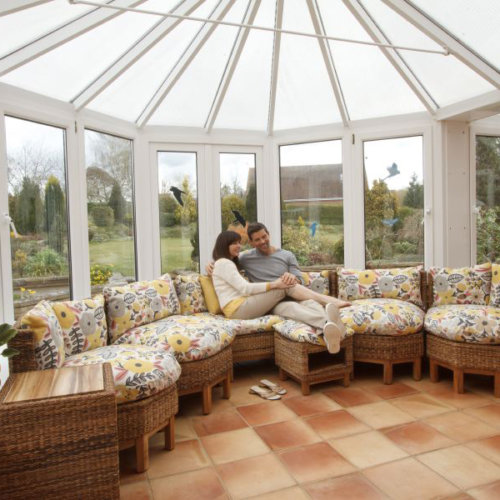 Modern Conservatory Ideas from Fair Trade Furniture
Here at Fair Trade Furniture, we're all truly passionate about helping modern conservatories reach their full potential. We understand that there are many factors that make a contemporary conservatory, but the décor you choose is a vital part of this.
If you're looking for more advice about our ethical furniture and how it is ideally suited for even the most modern conservatory styles, you're welcome to call our team on 01722 340 882. You can also contact us online, and we'll get back to you soon to answer any questions you might have.
Without a doubt the best way to experience our modern conservatory, summerhouse and garden room furniture is to try it yourself. We've got a stunning showroom location in Dorset, and we would love for you to book an appointment to visit.
For stylish, modern conservatory furniture, choose Fair Trade. You'll enjoy exceptional comfort and style as you help your expanded living space reach its full potential.