Our garden room furniture brings together form, function and Fair Trade principles for a unique seating experience.
Here at Fair Trade Furniture, we make sure our ethical approach to garden room furniture is at the forefront of everything we do. We want to make Fair Trade a way of life, and offer you something truly special for your garden room furniture.
Our lightweight and versatile ranges of garden room furniture are ideal for taking out to the garden in good weather, or curling up indoors with a book. Space saving options create extra room to help you make the most of smaller spaces.
All of our stylish garden room furniture is made with ethically sourced materials, and innovative skills from our producer partners in Indonesia that can't be found in Europe.
Versatile and Problem Solving Designs
Unique design combined with our ethical, environmental practices provide garden room furniture that makes a statement.
Our quirky, asymmetrical garden room furniture offers tons of personality and comfort, helping you make your garden room not only the most stylish space, but the best place to rest and relax. The high side of our asymmetrical design provides a cocooning feeling, ideal for cuddling down with a good book. The low side means you can easily reach for your drink without having to readjust or stretch. Our mantra comes from the Indonesian word santai meaning relaxation and feeling good. We strive to make sure our garden room furniture serves to maximise your relaxation in line with this mantra.
We balance the quirky style of our garden room furniture with function, making sure that your furniture is working hard for you. From our space saving Bantul range to the built in storage shelves on our tables, we've got solutions for all your garden room furniture needs.
Garden rooms bring you closer to the outdoors, and we know that when the weather is good, you'll want to get even closer. Using lightweight materials and skilled craftsmanship, our chairs are light enough to move outside on occasion. Enjoy the sunshine in style with our ranges of garden room furniture!
If you're keen to try out our garden room furniture for yourself, why not book an appointment to visit our beautiful showroom. We can't wait to walk you through our styles and our mission!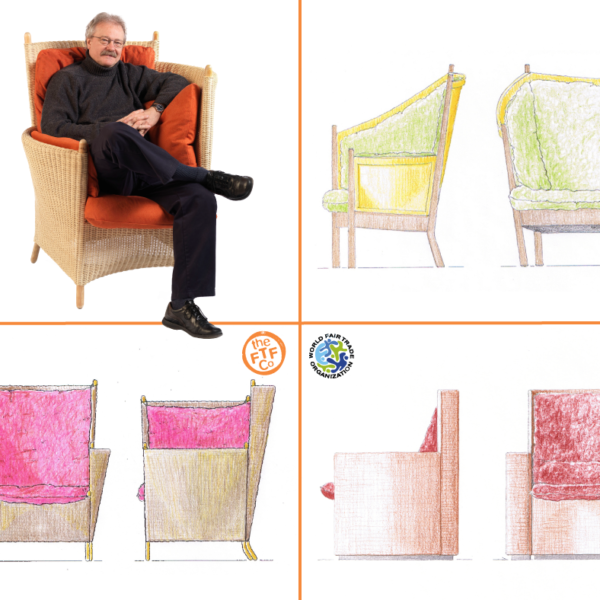 As you can probably tell from our name, we put our Fair Trade values at the very heart of everything we do.
We're aligned with the World Fair Trade Organisation (WFTO) and offer a guarantee that our garden room furniture products are completely Fair Trade. This means that we apply the principles of Fair Trade all the way through, from supplier to customer, and everyone in between.
Our producer partners are based in Java in Indonesia and bring classic craft skills and expert, intricate weaving work to all the garden room furniture they make. We pay homage to our Indonesian partners throughout our practice, from our mantras to the names we give our garden room furniture.
As we rely on importing from our Indonesian partners, we work hard to make sure we minimise the environmental impact of creating our garden room furniture. Thanks to our Fair Trade principles, we can trace all our materials to source, and focus on quality resources that don't cause unnecessary damage to the environment.
Fair Trade is a way of life to us, and we believe everyone can benefit from garden room furniture that follows its principles and applications.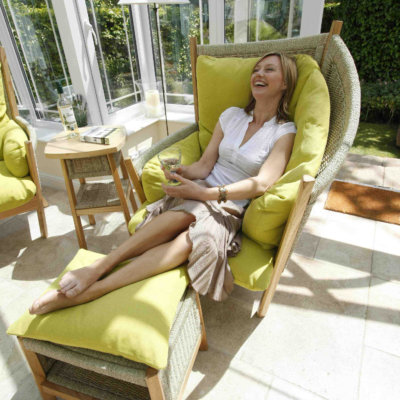 Our stylish, statement flagship range.
Our Semarang range is one of our most popular choices for garden room furniture – and with good reason! It's highly practical, with our distinctive asymmetric chairs providing a comfortable place to sit, whilst still being able to easily reach your drinks from our coordinating side tables.
Made of Indonesian Mindi wood, which is sustainably grown all over Java, and woven seagrass, they'll stand out in any room. With our wide range of fabrics, you can customise your garden room furniture to suit your individual style.
Our Semarang range will make a stunning addition to your garden room, and its durable, functional structure makes it perfect for family living.
Cosy, quirky and infinitely comfortable.
Wrap yourself in style – literally – with our bold and beautiful Jogya range of garden room furniture. Its eye catching design will draw you in, and the cosy high sides and feather filled cushions will have you snuggled up for hours! Pull our cushioned footstool up to an asymmetric armchair for a luxuriously relaxing experience.
With both left and right asymmetric chairs, you can configure this range of garden room furniture to fit in any room for a social seating arrangement. With the statement style of our Jogya range of garden room furniture, we're sure you'll want to invite everyone over to admire it!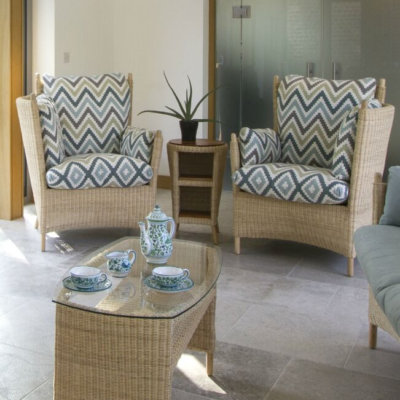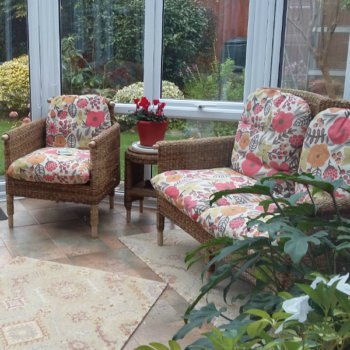 The Indonesian word for "help", our Bantul range of garden room furniture is a true problem-solver.
Neat and petite, the Bantul range of garden room furniture is ideal for smaller spaces. Its unique curved design stops spaces from looking crammed, and the added shelves under the tables provide an easy storage solution to keep things tidy and tucked away.
Our expert weavers pack a lot into this compact range, with intricate banana leaf wickerwork showcasing the incredible craftsmanship that goes into this elegant range.
Small in size, but certainly not in stature, with detailed weaving, quirky retro touches, and well thought out space saving styles, the Bantul range provides a sensational garden room furniture solution.
Garden Room Furniture Prices
Explore our full range of garden room furniture on offer.
Browse through the full product ranges to find the perfect garden room furniture to match your budget.
Visit our shop today to find the Fair Trade garden room furniture you've been dreaming of.
Or if you prefer to try your garden room furniture before you buy, why not make an appointment to visit our stunning Dorset showroom?
And if you've got any questions, give us a call on 01722 340 882 – we'd love to talk to you about our Fair Trade furniture.