Garden room furniture to maximise the potential of your home.
At Fair Trade Furniture, we combine ethical values with innovative designs to offer garden room furniture that you can enjoy through the year.
If you're looking to furnish your garden room with stunning furniture that is comfortable, stylish and ethical, we have the solution for you.
Book a visit to our Salisbury showroom to explore our full range of garden room furniture. With so many styles available, there is sure to be one that's right for you. Book an appointment today or contact us for more information.
You can also find out about our showroom partners to see if our versatile garden room furniture is available at another show site near you.
Versatile and Flexible Designs
Since garden rooms are so flexible, you will want garden room furniture to keep up with the versatility of your living space. You can use your room as a living area, office or in any way you choose. With the potential to enjoy vast views over your garden, you want to be able to relax in style and comfort.
That's where our garden room furniture comes in and works for you.
With so many ranges available, all of which can be customised in a wide selection of fabric options to complement your living space, you can refine the look and feel of your garden room furniture to perfectly suit your home.
Our conservatory and garden room furniture was created by visionary Swedish designer Tord Kjellstrom, who was initially tasked with creating a "really comfy chair" first and foremost. He came back with the revolutionary idea of asymmetrical furniture. Maybe of our pieces feature high- and low-sided designs to add to the comfort and usability.
The garden room furniture we offer can be tweaked and refined according to your own needs, and you can mix-and-match various ranges to create your ideal suite. Combine armchairs, sofas, side tables and footstools to assemble the dream team of garden room furniture to fill your space in a way that works for you.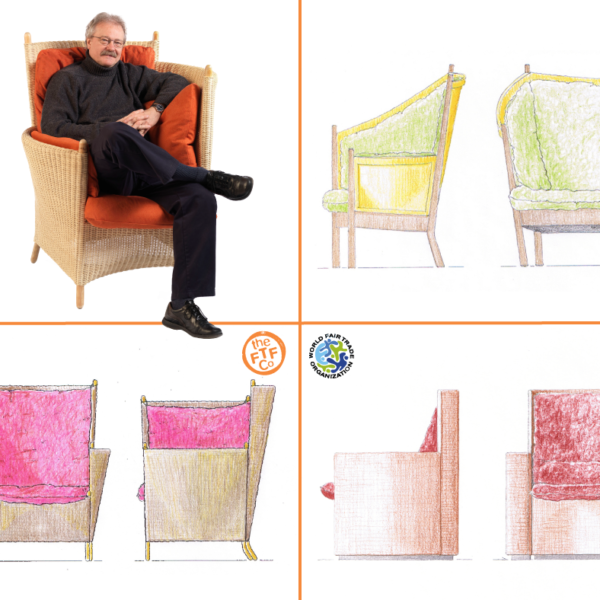 We are accredited by the World Fair Trade Organisation as a wholly ethical and Fair Trade company. We work to ensure that our skilled craftspeople at our factories in Java and around the world have opportunities to work and live comfortably and to thrive.
We also work closely with producers and teams on both sides of the world to minimise our impact on the environment, reduce our carbon footprint, and a leave a sustainable Fair Trade legacy that reaches even beyond our Fair Trade way of life.
As you relax in your garden room furniture and enjoy the views, we expect that you're appreciative of the environment and the world we live in. That's why, when you choose Fair Trade Furniture, you can enjoy total peace of mind, comfortable in the knowledge that you are supporting importance economic and ecological values when you choose our garden room furniture.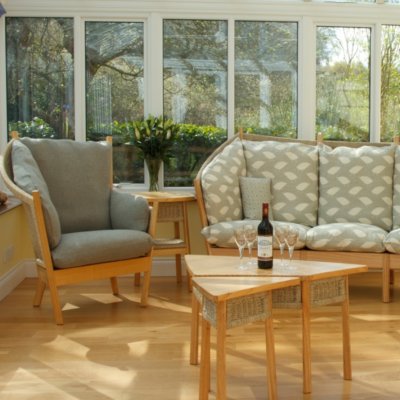 Our flagship range of garden room furniture is also one of our most versatile. The Semarang range perfectly encapsulates everything we stand for at Fair Trade Furniture. It proudly takes its name from a port close to one of the factories where our stunning garden room furniture is expertly crafted by our Fair Trade partners.
Our Semarang chairs will make the perfect addition to any additional living space, be it a conservatory, summerhouse or garden room. Quirky and distinctive, it boasts our revolutionary asymmetrical design, making it easier than ever to reach for your drink and take in the views around you.
With its high back and alternating high sides (depending on the style you choose) you'll find you have a cosy corner to snuggle into in the heat of summer as well as when the cold nights start to draw in.
Elegant from every angle, the Semarang range of garden room furniture will make the perfect addition to any home. Choose from our wide range of fabric styles and furniture pieces. Welcome guests with a two- or three-seater sofa and enjoy a well-deserved rest with the help of our functional footstools.
The Bantul range of garden room furniture is neat and compact without compromising on comfort. With a curved back and straight sides, you'll be able to enjoy a retro feel that is thoroughly modern in its comfort. The woven 'legwarmers' add a touch of personality, making our Bantul chairs the perfect way to add some character for your garden room.
This range in particular is designed for those looking to maximise the potential of their living space. Lightweight and petite, our Bantul chairs can comfortably slot into any size of garden room and will work with any other pieces of furniture you may already have.
If you're looking to relax in your garden as well as your garden room, our Bantul chairs can be easily moved outside in good weather so you can enjoy your garden in comfort and style. Welcome guests into your garden room and let them relax with the Bantul high back sofa. Complete the set with our elegant and functional side table and coffee table.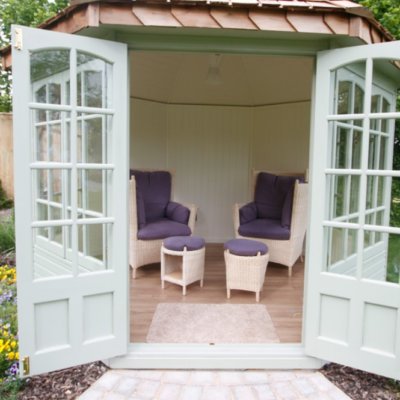 Book an appointment to visit us in Salisbury!
We are immensely proud of our stunning Salisbury showroom. We have our full range of products on display in various fabric options and suitable settings, so you can easily imagine our garden room furniture in your own home.
You won't believe how comfortable our garden room furniture is until you try it for yourself. Sitting truly is believing when it comes to Fair Trade Furniture.
We invite you to get in touch with us to book an appointment to visit us in Salisbury. Take a seat and discuss our Fair Trade values over a cup of tea. Choose our garden room furniture for unique, stylish and comfortable designs.
Make yourself comfortable – we'll make that easier than you could imagine.