At Fair Trade Furniture, we can offer indoor-outdoor furniture for any conservatory. But what do we mean by indoor-outdoor furniture? In short, this type of furniture can be used both inside a conservatory and outside of one, making it ideal for year-round usage. Not only that, they're stylish and comfortable wherever you put them, and you'll benefit from increased durability that ensures they last for years to come.
When the weather's on your side, you'll be able to pull our indoor-outdoor furniture out of your conservatory and into your garden. And, even if the rain does come, it won't cause damage to the structure of your chairs, sofas or tables if you leave them out. Our range of feel-good, quirky conservatory furniture also looks brilliant in any weather and can deal with excess sunshine as well as downpours. And, as a Fair Trade company, we source our indoor-outdoor furniture sustainably.
By choosing Fair Trade Furniture you can get brand-new sofas, tables and chairs that are fairly sourced and valued. Not only that, this commitment allows us to work with visionary designer Tord Kjellstrom in Sweden and craftspeople in Java to create them. Our Semarang, Jogya and Bantul ranges are sure to have options that are perfect for you. Find out more about our indoor-outdoor furniture below!
What Makes Indoor-Outdoor Furniture Work?
For our indoor-outdoor furniture to work so well, we've had to design them to meet the challenges of both. Because of this, our conservatory furniture is durable and hard-wearing enough to deal with the outdoors, but also enough to deal with the pressures of a conservatory. We use fabric and cushions in our designs, and the structure is never made from leather. Because of this, sunlight won't cause your chairs, sofas or footstools to wear down or discolour in the heat.
However, we also make sure these furniture designs work well outdoors. We use durable structures across our ranges to ensure your designs won't suffer in poor weather conditions. Additionally, we've also made sure our feel-good conservatory furniture is modular and lightweight. As a result, it's easy to reconfigure and move between the indoors and outdoors, meaning you can change how you use your conservatory furniture with ease depending on your needs.
Finally, we design several ranges of conservatory furniture to work well both indoors and outdoors. By doing this, we can offer our customers more choices in how they design their furniture around their existing space. All of our collections are customisable, too, and you can choose only the amount of furniture you need. So, if you want indoor-outdoor conservatory or garden room furniture, we're a company you can trust to deliver a high-quality, sustainably sourced products.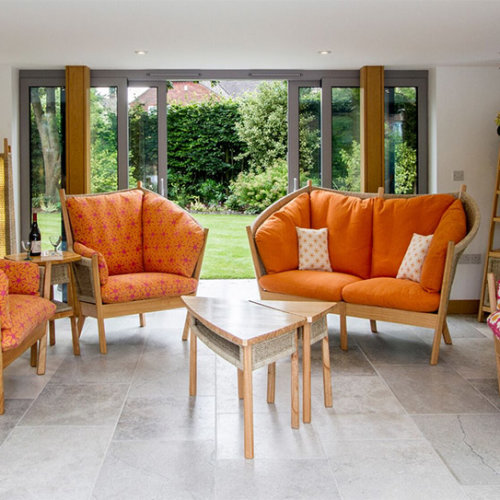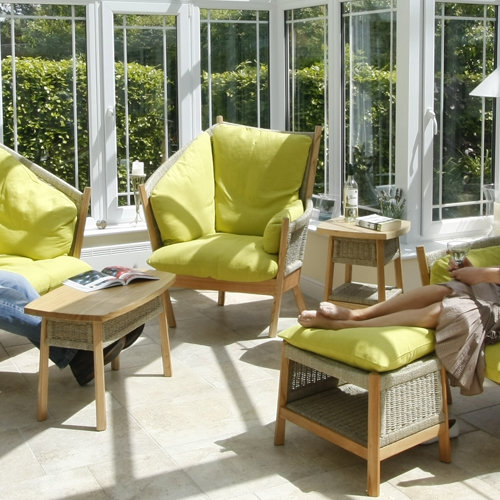 Indoor-Outdoor Conservatory Furniture Ranges
Semarang
Our Semarang range of indoor-outdoor furniture provides comfort wherever you put them. The sofas, chairs and footstools all have woven rattan in their design, creating a soft look that also offers excellent strength and durability. Additionally, you can choose from a range of fabric and colour options to create a unique design that will last for years to come. You can also benefit from the unique asymmetrical Semarang chair!
Jogya
Our Jogya range of conservatory furniture is the one most suited to the outdoors. It's because each design in the collection makes use of weatherproof rattan, meaning wind and rain will cause far less damage. With wrap-around high sides, these designs are comfortable both outdoors and indoors, though. That means you can enjoy these chairs, sofas and footstools during the winter as well as the summer.
Bantul
Finally, we can offer the Bantul range of indoor-outdoor conservatory furniture for your home. These designs have a retro feel, with banana fibre being used in the build. This beautiful wickerwork is done by expert craftspeople in Java, providing a sense of quality and care you won't get anywhere else. And, when combined with a structure of rattan poles, our Bantul chairs, sofas and side tables are durable enough to work well in both indoor and outdoor conditions.
Fair Trade Indoor-Outdoor Conservatory Furniture
At Fair Trade Furniture, we believe conservatory furniture should be indoor-outdoor as standard. It's why we make our designs durable enough to deal with both, and comfortable enough to let you enjoy them in any area of your home. With our ranges of conservatory furniture, you'll get designs that are ideally suited to hot and cold weather. Not only that, you can customise them with colour and fabric options to get the ideal design while knowing it'll stand the test of time.
We're also proud to source our indoor-outdoor conservatory furniture according to our Fair Trade values. As the only furniture company independently verified by the European Fair Trade Organisation, we're conscious of setting the standard for sustainably sourced sofas and chairs. It's why we make sure to pay a fair wage to all of the people that work on our designs, and we take an international approach. As a result, you won't only be investing in furniture – you'll be investing in people.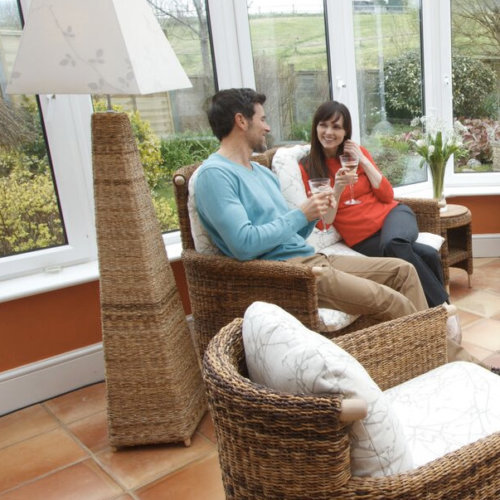 Indoor-Outdoor Furniture Prices
If you're interested in our indoor-outdoor conservatory furniture, why not get in touch with our team today? You can ask us any questions or explore our website to take a look at our conservatory furniture collections.
And, to speak to our team directly, you can also call us on 01722 340 882. You can even visit one of our conservatory furniture showrooms to see our designs for yourself as well!