Conservatory Lighting Ideas To Brighten Your Home
For most if not all homeowners, your conservatory, summerhouse or garden room acts as a quiet little retreat from the trials and tribulations on the day. Whether you want a break from the stresses of work, the pressure of the family or simply need a change of scenery, a conservatory is the perfect place to escape to, separate from the rest of your home.
That's why it's important to create the right mood for your conservatory – to set the tone as somewhere serene, peaceful, calm and tranquil – where you can be alone with your thoughts to relax and unwind at any time of day. And that's exactly where our conservatory lighting ideas come in. Read on to find out more about our conservatory floor lamps, table lamps, and how they can transform the look and feel of your space.
Conservatory Lighting Solutions
Conservatory lighting, therefore, can be the ideal way to create an environment that engenders quietness and relaxation, while also keeping your living space stylish and on-trend, so it's as welcoming to guests as it is to you.
Are you looking to fill your conservatory, summerhouse or garden room with our modern and supremely comfortable Fair Trade furniture? If so, you won't want to overlook the conservatory lighting solutions we have available. When you set out to make your living space as comfortable as possible, remember to look at conservatory lamps and other lighting ideas to fill your space with a warm glow so you'll feel as relaxed and carefree as possible.
We've put together a guide to some of our most popular conservatory lighting ideas, including lamps and more, so you can find the right fit for your home. Our table lamps and floor lamps for conservatories will complement your décor and set the mood for yourself, friends and family. Make your conservatory as welcoming as possible and achieve its full potential with Fair Trade Furniture.
Conservatory Lighting –
Created With Fair Trade Values
All of our Fair Trade Furniture is finely crafted by our partners in Java, Indonesia. We understand the importance of these values – that's why they're right there in our name – and we firmly believe that our superior products are a result of the care and commitment that goes into their manufacture.
From vast and encompassing 3-seater sofas to even the smallest footstool or table lamp, every piece of conservatory décor and furniture we offer, we take great care and pride in everything we do. This translates into superior furniture that will improve the look and feel of your living space for yourself and others.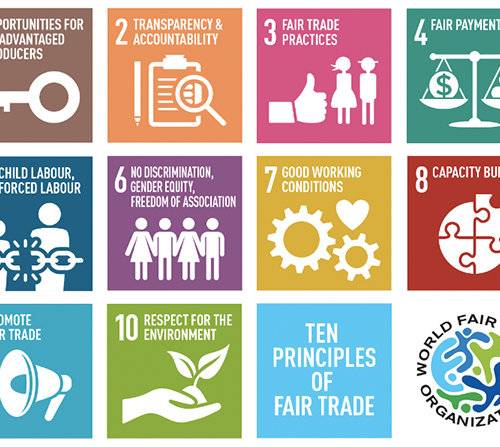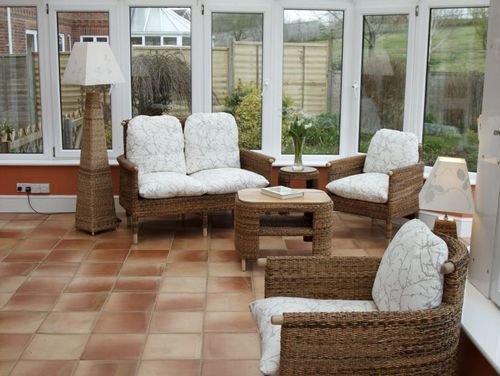 Conservatory Lighting –
Floor Lamps
Our conservatory lighting solutions are the perfect addition to any living space. If you're looking to illuminate your space and enhance its overall aesthetic, we've got you covered.
All our furniture features highly desirable aesthetics, and our conservatory floor lamp is no exception. Its aesthetically pleasing design is pyramid-shaped and is made from banana leaf which is then woven onto a rattan pole frame. Rattan conservatory furniture always has been and remains highly sought-after for homeowners looking to fill their new living space, so our lighting solutions such as these conservatory lamps will fit in with most if not all styles.
We also offer a gorgeous pyramid light which blends seamlessly with the Semarang range. This is our flagship collection of conservatory furniture, and all of these pieces will make your conservatory look and feel more like home than ever before. Combining seagrass and mindi wood, with a profile that mimics the aesthetics of our distinctive Semarang asymmetrical armchairs, our pyramid conservatory lamp and all lighting options are perfect for any living space. Conservatory floor lamps are a great way to brighten your space, making it look brighter and feel bigger as a result – while also staying warmer and cosier. It's just one of many conservatory lighting ideas to consider.
Conservatory Lighting –
Table Lamps
Our neat and petite conservatory table lamps fit into any size or shape of room without overwhelming the space. They don't draw focus, only enhance the overall mood, to create the aesthetic you've always wanted for your conservatory, summerhouse or garden room.
Our conservatory lighting solutions are as versatile as they are stylish, available in two forms – standard and small. Our classic conservatory table lamp adds its warm and elegant glow to any space. It looks great not just in conservatories or garden rooms, but in any living space at all, fitting right at home on an occasional or coffee table.
Similarly, our small table lamp is the perfect conservatory lighting solution for those particularly limited by space. Again made with a rattan pole frame and banana leaf woven onto it, these are a neat and elegant addition to any room.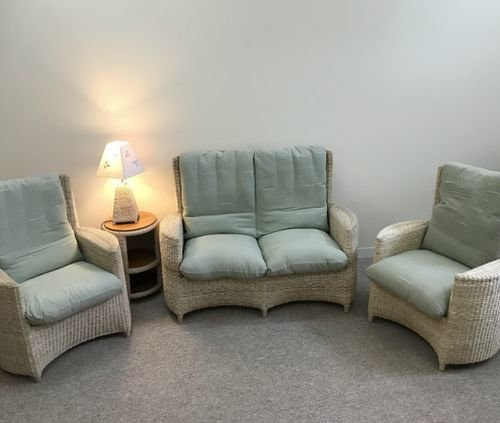 Fair Trade Conservatory Lighting Solutions
If you're looking to enhance the overall look and feel of your living space, it's important not to overlook the value of modern and stylish conservatory lighting. These add-on pieces of furniture may seem like an optional extra compared to the main features of your sofas and chairs, but these conservatory lamps, lights and more are actually a vital addition to your home.
Here at Fair Trade Furniture, our comfortable and stylish designs are enhanced by our range of additional products, including lights, side tables and footstools. Our feelgood furniture is created for that reason – to make you feel good – and this stems not only from the fabric and cushions of your chairs, but also from the wider aesthetic of your living space.
Are you looking to fill a brand new conservatory with a full set of furniture, including chairs, sofas, tables, footstools – and perhaps most importantly of all, the lighting? If so, we've got the complete range of products on display in an ambient setting at our stunning Dorset showroom. If you would like to see and try our conservatory furniture, we welcome you to book an appointment online or call us by phone no 01722 340 882. We're sure to have what's right for you.
There are many ways to create a calm and peaceful conservatory while ensuring it still feels like a cohesive part of your property as a whole. Our versatile conservatory lighting solutions give you the ideas and the means to enhance your home to ensure it looks and feels precisely the way you want it to.
Create your dream ambience with our conservatory lighting solutions, including lamps and much more, available online.