Conservatory Furniture – The Range We Offer
Here at Fair Trade Furniture, we know that every conservatory has the potential to be unique for all homeowners. It's a space that you're able to use for whatever purpose you want. Whether you're looking for a social hub to entertain friends or a sophisticated dining room for your family, the possibilities are endless.
As such, it's only right that we offer a range of conservatory furniture in different styles to suit the way you want to use your living space. Our modern and ethically produced Fair Trade Furniture is perfect for conservatory, summerhouses and garden rooms, to create an expanded space you can use all year round to its full potential.
Fair Trade Conservatory Furniture Range
To help you decide which of our style and comfortable conservatory furniture ranges is right for you, we've put together this brief guide to our collections. That way, you can assemble your dream suite for you and your loves ones to enjoy.
With our conservatory furniture range all in one place, you'll be able to make the perfect choice.
Conservatory Furniture –
The Semarang Range
Our flagship Semarang range wears our Fair Trade values on its sleeves. It takes its name from a port in Indonesia, close to one of our factories where our partners put together our stunning, stylish and comfortable conservatory furniture in an ethical way.
This conservatory furniture range is the ultimate in our 'feelgood' mantra. It features our distinctive asymmetrical design, so our Semarang chairs are available in high left and high right variations. These innovative conservatory chairs allow you to snuggle into a cosy corner on the high side while easily reaching for your drink or reading material on the lower side.
Our Semarang chairs and sofas are beautiful from all angles, which makes this piece of conservatory furniture the range of choice if you're looking for a stylish and comfy addition to your living space, constructed with Fair Trade at its heart.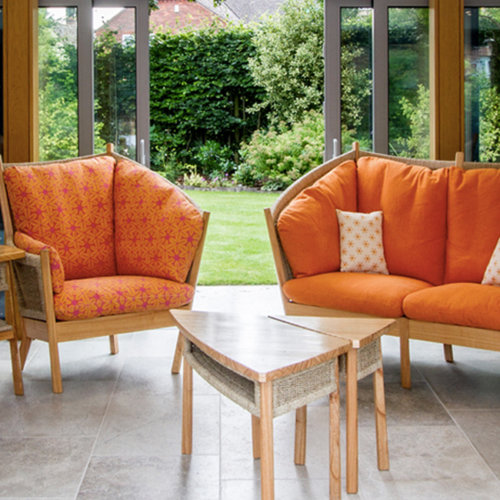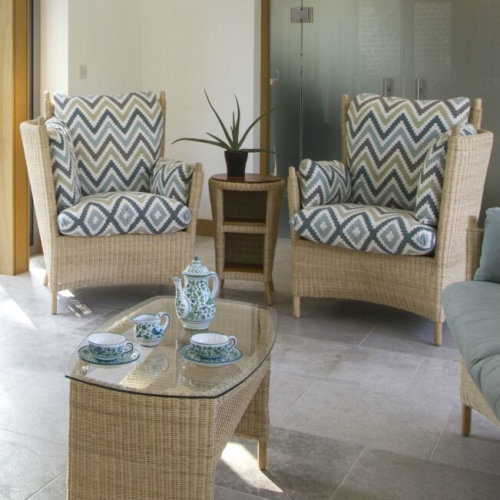 Conservatory Furniture –
The Jogya Range
If you're looking for a chair that will cocoon you in comfort, then we've made our Jogya conservatory furniture the range of choice for you. These pieces are ideal for modern garden rooms and other similarly light and airy space.
This collection of conservatory furniture is another range that includes our asymmetrical designs. Our eye-catching Jogya chairs are available in high left and high right variants. These conservatories chairs and sofas are carefully crafted using rattan wickerwork, which is a timeless classic for any conservatory, garden room or summerhouse. Its skeleton is made from a rattan pole structure and the wickerwork features fine peeled rattan for an elegant and appealing aesthetic alongside supreme levels of comfort.
Our Jogya chairs are a strange and bold design as well as being timelessly appealing with their rattan wickerwork, making this conservatory furniture the range of choice for many homeowners. Take a look around our website to see some of the style options we offer to find the perfect look for your living space.
Conservatory Furniture –
The Jepara Range
Jepara is the conservatory furniture range that allows you to make the most of your space. Its modern, modular design lets you build up your suite with chairs and sofas that fit together neatly and innovatively.
Ideal for conservatories and particularly summerhouses, our Jepara corner, hexagonal and middle chairs allow you to construct your living space to intelligently make use of the room you have available. This conservatory furniture range also includes a corner sofa. All of these pieces work perfectly with popularly shaped spaces that meet at 135-degree angles. In addition to the layout of the space, our Jepara conservatory furniture range is available in your choice of fabrics, so you can build your dream space.
For modular conservatory furniture the range of choice is Jepara. Its colourful fabrics and intelligently intuitive shapes allow you to build your dream seating area for friends and loves ones to enjoy while maximising the space you have available.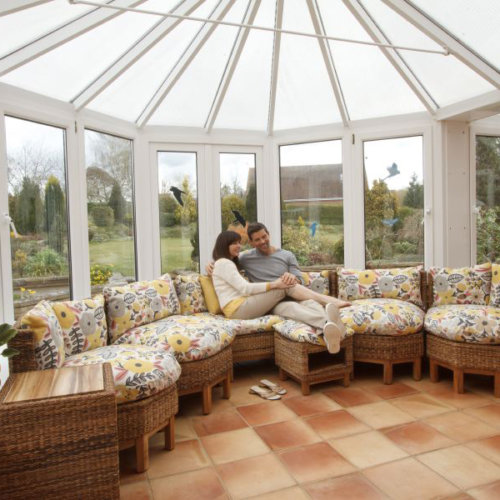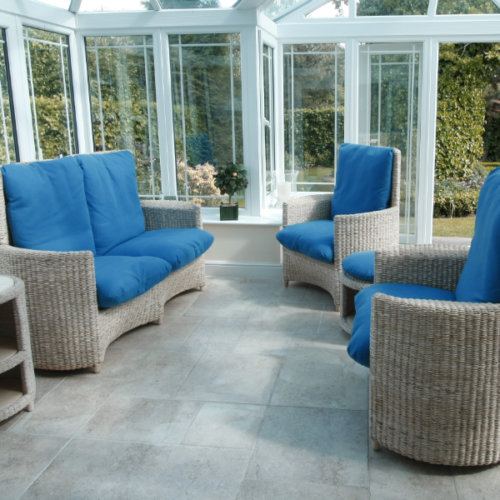 Conservatory Furniture –
The Kartosuro Range
Our drum-shaped conservatory furniture range, Kartosuro, features a profile with sleek straight lines and looks incredibly stylish when viewed from the back and sides. Its beautiful woven sculpture is as elegant as it is comfortable.
The cylindrical Kartosuro conservatory furniture range is a great way to make the most of your space. Its tall and narrow silhouette adapts to different settings and room types, perfect for homes of all shapes and sizes. With a distinctive chair and sofa available, plus side tables and footstools to make you even more comfortable.
For the feel of a traditional armchair as part of your conservatory furniture the range for you is Kartosuro. Its distinctive cylindrical shape is stylish and sleek with an elegant profile that will look right at home in yours.
Conservatory Furniture –
The Bantul Range
Our Bantul conservatory furniture range adds a touch of personality to any living space, be it a summerhouse or garden room or anything in between. The wickerwork on this piece is accomplished by our Fair Trade partners using banana fibre. Among all our conservatory furniture the range with the most retro feel is this one.
The neat and petite Bantul chair is available in a standard design as well as a high back version, so you can make yourself comfortable. With also offer a sofa with a similar high back and classic options, so we're sure to have the conservatory furniture range for your living space. The extra 15cm of height on these Bantul variants give more support for your back, so you can fully relax and sit more comfortably than ever.
Our Bantul conservatory furniture range is designed to fit neatly into any space. With many fabric options available, it's a versatile choice.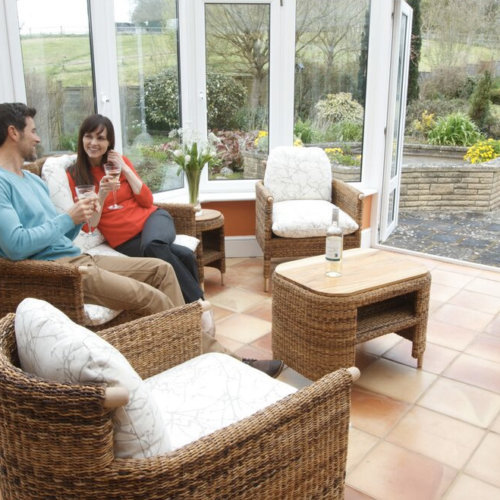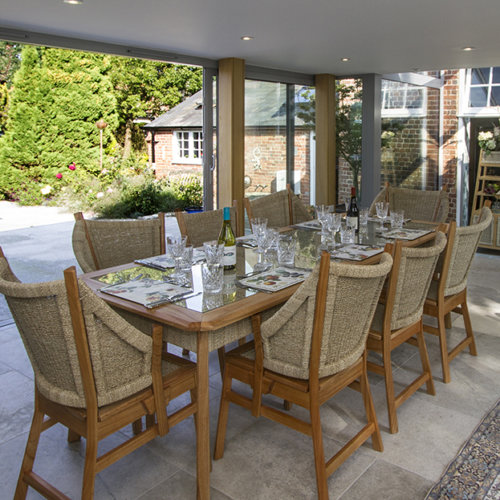 Conservatory Furniture –
The Semarang Dining Range
As an extension of our flagship Semarang range, turn any space into a sophisticated dining area when you choose conservatory furniture from our Semarang Dining collection. Combining classic and sustainably sourced materials like mindi wood, seagrass and stunning glass-topped tables, you'll enjoy all the benefits of this elegant aesthetic.
Bring some Swedish flair with our conservatory furniture range of Semarang dining chairs and tables. These feature our icon asymmetrical design and include variations of chairs with two sides, left side, right side and no sides – so you can create a gorgeous flowing line to guide guests around your dinner table in style. Turn your expanded living space into an inviting social hub for friends and family with our Semarang Dining conservatory furniture range that's perfect for you.
Welcome friends and family in style with our comfortable and elegant Semarang Dining range. Conservatory furniture to transform your living space.
Conservatory Furniture – The Range That's Right For You
We hope you've gained some insight into the conservatory furniture ranges we offer. All the pieces from any of our stunning collections will make a stylish and comfortable addition to your conservatory, garden room or summerhouse.
We would love for you to try our conservatory furniture ranges out for yourself, so why not book an appointment to visit our showroom in Dorset? Like we always say, sitting is believing! For more information, we welcome you to call us by phone on 01722 340 882 and chat about our different pieces.
For modern and elegant conservatory furniture the range of choice is Fair Trade.