How Do You Furnish A Conservatory?
Furnish your conservatory with stunning conservatory chairs and sofas from Fair Trade Furniture!
If you've chosen to invest in a conservatory for your home, you've opened your property up to not only more light and space, but also limitless possibilities. Whether you're looking for a quiet space of solitude in which to relax, or perhaps a vibrant communal area where you can entertain family and friends all year round, we have the furniture to help you create it.
Here at Fair Trade Furniture, we specialise in stunning, ethical and supremely comfortable conservatory chairs and conservatory sofas, as well as countless accessories like footstools and planters, with which you can decorate your living space. Our conservatory chairs with cushions are available in a wide range of over 30 different fabrics for you to choose from. No matter what the current style of your conservatory or however you would like to reinvent it, we have the options for you.
We'll take you through some of the styles and options available so you can find your perfect conservatory chairs, sofas and any other furniture you want.
Conservatory Furniture That's Right For You
So, you've finally finished the considerable construction project that is your conservatory. With such a significant expansion for your home, we understand how challenging the process can be and how momentous the moment is when you finally can say it is completed. The hard work may be over, but now the decisions really begin and there are more questions.
How do you furnish a conservatory? Well, however you want! At Fair Trade Furniture, we offer five distinct range, and each of these contains more choices of conservatory chairs and conservatory sofas for you to consider. While the ranges often different styles and advantages (which we'll get into shortly) they all offer the same exceptional levels of comfort across the board, and many of them feature the innovative asymmetrical appearance that we've become known for.
With high-left and high-right sided conservatory chairs and conservatory sofas, our furniture provides a cosy corner in which you can snuggle up with a good book while also making it easy for you to reach down and grab a refreshing drink from a nearby table. With Fair Trade Furniture's intuitive and comfortable designs, your favourite things are never far away – and incredible comfort is always to hand.
Comfortable Conservatory Chairs
Our Semarang chair, available in both high-left and high-right variations) is part of our flagship range and is one of our most popular products – for good reason! With a dozen stunning fabric options to choose from, you can furnish your conservatory precisely the way you want with our elegant and versatile designs.
For the perfect conservatory chairs to furnish your conservatory, we welcome you to take a look at some of our other ranges too. You can take a look at the full range of conservatory chairs we have available.
The Bantul conservatory chair, for example, is available in standard and high back variations. It has a retro feel with its tall back and adds to our furniture's quirky appeal with rattan poles and woven leg warmers. Combine the elegant structure of this conservatory chair with our most popular colour and fabric combinations to furnish your conservatory your way.
Since you have a versatile conservatory, you'll want equally versatile conservatory chairs. That's where the Jepara range comes into its own. Available in corner, middle and hexagonal designs, you can build your dream suite around existing furniture or create your furnished room from scratch. Made with dark banana fibre and a woven wooden structure, the Jepara conservatory chair neatly fits into any room. It's as flexible as it is comfortable.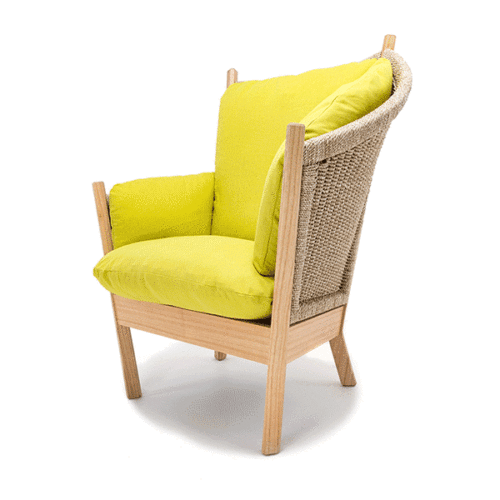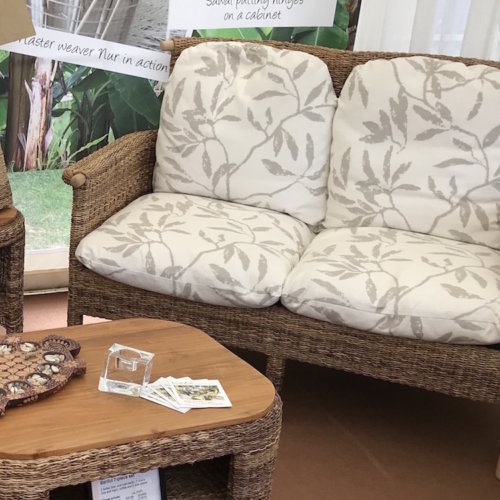 Our stylish and comfy Semarang range features conservatory sofas as well as chairs. We're proud to offer both two- and three-seater sofas. Maybe you're looking to invite guests over and welcome them to join you on the most comfortable sofa they've ever experienced. Or perhaps you want to enjoy it as a chaise-longue and keep it all to yourself – and we wouldn't blame you. Either way, we've got you covered. Why not explore our full range of conservatory sofas?
For more inspiration, you can take a look at the conservatory sofa in our Jogya range. This collection of comfortable furniture is widely recognised for its cocooning effect, as it wraps you up in its arms and embraces you with its generously cushioned sides. The Jogya conservatory sofa is as enveloping as the chairs in its range, as it will make a fine and cost additional to any conservatory, summerhouse or garden room.
You will also want to check out the conservatory sofa in our Kartosuro collection. This cylindrical selection of conservatory chairs and other furnishings created a comfy space for you and a lucky friend or loved one to sit side-by-side. Its shape of two cylindrical drums weaved together is expertly done, and its construction is as impressive as its levels of comfort.
Furnish Your Conservatory with Chairs and Sofas
All conservatories are different, but their greatest feature is common across the board – their versatility. For a solo space or room for gatherings, our conservatory chairs and sofas are perfect. With so many styles to choose from, we're sure to have what's right for you.
At Fair Trade Furniture, we do things a little differently – and a lot more ethically. Did you know our Semarang range, which includes the stunning conservatory chairs and sofas mentioned above – is named after a part in Indonesia close to one of our Fair Trade factories? We work closely with our partners across the world to produce ethical furniture. Our commitment to this has won up accreditation from the World Fair Trade Organisation, which we're incredibly proud of.
To find the perfect conservatory chairs and conservatory sofa styles for you, we welcome you to visit our showroom in Dorset and try them out for yourself. It's like we always say, sitting is believing! Contact us to find out more and book an appointment today.
If you would like some more information, the friendly team at Fair Trade Furniture would love to talk to you. We will discuss all our ranges of conservatory chairs and sofas to help you find the right range and style to furnish your conservatory. We're passionate about pieces that are as comfortable as they are ethical and stylish.