How to Make the Most of a Small Conservatory
Conservatories and other expanded living spaces are renowned for their versatility. They're a flexible new space you can use in any way you choose, whether you're looking for a sophisticated office space, relaxing area for all the family or a quiet place of zen after a long hard day.
It can be frustrating, however, if your options are limited by the amount of space you have available. If you have a small conservatory, summerhouse or garden room, there's no need to feel limited on how you want to use your space or the furniture options available to you.
Here at Fair Trade Furniture, we have several distinct ranges of small conservatory furniture that are stylish, comfortable and petite – perfect for all living spaces. If you want to make the most of a small conservatory, your choice of furniture can make all the difference. We'll take you through some of the options we have available, so you furnish your small conservatory, summerhouse or garden room without compromise.
Our range of Bantul furniture is ideal for small conservatories. It is compact as it is comfortable, ideal for homeowners working with a smaller living space.
The Bantul chairs we offer have a curved back and sleek straight sides, making them perfect for the space-conscious. Their wickerwork is woven onto a rattan pole structure, expertly completed by our Fair Trade partners in Indonesia. No space is wasted with the construction of our Bantul furniture. Its stylish appearance means that it can physically fit into any small conservatory as well as stylistically – it's rattan 'legwarmers' give it a real personality that makes them highly desirable.
Perfect for small conservatories, you can choose our Bantul chairs and sofas with both standard and low-backed options. Both provide exceptional levels of comfort as you would expect from us, and the lower version is the ideal choice if you want to opt for a compact design that lets you maximise your views from your conservatory.
No matter what style of small conservatory, summerhouse or garden room you have, we have furniture in the Bantul range that is ideal for everyone. You can choose the perfect fabric to complement your space to help your small conservatory reach its full potential.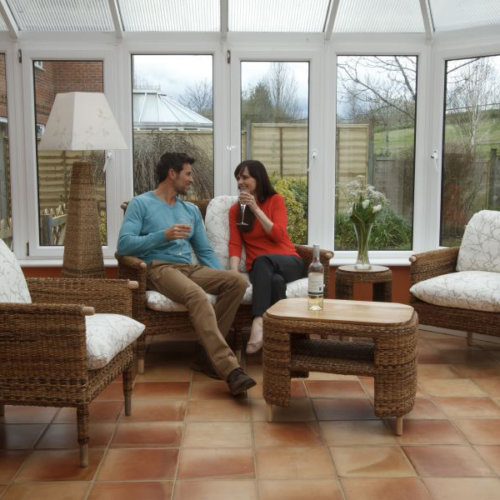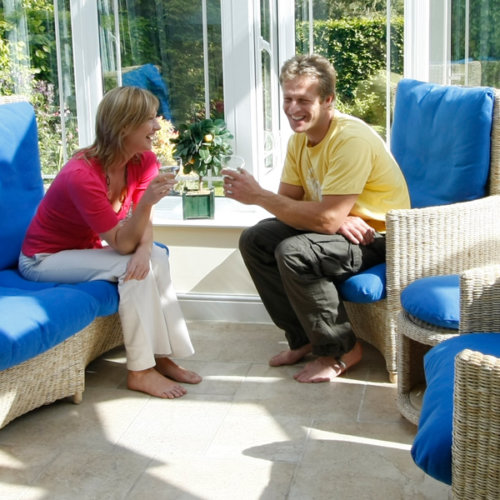 Kartosuro – Classic & Traditional
Our Kartosuro chairs are a design classic. They boast the timeless appeal of traditional armchairs with elegant curved lines which allow them to slot neatly into any living space – including small conservatories, summerhouses or garden rooms.
The Kartosuro design is inspired by the cylindrical drum, with straight vertical lines to keep the shape narrow and compact. This chair is beautiful, well-balanced and renowned for its versatility. Perfect for any small conservatory, these chairs can fit your living space – and your personal taste – with your choice of design and fabric options.
In addition to chairs and sofas, we also have a range of versatile accessories to fit into your small conservatory, summerhouse or garden room. The Kartosuro range features an intuitively designed side table which is a similarly narrow and compact shape. This cylindrical side table will sit neatly next to any chair or between two, enabling you to fully furnish your small conservatory while making the most of your available space.
With its curved lines and cylindrical style, the Kartosuro range makes it similarly shaped and therefore ideal for rounded, hexagonal or octagonal summerhouses. They can neatly fit into any space you have available. It's important not to overlook the beautifully woven sculpture of these chairs either – they're as stylish and comfortable as they are flexible and versatile – making them an elegant addition to any small conservatory.
Semarang – Our Flagship Chairs
We can't talk about furniture for any conservatory, small or expansive, without discussing our flagship Semarang range. Whether you're looking to furnish a conservatory, summerhouse, garden room extension, or anything in between, be it small or large, this is an excellent choice.
The Semarang range embodies our 'feelgood furniture' mantra to its fullest. Our visionary Swedish designer Tord Kjellstrom was tasked with creating a chair that was, above all else, 'really comfy' – and we're delighted to say that he succeeded. The innovative and distinctive design of the Semarang armchair is asymmetrical – with one side higher than the other. This allows you to easily reach for a cold drink on a hot day or snuggle in with your favourite book.
We offer Semarang chairs in both high-left and high-right options, so you can choose the perfect design for wherever in your small conservatory you intend to place it. No matter how limited you may be when it comes to the size of your living space, these pieces of conservatory furniture create a cosy corner to snuggle into anywhere in your home.
Semarang chairs make a stunning centrepiece and focal point for any smaller conservatory, summerhouse or garden room. If you're looking for a feature chair that does it all – comfort, style and space-efficiency – you will want to consider our Semarang range. It's easily adaptable with your choice of fabric options and high-sided style. Choose these to enhance any space – small conservatories, large garden rooms, even open-plan kitchens or traditional living rooms. The Semarang range does it all.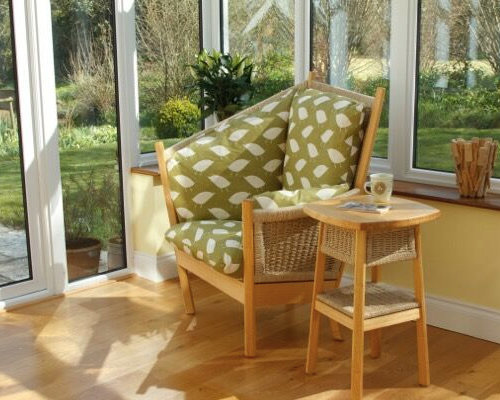 Make the Most of Your Small Conservatory with Fair Trade Furniture
Here at Fair Trade Furniture, we're passionate about helping even small conservatories, summerhouses and garden rooms to reach their full potential. We're sure that with our wide range of distinctive, stylish and comfortable pieces of furniture on offer, we're sure to have the right choice for you.
To see our small conservatory furniture in a natural setting, you're welcoming to find one of our retail partners near you for a small selection at each. Or, we would love for you to book an appointment to visit our stunning Dorset showroom where we hold a much wider selection. You can try the pieces out for yourself – sitting is believing!
Contact us today to find out how to make the most of your small conservatory or living space. We believe there's no need to compromise on style, comfort or versatility, and any of our furniture would make a wonderful addition to your home. Talk to us for more advice, or visit our online shop and start choosing your fabric options today.