Why You Should Pair Your Armchair With A Footstool
Why should you pair your armchair with a footstool? By adding both an armchair and footstool to your furniture collection, you can kick your feet up and lie back all at the same time. It's a classic combination that allows you to stay comfortable and fully relaxed. And, with matching or complementary designs, you can create a unified style in your space that is sure to catch the eye.
However, pairing an armchair and footstool can do much more than that. You can get comfortable designs that work together to draw attention to your living space. You'll be able to relax in them for years to come, especially if they are durable, hard-wearing designs. And, if you have a conservatory or an extension, adding an armchair and footstool is the perfect way to enjoy these spaces with furniture that can withstand them.
With Fair Trade Furniture, you can get an armchair and footstool combination you'll love. We offer footstools as part of our flagship Semarang and Jogya ranges, meaning you can pair them with armchairs to enhance the style of your home. Our furniture is durable, hard-wearing and ideal for extended spaces. Not only that, our armchair and footstool designs are fully adjustable, meaning you always get complete comfort.
Armchair and Footstool Style
By adding an armchair and footstool from the same collection, you can create a unified style for your home. Your armchair will pair brilliantly with your footstool, and you'll be able to enjoy both almost as one design. When you kick your feet up, your back can rest easy in the soft, plump cushions of our armchairs. With a unified style, it'll feel entirely natural.
Another benefit of choosing both designs from the same collection is that both designs will last. Our furniture is hard-wearing, particularly our Jogya range, which uses rattan in several parts of the collection. Because of this, both your armchair and your footstool will be able to perform for years, and they won't fade or discolour under UV light. You won't have to worry about them looking any less than their best.
And, with our Semarang range, you can benefit from our unique left and right chairs. With an asymmetric design, you can lie down on one side while having a lower side across you to reach for a drink from a table. You can move your footstool across the floor to reach the perfect angle for your comfort as well. As a result, you'll get stylish furniture that you can enjoy stylishly.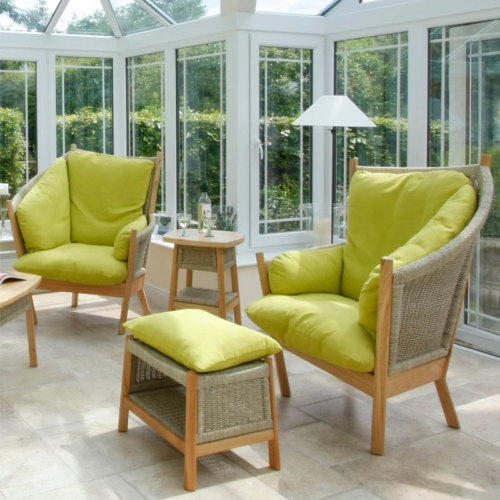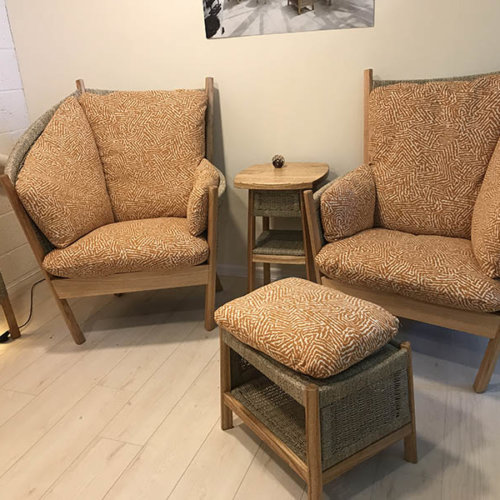 Increased Comfort with an Armchair and Footstool
It isn't just how your conservatory decor looks, though. It's how your new additions help you use your space. Sometimes, you want to use your conservatory for something else. You might want a lot of floor space for exercise, or more furniture to host more people in the room. Because of this, it's important to have conservatory furniture that's just as flexible as your needs can be.
That's why, at Fair Trade Furniture, we've designed our collections to complement any other pieces. That means you can mix and match our range of designs to get only the furniture you need. Not only that, but you can combine some of the designs in our ranges together. For example, you could move the left and right chairs from our Jogya range to the end of the sofas for more space.
Also, if you need the whole space for any reason, you don't have to clutter up the rest of your home. Some of our conservatory furniture will be fine outside, as it's highly durable and resistant. Our Semarang range uses Mindi wood, a durable Indonesian species that won't damage outdoors. As a result, you can change how you use your conservatory all the time with our furniture.
Modern Armchair and Footstool Designs
With Fair Trade Furniture, combining an armchair with a footstool has never been easier. We offer both as part of our Semarang and Jogya ranges, durable designs that suit any space. Our light and quirky furniture can add real character to any area of your home, from conservatories to garden rooms and even living spaces. And, by combining our soft armchair and footstool designs, you'll add real comfort too.
Another benefit of choosing furniture from us is that we are proud to be a Fair Trade company. We're the first furniture company in Europe to be independently verified as one too, something we'll always be proud of. Because of this, you can invest in our designs, knowing they come from craftspeople who are being properly renumerated to continue their excellent work.
Our ranges come from leading designers across the world, and we work with experts across our collections. As a result, we can offer quality furniture that will stand the test of time. Our armchair and footstool designs are a perfect example of this, combining brilliantly to offer a unified design for your home. You're sure to fall in love with our designs and enjoy them for years to come.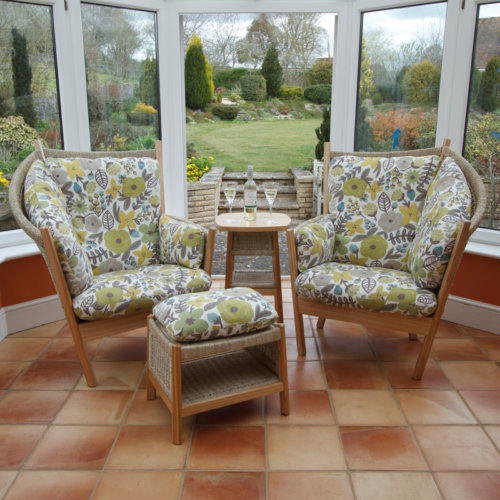 Fair Trade Armchair and Footstool Prices
Get in touch with us today if you'd like to pick up a new armchair and footstool from one of our collections!
You can book an appointment to visit our showroom if you'd like to see them for yourself, or you can fill in our online contact form or call us on 01722 340 822 to ask us any questions.
We look forward to hearing from you!