Conservatory Furniture Greater London
Try our feelgood conservatory furniture in Greater London.
Fair Trade Furniture is proud to offer stunning conservatory furniture in Shepperton, Greater London, as part of our partnership with Malvern Garden Buildings. At their showroom, we have two of our most popular ranges on display – Semarang and Jogya – so if you live further away from our own incredible Dorset Showroom, can try our feelgood conservatory furniture for yourself. Discover exactly what makes our Fair Trade pieces the ideal addition to conservatories, garden rooms and summerhouses across the country.
Visionary Swedish designer Tord Kjellstrom was tasked with creating our feelgood conservatory furniture for homes in Shepperton. We knew that we wanted our pieces to make you feel calm and relaxed inside and out – mind, body and spirit – and so our furniture was designed and created with this mantra at its heart. Our exquisitely crafted pieces are uniquely styled, as comfortable as they are quirky, and they make fine additions to any home.
Now, our conservatory furniture in Shepperton, Greater London is making our feelgood ideals more accessible as more homeowners can try it out and see just how good it is. As we always say, sitting is believing! Choose Fair Trade Furniture to fill your conservatory, garden room or summerhouse with superior, supremely comfortable sofas, armchairs and dining tables. We offer so many products, all of which are created with our Fair Trade values that we hold close and look to share with you.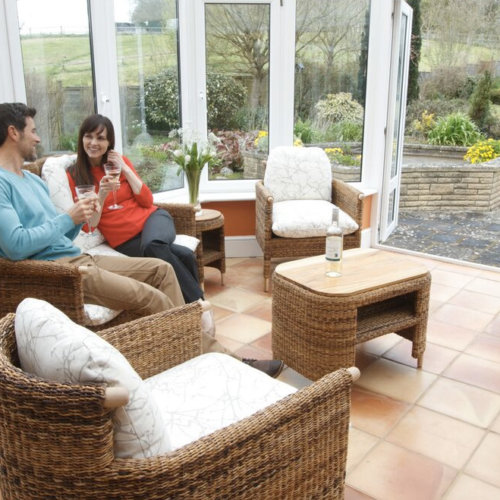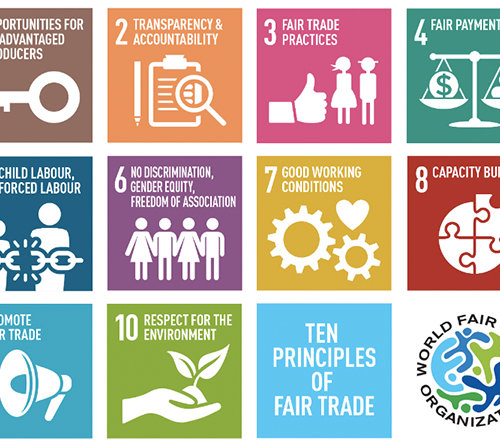 Our conservatory furniture is created completely Fair Trade.
All our products proudly bear the World Fair Trade Organisation's highly sought-after badge of verification. We're the first furniture company in Europe to hold this actual badge of honour, and it's incredibly important to everything we do – Fair Trade by name, Fair Trade by nature. Our incredible conservatory furniture is carried out with this focus in mind, and we know that the care our skilled craftspeople partners put into the creation of our pieces translates to the comfort  homeowners in Shepperton, Greater London can experience.
We are completely Fair Trade every step of all the way, all through the process from designing to creating our conservatory furniture for Shepperton homes. Whether you're looking for pieces for your conservatory, summer house, garden or even inside your home as an alternative feature, you can rest assured that the skilled craftspeople behind them have created them with a true commitment to their craft. We work with our Fair Trade partners to enrich their lives which feeds into the outstanding quality of our products.
When you come and visit our conservatory furniture in Shepperton, Greater London, we know that you will look at the designs and be impressed. It's also important to remember the stories behind them and the skilled colleagues we have and hold dear around the world. Without them, our conservatory furniture wouldn't be what it is today – and conservatories, summerhouses and garden rooms across the UK would be less stylish and comfy as a result.
Find out what 'feelgood furniture' really means.
Our conservatory furniture in Shepperton, Greater London is available to view and try at Malvern Garden Buildings. Our showroom partners across the country allow more homeowners like you to discover a cross-section of some of our best-selling selections. Any living space can benefit from our ethical conservatory furniture. So with our designs more accessible than ever, make sure your next conservatory furniture purchase is Fair Trade.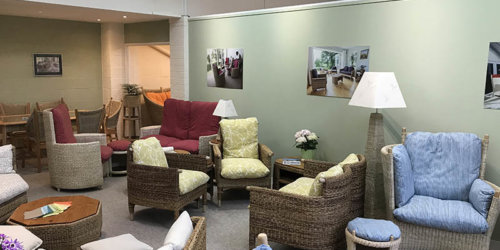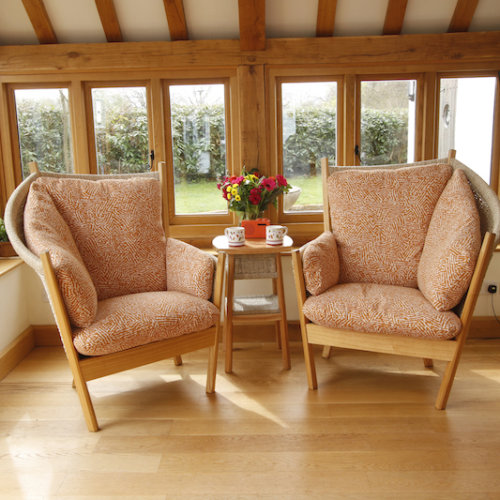 Our flagship range, supremely comfy and stylish.
If you're new to Fair Trade Furniture, our flagship Semarang range is the ideal place to start. And if you're a veteran looking to add to your collection, you already know how comfy this beautifully crafted collection is, and how it is ideal for any type of summerhouse or garden room. This distinctive design classic is versatile enough to work in any interior living space to fit with and refine the aesthetic of your home in Greater London.
We often say that the Semarang chair, the centrepiece of the entire range, is as much a piece of art as it is an item of ethical conservatory furniture. Its sculptural shape, with a high back and generously cushioned side, you can settle in and get cosy all through the year. Our conservatory furniture improved the functionality of your summerhouse or garden room in Shepperton, Greater London, with supreme levels of comfort that will make you want to stay there whatever the weather.
Cocoon in comfort and combine to create your style.
For a piece of conservatory furniture that embraces you and keeps you warm and cosy after a long day in your Shepperton home, choose the bold Jogya range. These armchairs cocoon you in comfort with their wrap-around high-sides to keep you warm through the cold, dark nights. Their thoroughly modern design makes them ideal for sleek and stylish summerhouses, as well as more traditional conservatories.
The Jogya range is one of our most sociable. Welcome guests into your garden room in the warm summer months or cosy up in your conservatory. No matter how you plan to use our conservatory furniture, the asymmetrical design of the Jogya chairs feature alternative high-left and high-right sides. This means they can fit together neatly in your home in Shepperton, Greater London or anywhere in the UK. Enjoy our versatile and ethical conservatory furniture.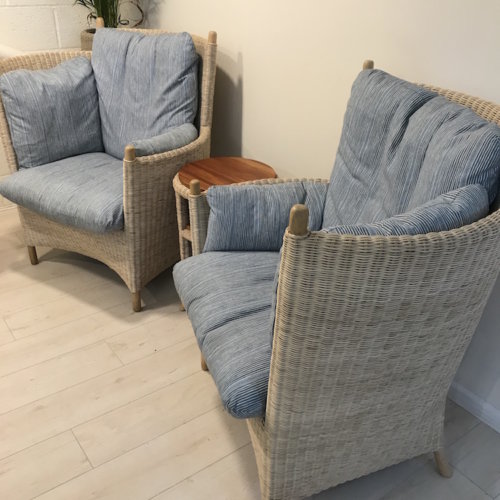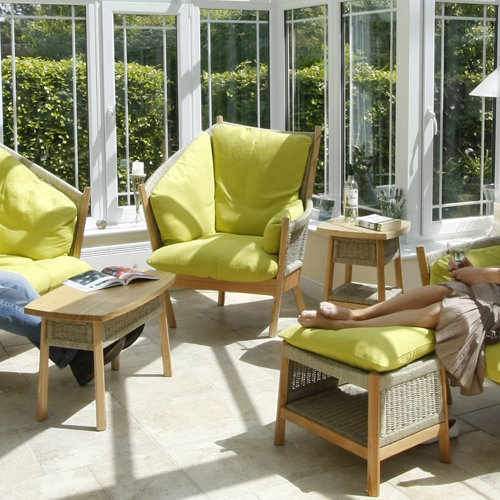 Conservatory Furniture Prices Greater London
Fair Trade conservatory furniture that's ideal for your home.
Here at Fair Trade Furniture, producing stylish and ethical conservatory furniture for homes in Shepperton, Greater London is our passion. We understand that the process involving our partners is what makes our pieces as unique and truly feelgood as they are known for. Visit Malvern Garden Buildings in Shepperton to try our conservatory furniture for yourself.
You can also visit our stunning Dorset Showroom. We have a much wider selection of conservatory, garden room and summerhouse furniture for you to try out and fall in love with. Call us on 01722 340882 to book an appointment or contact us online today.