The Ranges –

Our Flagship Furniture Collections
The following ranges are available as special orders with longer lead times. Kartosuro an under-stated modern classic, Jepara is our low-backed modular range and our innovative Semarang Dining range completes the collection. For more information about these ranges and to arrange a consultation with our team to discuss the options in these special order ranges, please contact us or book a showroom visit.
Garden Room Furniture Styles
You can visit our stunning showroom to see our vast array of garden room furniture styles and try them out for yourself. All offer individual aesthetics to suit any personality and enhance every living space. Our Fair Trade Furniture is renowned for our unique asymmetrical designs that make our pieces highly distinctively and unbelievably comfortable. For example, our Semarang garden room chair features one high and one low side, so you can relax and snuggle into a cosy corner while also reaching for your drink or favourite book. Furniture has never been so intuitive.
If you're looking for chairs, sofas and all manner of furniture for your garden room, you've come to the right place. Each of our ranges can be tailored to suit your needs and exceed your expectations when it comes to style and comfort. From vast, expansive spaces to more compact areas, our large and small garden room furniture will help your space achieve its full potential. Explore our range of styles and find the one that's right for you.
There are so many different ways to use your garden room, so you need to make sure you have the perfect garden room furniture to meet your needs. our stylish and comfy pieces will enhance the look and feel of your space to create a welcoming aesthetics for yourself, friends and family.
Our Fair Trade garden room furniture is expertly crafted by our partners in Indonesia using the finest eco-friendly materials for superior aesthetics. Whether you're looking for a quiet space to relax by yourself or a vibrant social hub to entertain friends and family, we have the solution. Our wide range of garden room sofas and garden room chairs and highly customisable with your choice of fabrics in various designs.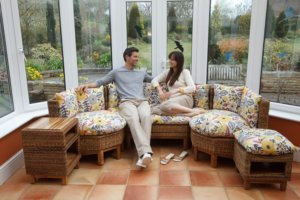 Garden Room Furniture Prices
Our modern garden room furniture is competitively priced with a range of bespoke options and unlimited possibilities when it comes to how you want to enhance your space. We're proud to provide Fair Trade furniture to customers across the UK in partnership with our ethical sources in Indonesia, connecting every with the values that we hold close to our hearts.
To find out more about our garden room chairs, sofas and other furniture, we welcome you to contact us today for more information. You can continue to explore our website and see all the ranges we offer and the fabric options we provide. From classic garden room furniture designs to unique asymmetrical profiles, we're sure to have the right fit for your home. Choose our stylish and comfortable Fair Trade furniture for your garden room today.