How To Furnish Your Garden Room
Getting the right furniture for garden rooms can be as important as finding a good build. That's because, when you use it, you want to enjoy your garden room in comfort. With a room like this, you'll feel more connected to nature, while also feeling sheltered from the elements. Your build will be able to keep you warm and comfortable no matter the weather outside.
But over time, a space like this can become more difficult to use. One reason that might happen is the furniture in your garden room becoming tired and worn-down. Things like intense sunlight can cause staining and wear to old chairs, sofas and dining sets. As a result, some furniture ranges don't last very long in these conditions.
However, with Fair Trade Furniture, you can choose from a brilliant range of furniture for garden rooms. Our designs are hard-wearing, comfortable and quirky, and they won't lose their colour in intense sunlight. Additionally, our furniture is easy-to-use and flexible, helping you use your garden room for several purposes. We're also a Fair Trade company!
Office Garden Room Furniture
A garden room can feel like a relaxing space that's away from the stresses of your home. However, it can double up as a room to focus in, free from distraction. With Fair Trade Furniture, you can create a comfortable home office, complete with everything you need to work from home. Not only that, but our furniture ranges will stand the test of time.
All our ranges combine Swedish design and hand-made manufacturing in Java, for a set of chairs and sofas that stands out. For example, our Bantul range has unique 'horns' and 'legwarmers' and features distinctive banana fibre woven into a rattan design. Additionally, you can choose chairs with high-back options for total comfort throughout the day.
When the day's done, you'll also be able to sink into the same chairs to relax. The Bantul garden room range comes with luxurious feather-filled cushions, sourced from Somerset. These plush designs are soft and squishy, and they won't lose their shape for years to come. Also, the Bantul collection is compact, meaning you'll still get plenty of floor space in your garden room.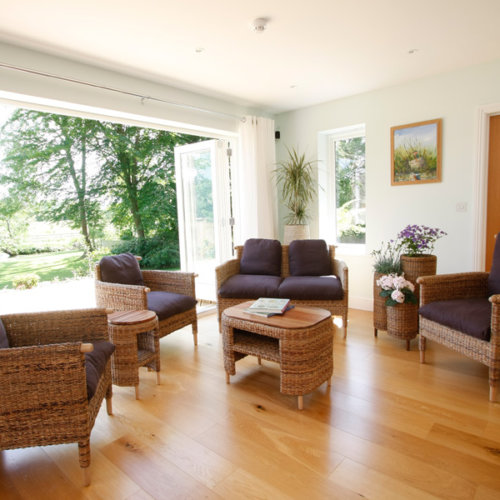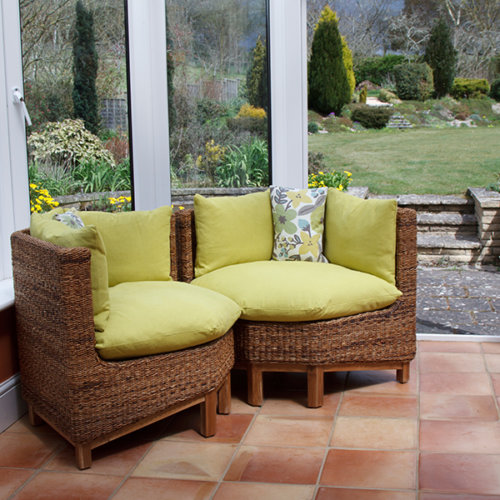 Gym Garden Room Furniture
We all want to get fit. However, pricey gym memberships and long commutes make that resolution difficult to commit to. If you have a garden room, you might be able to work on your fitness without working out the finances. You could build a home gym, with furniture that can stay out of the way when you work out and come back in when you want to relax.
Our Jepara garden room furniture range of Fair Trade pieces is ideal for these spaces, especially ones where you want to use them for several purposes. That's because the Jepara collection is fully modular. It features corner chairs, corner sofas and unique hexagonal chairs that you can push together or apart to create bespoke furniture designs. That means you can move them away to create space for your gym, or push them together for additional seating space.
The Jepara range also helps your garden room feel more open. The designs all have low backs, meaning you won't block out any natural light from entering your home. And, if you'd like to work out just how much room they'll take, download Fair Trade Furniture's product footprints guide! You'll be able to see how our furniture can suit garden rooms of any size.
Social Garden Room Furniture
Alternatively, you might want a social garden room. That means a space that you, your family and your guests can use to unwind, relax and even dine. Fortunately, with Fair Trade Furniture, you can get everything you need to style a new lounge or dining area. With our commitment to Fair Trade manufacture, you'll also get unique designs at a price that suits everybody.
If you want to make your garden an open social space, our Semarang garden room furniture range is a superb option. It's our flagship collection, with a comfortable hard-wearing design that you'll enjoy all year round. It also features unique designs, such as our Semarang chair. This design has a sculptured high corner on one side, meaning you can lean into it to lie down.
With Fair Trade Furniture, you can also choose chairs and sofas that create a stunning dining area for garden rooms. We offer the Semarang Dining garden room furniture range with the same materials as the rest of the collection, including mindi wood and seagrass. The design compliments the other options in the collection too, meaning your whole garden room will look fantastic.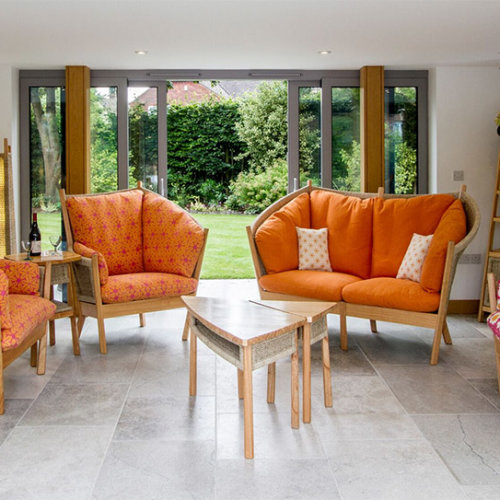 Fair Trade Garden Room Furniture
With Fair Trade Furniture, you'll get exceptional quality for your garden room furniture, and you'll also make sure everybody involved in making it gets a fair deal too. That's because you'll be choosing the first company in Europe to be independently verified as a Fair Trade company.
As a result, you'll get both furniture that lasts for your home, and you'll provide benefits to the people who make it that last just as long. You'll make sure our designers and manufacturers all get a fair price for their work, meaning nobody will be left out of pocket. Our comfortable, hard-wearing designs give you a feelgood experience that transforms any garden room.
Explore our full range of furniture for garden rooms when you visit our online shop! And, if you'd like to see our ranges for yourself,   book an appointment at our showroom or a virtual meeting to find out more.
We're also happy to tell you more about our furniture ranges and the way we source them – fill in our online contact form today, and we'll get back to you as soon as we can! Alternatively, you're welcome to give us a call on 01722 340 882 to find out more.