Conservatory vs Summerhouse vs Garden Room
Conservatories, summerhouses and garden rooms – what's the difference? Here at Fair Trade Furniture, we specialise in a range of modern furniture styles that can be used anywhere throughout the home, in all sorts of spaces. Which is why we're pretty comfortable using these room types almost interchangeably.
There are, however, some key differences between conservatories, summerhouses and garden rooms, so we've put together this practical guide to help you tell them apart. So if you're looking to invest in one for your home, you can make the right decision about which one is best for you.
No matter what type of room you have or are hoping to have built, our stylish and comfy furniture is ideal. We have a wide range of chairs, sofas, side tables and more available in our online shop, in a vast collection of fabric options to suit your space. Explore our website to learn more and contact us if you have any questions!
A conservatory is traditionally recognised as an extra room attached to the home, made predominantly of glass walls with a glass roof. It is often used as a sunroom or perhaps to house plants. It lets in lots of natural light, creating a bright and airy space. In many cases, homeowners choose to have a conservatory built when they need a little extra space (but they don't want a full house extension) so they opt for a bespoke built to tag onto their home.
A summerhouse, then, is usually detached from the house, whereas a conservatory is attached. These structures are usually wooden and are often situated in the corner of a garden. They're pretty much little houses in their own right, with windows and doors – and lots of comfy furniture to relax in. Great in the warm weather, they allow you to enjoy fresh air and gorgeous views of your garden, so you can get away from the busy-ness of your home.
We know what you're thinking – that description of a summerhouse, with its focus on the garden, sounds a lot like what you would think a garden room would be. Well, you're right in some ways. Garden rooms are similar to summerhouses in that they are standalone structures in a garden, allowing homeowners to relax in warm weather, away from the house. However, the key differences are in construction, with garden rooms using more modern methods closer to house construction. They tend to be a little more luxurious, and generally are used for more purposes – while summerhouses are simple structures to relax in, garden rooms can be used as a gym, home office, guest bedroom – and much more!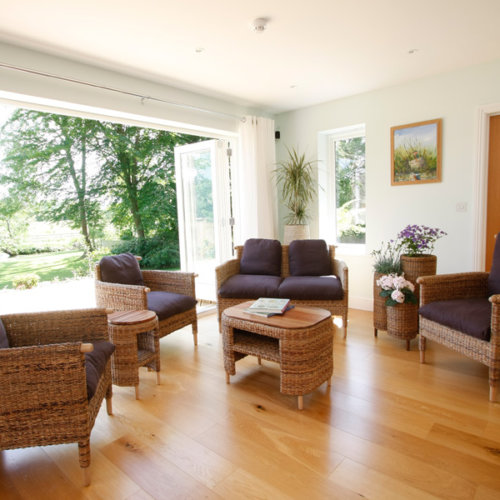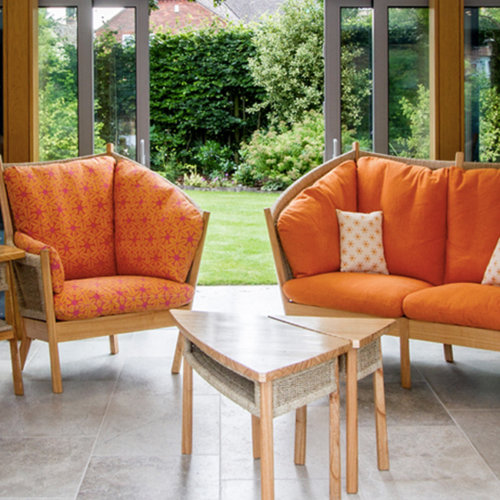 There are lots of similarities between conservatories, summerhouses and garden rooms. For one (very important) thing, they're all extra spaces that allow you to relax. With everyone so busy all the time and with so much going on in the world, it's important to have a special space that you can unwind in. Any of these variations on expanded living spaces are ideal for this.
Here at Fair Trade Furniture, we've carried out some research to ascertain which is more popular – conservatories, summerhouses or garden rooms. We've taken data from Google, which shows how many times people in the UK have searched for each of these terms over the last five years. Take a look at the results below.
It's clear to see that conservatories are far and away the most searched variation here, as this term seems to be the most well known and, being so traditional, everybody knows what it is. However, you may notice summerhouses and particularly garden rooms saw a huge spike in search interest levels in mid-2019 and even into 2020.
With the first Covid lockdown in full swing (and with lovely weather a lot of the time, fortunately) people were searching for ways to open up their homes and expand their spaces since – to put it bluntly – they weren't allowed to go anywhere else. This saw a rise in people researching their options and becoming more informed about the products out there – a trend that we've seen continue to this day.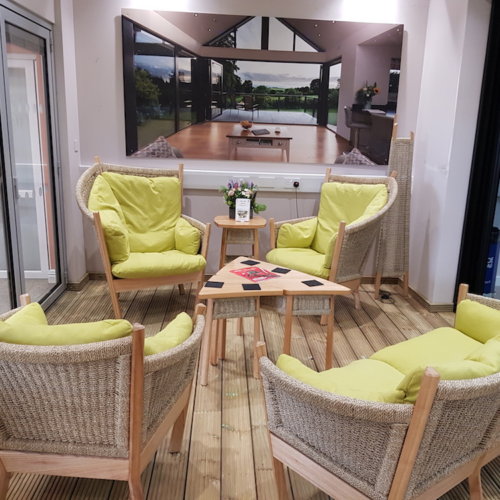 Fair Trade Furniture for Conservatories, Summerhouses & Garden Rooms
Whatever you may be Googling and whichever variation you have, you can be sure that there's something for you here at Fair Trade Furniture. Whether you've got a traditional conservatory, a classic summerhouse or a modern garden room, our eco-friendly, sustainably sourced furniture will be the perfect fit.
Browse our stunning range of on-trend fabric options right here on our website, and see some of our favourites for each range in our online shop. Plus, if you want to see the pieces in situ, you can arrange a visit to our beautiful showroom in Dorset or visit our display partners across the country.
For conservatories, summerhouses and garden rooms alike, you can rely on Fair Trade Furniture. No matter what people are searching for, we're here with the stylish and comfy options to make the most of any space. While trends and interest levels may change, we'll be here with the best, bespoke furniture options tailored to what you're looking for.