Conservatory Furniture Devon
Discover the ideal feelgood conservatory furniture for your Devon home.
At Fair Trade Furniture, you can find conservatory furniture with a difference for your Devon home. The difference between our designs and the rest is stark. You'll get designs with hard-wearing fabric that's ideal for these spaces, rather than heavy designs that wear down. You'll get unique, quirky options that make relaxing easy. And, above all, you'll get summerhouse furniture in Devon that's Fair Trade.
Our furniture comes from Swedish designer Tord Kjellstrom. Tord's conservatory furniture designs are bold, stylish and functional for homes in Devon, combining all that into our furniture ranges. You'll get sofas, chairs, tables and footstools that all look superb and don't wear down. Because of this, you can make an investment that lasts for decades.
Now, you can see the investment you could make in conservatory and summerhouse furniture for your Devon home for yourself. We've partnered with Malvern Garden Buildings, meaning you can explore our furniture for yourself inside their showrooms. Not only that, we have a showroom to show off our conservatory furniture for Devon homes as well. That way, you can experience our designs for yourself today.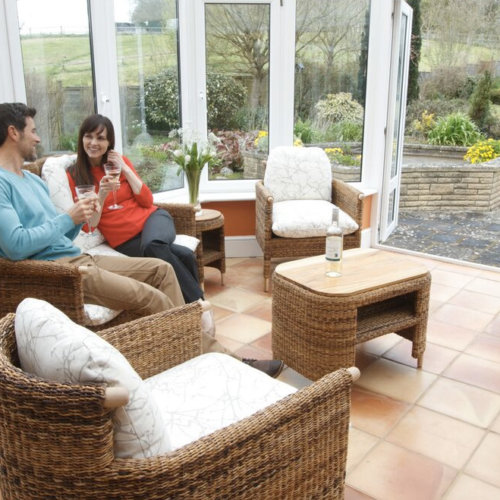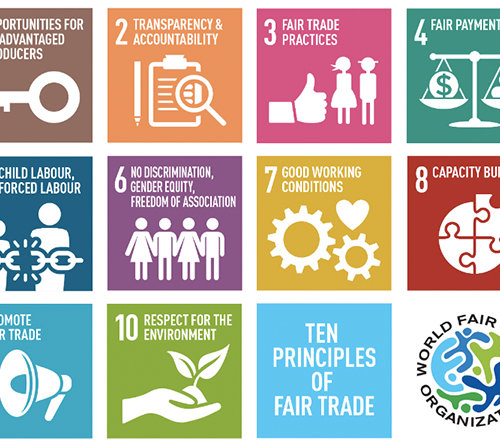 We are committed to Fair Trade throughout our whole process.
At Fair Trade Furniture, we follow our Fair Trade values in everything that we do. Because of this, every step of our process meets our commitment to Fair Trade. Our conservatory and summerhouse furniture is designed in Sweden and manufactured by skilled craftspeople in Java before it arrives in your Devon home, and we ensure that the money you pay goes to the people that make it possible.
We're proud to be the only furniture company in Europe that the World Fair Trade Organisation has independently verified as a Fair Trade company. As a result, we wear our values on our sleeves and our approval with pride. When you invest in conservatory furniture for your Devon home with us, you'll also be investing in the people who make it.
When you visit our showroom, or Malvern's, you'll be able to see the impact our values have. We strongly believe that our Fair Trade furniture motivates the people behind it to create stunning designs that stand out. Because of this, you'll feel that quality from the moment you choose our conservatory or summerhouse furniture for your Devon home, with its soft cushioning and handcrafted design.
Explore our feelgood furniture at a showroom near you.
Thanks to our showroom partners, Malvern Garden Buildings, you can see conservatory furniture for your Devon home in more places than ever. You'll be able to explore our full ranges, sit in them, and get just a small glimpse of how our designs could benefit your space. Not only that, but even our showroom displays meet Fair Trade standards, showcasing a more ethical way to buy summerhouse furniture for your Devon home.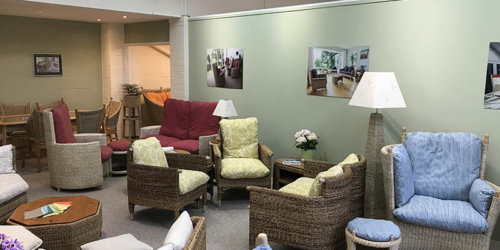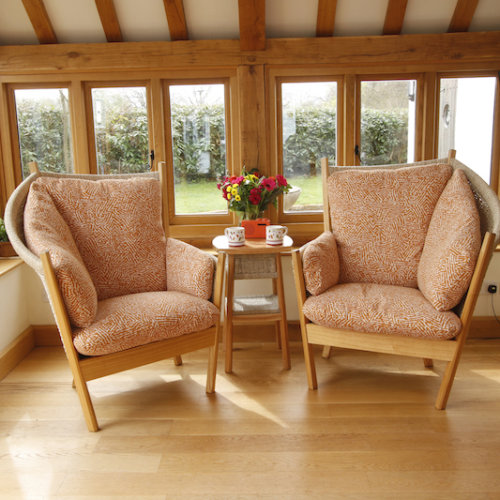 Beautifully quirky, supremely comfy.
At Fair Trade Furniture, we offer the Semarang collection of conservatory and summerhouse furniture for homes in Devon. It's our flagship range of feel-good conservatory furniture for homes in Devon, and the design makes it easy to see why. You'll get durable, hard-wearing fabrics that won't stain in the sun. Additionally, the seat legs and frames are made from Mindi wood, an Indonesian species which is strong but light.
With the Semarang range, you can also get unique designs for your space. For example, the Semarang chair could transform the way you relax at home. One side of the chair is much higher than the other, meaning you can lean back into it to fall asleep or just unwind. Also, the other side is much lower, making it easy to pick up a drink.
The Semarang range of conservatory furniture is also customisable for your Devon home. You can select side tables, footstools and more to suit your needs, and you can choose from a range of coloured fabrics to style your furniture around you. You could even turn your conservatory into a dining area with our Semarang Dining collection of summerhouse furniture for your Devon home!
Wrap yourself up in a cocoon of comfort.
Alternatively, you could also invest in our Jogya range of conservatory furniture in Devon. The Jogya collection is even more hard-wearing, meaning it'll stand the test of time for your home. The design features rattan, a resilient material that gives your furniture a rustic quality. Not only that, it can protect your furniture from poor conditions.
Because of this, your Jogya chairs, tables and sofas could double up as summerhouse or garden furniture on summer days in Devon. You can put them on the grass without worrying about any damage. Even if the weather does turn on you and you leave them outside, you won't have to worry. The Jogya range is weather-resistant conservatory furniture, meaning it can deal with some wind and rain in Devon.
Jogya furniture looks just as good as it performs, too. You'll get unique designs such as left and right chairs and footstools within the collection. And, for complete comfort, our Jogya armchairs have high sides that create a cocoon around you. That way, you can relax and unwind with ease in conservatory furniture that looks fantastic for homes in Devon!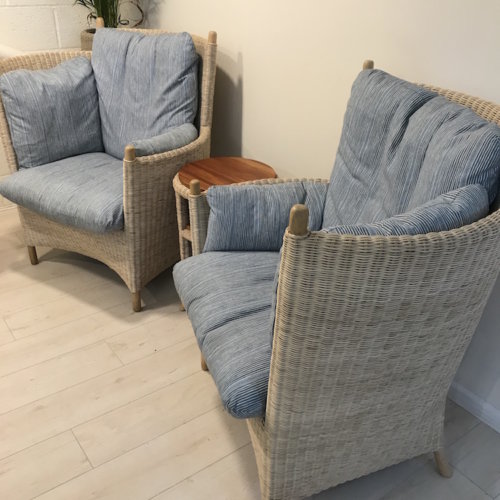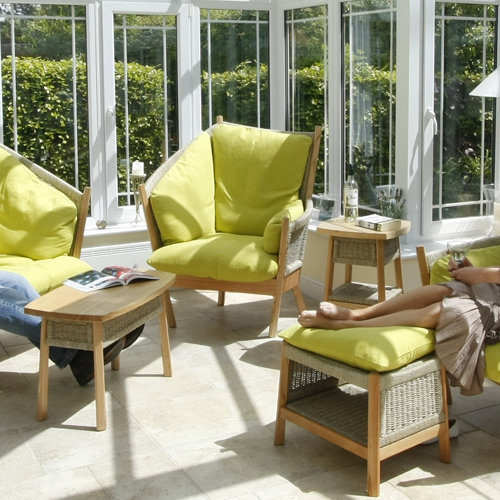 Conservatory Furniture Prices Devon
Feel better than ever with our truly feelgood furniture.
At Fair Trade Furniture, we create conservatory and summerhouse furniture in line with our Fair Trade values for your Devon home. That means, from the first to the last step, our designs are a more ethical investment. You can see our passion in all of our summerhouse furniture designs, and you can experience it for yourself when you visit a showroom near your Devon home. When you choose our furniture, you'll choose to help quality tradespeople worldwide too.
You can visit us today at our stunning Dorset showroom, or by visiting Malvern Garden Buildings. Call us today to book an appointment on 01722 340 822, or contact us using our online form to ask us anything about fitting our conservatory furniture in Devon!