Are you looking for some conservatory decor ideas? Whether you have an older build you want to update, or you're looking to get a brand-new space, the right decor is pivotal. That's because, with a stylish palette, standout features and unique designs, you can make your space stand out. Not only that, but it'll be more suited to you and your family's needs.
One of the best ways to give your conservatory new decor is to invest in furniture. Not the heavy, leather designs that struggle in these spaces, though. The right designs for conservatories are durable, with hard-wearing fabric. Not only that, but they should look superb, with bold colours that won't fade or stain in the intense sunlight of a conservatory.
That's where Fair Trade Furniture can help. Our bold, quirky furniture designs are a brilliant option for your conservatory. We design them around the needs of those spaces, meaning they are durable, hard-wearing and soft. Not only that, but all of our furniture is made according to Fair Trade values. That means you'll be investing in quality people, as well as quality furniture.
Conservatory Decor Options
Your conservatory decor could say a lot about your home. If you have an older space with tired decor, it might be making the wrong impression. Things like heavy leather sofas and chairs, curtains and old carpet flooring can give the impression of a space that's seen better days. But, with new furniture, you could lift your conservatory decor and give your space a new lease of life.
Colours make a big impact – that's why, at Fair Trade Furniture, we give you a wide choice of colours for your new furniture. You can choose matching colours or create contrasts within your choices. The colours will also last for years to come, as they'll feature on hard-wearing fabric that won't fade in sunlight.
As a result, our coloured conservatory furniture is great for old and new builds alike. It can provide a much-needed update in an old build, bringing a sense of energy to the room. However, with a new build, you can style your furniture around coloured frames for doors and roofing. No matter your option, though, Fair Trade Furniture has fantastic fabric colours for you.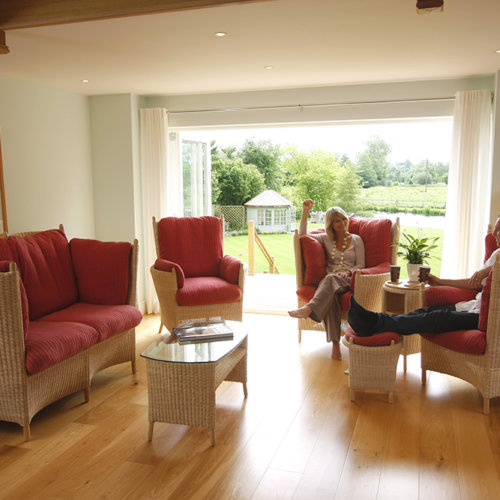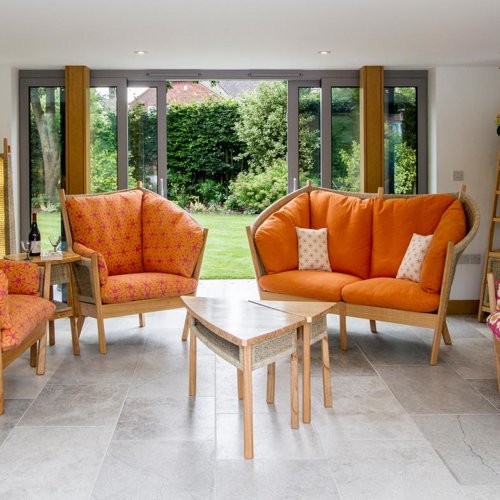 Conservatory Interior Ideas
It isn't just how your conservatory decor looks, though. It's how your new additions help you use your space. Sometimes, you want to use your conservatory for something else. You might want a lot of floor space for exercise, or more furniture to host more people in the room. Because of this, it's important to have conservatory furniture that's just as flexible as your needs can be.
That's why, at Fair Trade Furniture, we've designed our collections to be modular. That means you can mix and match our range of designs to get only the furniture you need. Not only that, but you can combine some of the designs in our ranges together. For example, you could move the left and right chairs from our Jogya range to the end of the sofas for more space.
Also, if you need the whole space for any reason, you don't have to clutter up the rest of your home. Some of our conservatory furniture will be fine outside, as it's highly durable and resistant. Our Semarang range uses Mindi wood, a durable Indonesian species that won't damage outdoors. As a result, you can change how you use your conservatory all the time with our furniture.
Garden Room & Summerhouse Decor Ideas
Our furniture doesn't only work in conservatories. If you have another space, such as a garden room or a summerhouse, then our decor ideas can help you enhance those areas as well. Our furniture is highly durable, thanks to hard-wearing fabrics and materials like rattan being a part of the design. As a result, they can deal with all of the unique conditions of these spaces.
In a garden room, our furniture will be a durable option. That means, if you trail dirt back from your garden, it won't cause lasting damage to the fabric or cushions. Not only that, you can move some of our furniture designs out into your garden during the summer, helping you relax inside and out.
If you own a summerhouse, then our furniture can deal with the light inside the space. Thanks to the hard-wearing fabric we use in our designs, the fabric's shades won't fade or discolour over time. Even in the most intense light, your furniture will continue to look its best for years to come. That way, you can customise your new decor with confidence!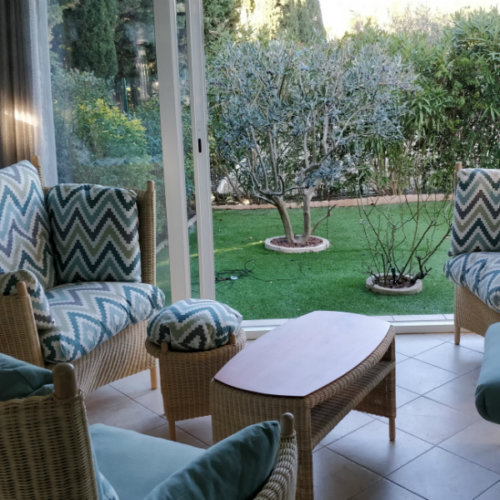 Fair Trade Conservatory Decor Prices
If you'd like to update your conservatory decor, get in touch with Fair Trade Furniture today! Getting new furniture is an affordable way to update your space and make it look brilliant. Not only that, you'll pay a fair price for our designs. That's because we're the only furniture company in Europe with independent verification from the World Fair Trade Organisation as a Fair Trade company!
You can book an appointment to visit our showroom today to have a look at our designs for yourself. Call us on 01722 340 822 to book an appointment. Alternatively, fill in our online contact form to get in touch with our friendly team to ask them any questions about your conservatory decor ideas!