Furniture For Small Garden Rooms
Garden rooms can come in all shapes and sizes, from vast and expansive to neat and petite. The configuration all depends on your personal preference and how you plan to use it. But no matter what purpose you want your dream garden room to fulfil, you'll want to make sure you have the perfect furniture in there to relax in total comfort and enjoy with your loved ones. 
Some people enjoy large garden rooms that consume a lot of space and can hold all kinds of items and be used for various purposes, such as a home office, gym or family dining room. But equally, many people opt for a smaller space. After all, if you're looking for a garden room, you'll likely want to maximise the amount of actual garden space around it. 
At Fair Trade Furniture, we specialise in chairs, sofas, tables and accessories for garden rooms, conservatories and summerhouses. If you have a garden room that's on the smaller side, our furniture will allow you to make the most of it so you can enjoy it to its full potential. In this guide, we'll take you through some of the options we have available. Are you sitting comfortably?
Our Bantul collection of garden room furniture is perfect for small spaces. It's our "neat and petite" range, more compact than some of our other collections and all the more versatile for it. These pieces have a stylish, retro feel to them with quirky "legwarmers" beneath gorgeous wickerwork and weaving that is done with banana fibre. We feel it really highlights the impressive craftsmanship of our Fair Trade partners.
Bantul furniture for small garden rooms includes the classic chair with a comfy curved back and straight sides. This combines a traditional feel with supreme comfort. Its compact design makes it perfect for the space-conscious sitter. You'll have plenty of room all around our Bantul pieces to maximise the potential of your garden room, including additional offerings in the collection that complement its look and feel, such as our coffee table and side table to complete the look and help your smaller garden room stand out from the crowd.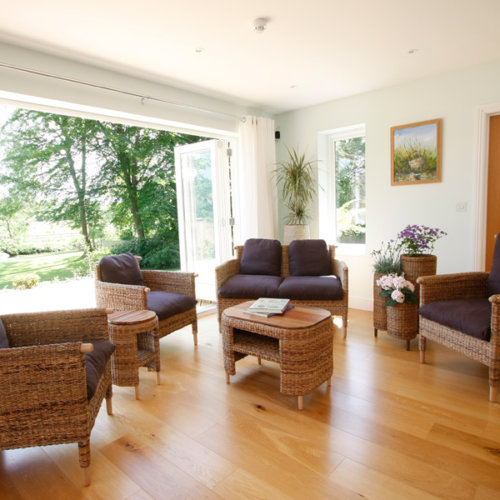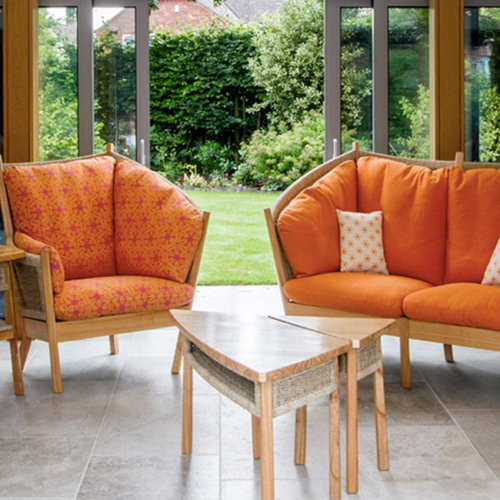 The Semarang collection of furniture for small garden rooms is our flagship set. This range boasts the distinctive design that we have become renowned for. We asked Swedish design visionary Tord Kjellstrom to create furniture that is "feelgood" in every way, and the result is our gorgeous asymmetrical chairs. With one high side to snuggle into and one lower side to easily reach for your book or beverage of choice, the Semarang range really puts your needs first.
If you're looking for a more traditional feel, the Semarang collection also contains the classic profile of symmetrical chairs, along with a wealth of complementary accessories for your garden room including sofas, footstools, side tables and more. While some of these pieces might be a little larger than those in the Bantul range, they're unmistakably ideal for any situation they find themselves in, perfect for large and small garden rooms, summerhouses and conservatories – and anything in between.
Completing our triumvirate of main ranges of furniture for small garden rooms is the Jogya set. If you're looking to be wrapped up in a cocoon of comfort to nestle into the warm glow of your garden room, this could be the collection for you. These stylish chairs wrap themselves around you to keep you safe and cosy at any time of year, making them a great choice if you're planning to enjoy your garden room on the colder, dark nights with the stars above you – and maybe a discreet heater in the corner!
This is one of our most customisable collections and it works well in conservatories, summerhouses and garden rooms small and large alike. The Jogya's bold design stands out and draws the eye in any space, proving itself time and again to be a true feature and focal point wherever it finds itself. Complete the set with asymmetrical and symmetrical chairs, and sit back and put your feet up thanks to our matching footstool. Whatever furniture you need for your small garden room, we're sure to have the solution.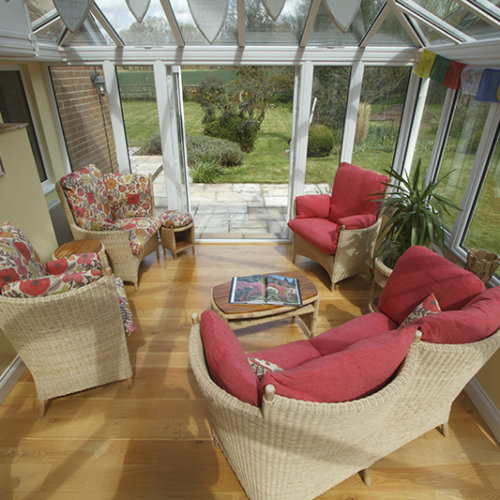 Fair Trade Furniture For Small Garden Rooms
There are many ways to make a smaller garden room stand out from the crowd despite – or perhaps even because of – its smaller size. Garden rooms are all about celebrating your outside space and enjoying it with gorgeous views from a stunning seat of comfort. With a smaller structure, you'll have lots of scenery to enjoy, and our supremely comfy furniture fits into any space so you can look out over your landscape from the perfect chair.
Here at Fair Trade Furniture, we're committed to upholding our Fair Trade values and celebrating them through everything we do. We understand that our chairs, sofas, side tables and more would not be possible without the partnership we have with our team across the world. The result of this relationship can be enjoyed by you with our stylish and comfy furniture for small garden rooms – and many more kinds of spaces besides.
If you would like to find out more about getting the perfect furniture for small garden rooms, conservatories, summerhouses and more, the best way is to arrange a visit to our showroom in Dorset. We have some of the most popular styles and fabrics on display, and you can find the shape and size that's right for you.
Our furniture really has to be seen – and sat in – to be believed! When you do, we know you'll fall in love with our furniture for small garden rooms. Book a visit to our showroom today or call us on 01722 340 882 for more information.