How To Use Garden Buildings
Find out how to use garden buildings in style with Fair Trade Furniture today! A garden building can make a brilliant addition to any property. However, it's what you fill the space with that makes it part of your home. The best to make your garden building comfortable, relaxing and stylish is to invest in stunning furniture for your space.
However, not all furniture can work for a garden room. That's because these spaces are closer to nature, meaning your furniture needs to be more resistant to it. Things like intense sunlight can cause some furniture to stain and wear away, making the colours fade. Also, you could choose heavy designs like leather which become difficult to use.
That's why, at Fair Trade Furniture, we design all of our furniture ranges around garden rooms and their uses, to make sure you can get the best from your space. As a result, we're a brilliant choice in how to use your garden room comfortably. Our ranges can help you style the space to be unique to you and to make it more flexible to your needs. And, as an independently verified Fair Trade company, you'll make an investment that benefits more than just your home.
Create A Comfy Garden Room
How do you find the best way to use garden buildings comfortably? With Fair Trade Furniture, you can make your whole space relaxing and easy to unwind in. That's because we combine chic Swedish design with soft cushions and handwoven wickerwork and rattan. As a result, you get chairs that are both sturdy and soft, ensuring you're comfortable all year round.
For example, our flagship Semarang range of garden building furniture has plush cushions, high backs and unique designs, including the Semarang chair. This chair has one side much higher than the other, meaning you can lie down into it. However, the other side is open, ideal for reaching over to a coffee table without extending your arm over the chair.
You could also make your garden building more comfortable to use with our Bantul collection. This range has chairs and sofas that use distinctive banana fibre, handwoven wickerwork, and soft cushions sourced from Somerset. As a result, you can sink into these sofas and chairs, helping you relax and unwind while feeling closer to the world around you.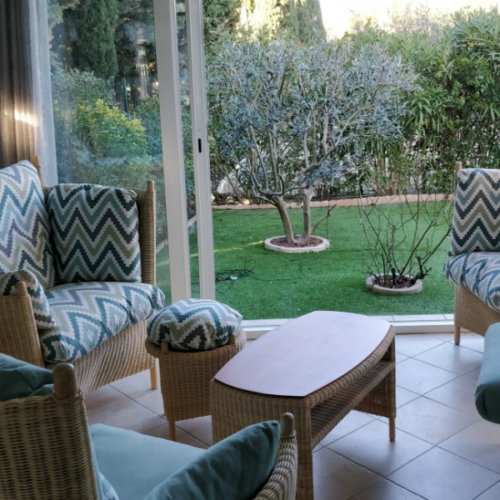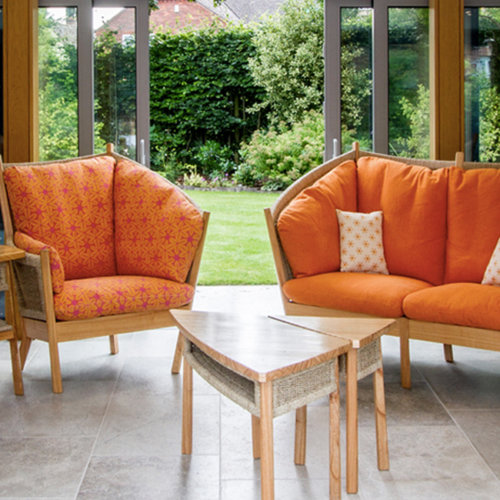 Design A Flexible Garden Room
Some guides on how to use garden buildings make you settle for one way. However, you don't have to only pick one purpose for your new room. Instead, you could use garden buildings for multiple purposes. With double glazing and insulation in their designs, you'll get the warmth and comfort you need to use it as a new room inside your home.
At Fair Trade Furniture, we have ranges that make it easier to use garden buildings more flexibly. Our Jepara collection, for example, is fully modular. That means you can chop and change the design at will, putting different designs together to create only the seating you need at any time. It's easy to move away too if you need more floor space.
The Jepara range features corner, middle and hexagonal chairs, as well as corner sofas. As a result, you can open up a world of modular possibilities. That means you can use your garden building as a home office, a relaxing reading room, or a gym area with plenty of floor space. That way, you'll have more control in how you open your home up.
Use A Garden Room For Years To Come
With Fair Trade Furniture, it's easy to find out how to use garden buildings in a way that lasts. But some other furniture ranges don't give you the same durability. Many options, such as leather sofas and chairs, struggle in garden rooms. That's because, with more glass, more sunlight can get into the room, which can cause some furniture designs to wear down quickly.
At Fair Trade Furniture, though, we know how to design furniture around garden buildings. We use rattan, a hard-wearing material, in many of our ranges, including our Jogya collection. As a result, their structures won't stain in excess sunlight, and it'll also be weather-resistant. You could even move our Jogya chairs and sofas outside in the summer!
You'll also make a distinctive addition to any garden building with the Jogya range. With the option of high-left and high-right chairs, you can design the furniture more closely around your needs. And, courtesy of their unique Swedish design, you'll give your garden building a quirky addition that helps it stand out, and for years to come.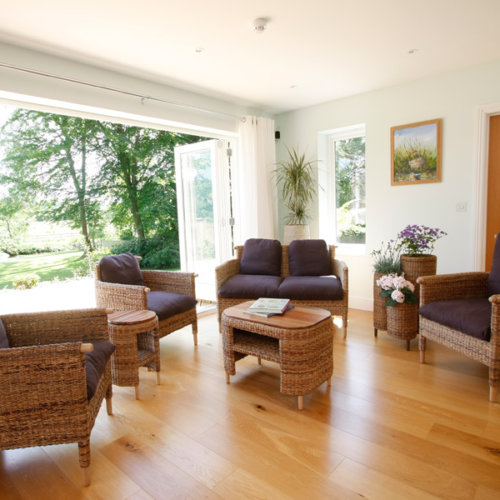 Enhance A Garden Building with Fair Trade Furniture
With Fair Trade Furniture, figuring out how to use your garden buildings best is no problem at all. That's because all our ranges are tailored for these spaces, meaning they'll be able to deal with the elements for years to come. Not only that, but every part of the design will continue to keep you comfortable. Our woven wickerwork, soft cushions and hard-wearing designs will all stand the test of time. Book your appointment to visit our stunning showroom.
Not only that, but your investment will benefit you and many others in the long run. That's because, when you choose Fair Trade Furniture, you'll be working with the first independently verified Fair Trade furniture company in Europe. As a result, you'll pay a fair price for you and everybody involved in the process.
If you'd like to invest in furniture that makes both your home and the world more sustainable, explore our range today when you visit our online shop. You can use our product footprints guide to work out how much space they'll take up in your garden buildings too!
And, if you'd like to find out more about how to use garden rooms with our furniture, use our online contact form to get in touch or call us on  01722 340 882 today.