Guide To Rattan Furniture
Rattan furniture makes a brilliant and stylish investment for your home. If you have a conservatory, sunroom or garden, then getting the right furniture helps to make it a more comfortable space. However, sunlight, wind and even rain outside can all be issues for some furniture. Because of this, leather options fade and wear down quickly.
But one material that doesn't do that at all is rattan. Rattan is a vine-like palm native to Asia, and you can weave its inner reed section into wicker-like furniture. Rattan is incredibly durable, meaning it won't wear down even if you keep it outdoors, and it has a unique woven look that stands out in any room.
At Fair Trade Furniture, we supply rattan furniture sets which we fairly source from incredible designers. Our Jogya range, taking inspiration from Swedish design, uses rattan to provide sofas, chairs and even footstools that are comfortable as well as durable. Because of this, they won't stain, collapse or lose their shape and strength for years to come.
You can also explore our Bantul range of furniture, which uses rattan poles to craft a brilliant retro look for your home. With Fair Trade Furniture, you get more choice in how you furnish your home. Not only can you select one of our countless unique fabric and colour combinations, but you can choose to invest sustainably for your home with a Fair Trade company.
What Is Rattan Furniture?
Rattan furniture is a durable option for your garden, sunroom, conservatory or orangery. Rattan is native to Asia and is a hard substance that is used for caning. However, the inner section, or reed-like section, can turn into carefully woven furniture. That happens through a weaving process called wicker, which moves the rattan into delicately layered shapes.
Because of this, rattan furniture has both a soft look and feel, but robust strength. As a result, it's the ideal blend for outdoor spaces. With our Jogya range, you can also get fabric cushions that provide more comfort and add a splash of bespoke colour to your space.
One of the crucial benefits of rattan furniture is that it is fully weatherproof. That means you can leave it outside, and wind and rain won't be able to damage the rattan for years to come. Because of this, rattan furniture is extremely popular for gardens, giving you a place to relax in comfort, which you don't have to put away.
Also, rattan can be part of a range of furniture options. Our Bantul range uses rattan poles, and you can weave rattan into other designs to help you make your home more functional. For example, our Jogya footstools have carefully woven storage shelves underneath, meaning you can use space more smartly.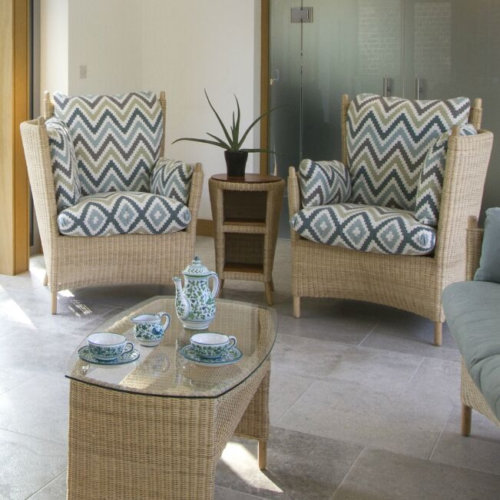 Rattan furniture is most popular as an outdoor option. However, it's just as suited to indoor spaces. For example, if you have a conservatory or orangery, then rattan could help you tie your room together. Rattan has a rustic look, meaning it pairs fabulously with tiled conservatory roofs or wooden flooring.
Additionally, you can pair rattan fabulously with hardwood side tables. At Fair Trade Furniture, we pair our Jogya range of sofas and chairs with coffee tables that use teak and acacia wood. These species are as long-lasting as rattan, meaning they'll be able to soak up spillages with less damage and suit a classic conservatory brilliantly.
Also, rattan furniture is useful if you have a garden room or even a summerhouse. As these spaces are often part of your garden, they give you more flexibility in how you use your furniture. When the sun comes out, you can move the furniture into the outdoors and soak up the warm weather.
However, if it gets cold, rattan furniture works as well inside the space. With the fabrics in our Jogya range, you also won't have to worry about UV damage. The fabric we use won't wear down in harmful sunlight, meaning your new furniture will last a lot longer than leather options.
Planning to use rattan furniture outside? You may not want to with our stunning Fair Trade designs.
The Best Rattan Furniture
At Fair Trade Furniture, we offer rattan with real quality for your home. Our Jogya range combines the durability of rattan with the incredible style of Swedish designer Tord Kjellstrom. We offer Kjellstrom's unique and bold asymmetrical chairs, on which one side is higher than the other.
Because of this, you'll have easy access to side tables on one side, and a cosy corner to snuggle up to on the other. Additionally, the Jogya range comes with multiple accessories, including footstools with integrated storage and hardwood coffee tables. That way, you can get the best of rattan and bring it to your home.
Also, you can bring it to your home fairly. That's because, at Fair Trade Furniture, we believe everybody should get a great deal for quality furniture. When you work with us, you'll be investing in not only in the sofas and cushions you get, but the talented people who make them.
We're proud to be the first furniture company in Europe who have been guaranteed and independently verified by the World Fair Trade Organisation as a Fair Trade provider. Because of this, we offer quality sustainably. Invest in your home with us, and invest in the people who make it happen.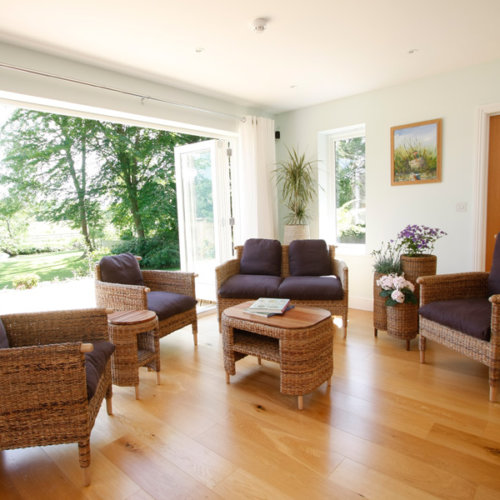 If you'd like fantastic rattan furniture at fairer prices, get in touch with Fair Trade Furniture today.
You can explore our full range of rattan furniture, including the fabulous Jogya collection, in our online shop. And, if you'd like to see our rattan for yourself,  book an appointment to visit our showroom!
We're also happy to tell you more about our rattan furniture and the way we source it. Fill in our online contact form, and we'll get back to you as soon as we can! Alternatively, you can call our team on 01722 340 882 and we'll be happy to help.