The perfect orangery furniture can complete the look and feel of your space. And, when it's fairly sourced and brilliantly designed, you feel the difference. At Fair Trade Furniture, we offer a broad range of furniture options for any space. In an orangery, you can get furniture that complements the blend of light and solid materials in the design.
Our collections are bold, quirky and comfortable, available in a range of options for your home. And, as the first furniture company in Europe to be independently verified by the World Fair Trade Organisation, you can make a better, more responsible investment. Explore our full range of feel-good orangery furniture today!
Orangery Furniture –
The Semarang Range
The Semarang range is our flagship. Bold, quirky and distinctive, not forgetting incredibly comfy, these designs suit any orangery. The collection includes chairs, sofas, coffee tables and footstools which use soft fabrics or wood to provide a cosy look for your living space. One distinctive design is our high-sided chairs, which give you a corner to snuggle into if you need to relax for a bit.
In an orangery, this furniture makes a huge difference to your space. Because these spaces have a lot of light, the sun shines off the fabric, causing your new furniture to glow. Additionally, the fabric is hard-wearing, meaning it'll keep in top condition for years to come.
Also, the Semarang collection is versatile. You can adapt it to a range of settings so that you can find a set that suits your new space. And, with countless fabric and colour combinations available, you won't have to settle for a design you don't like. Explore our full range of options and get furniture that stands out, and for a price that stands out too.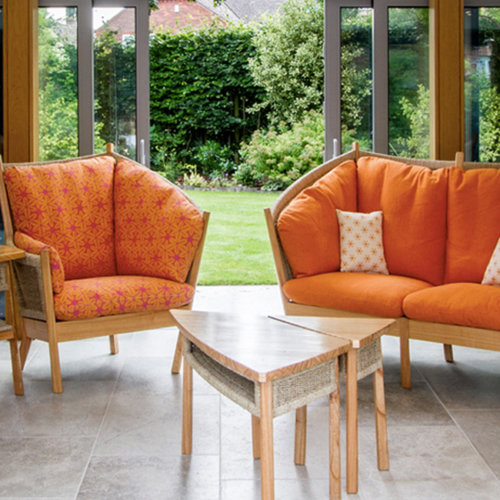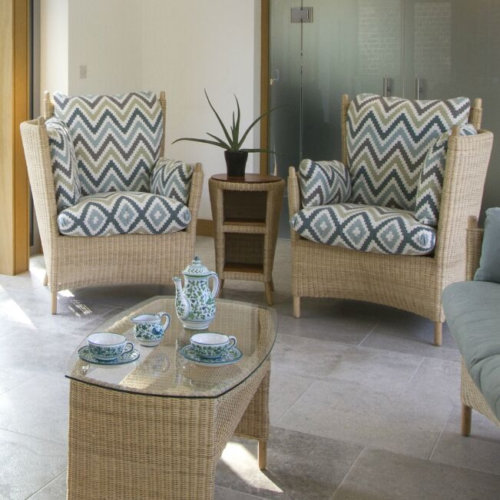 Orangery Furniture –
The Jogya Range
Our Jogya range brings a bold design philosophy to your home. In an orangery, this furniture provides comfort and functionality. You can pick from two-seated sofas, our unique asymmetrical chairs, and hardwood coffee tables and footstools. Also, our side tables and footstools have shelving inside, helping you get smart storage in your space.
Jogya is mainly comprised of rattan, a hard-wearing material that is ideal for outdoor spaces. Therefore, it'll last for decades, thanks to the use of rattan poles and wickerwork that strengthens the furniture.
Also, the wooden elements of the Jogya elements bring real class to your orangery. They use FSC-certified teak and acacia wood for the seat frames, and classic mahogany for shelves and table-tops. As a result, you'll be investing in rustic quality for your home, with a versatile furniture collection that stands the test of time.
Orangery Furniture –
The Jepara Range
Have you considered our Jepara range of orangery furniture? Jepara gives you more ways to customise the layout of your space and get more room to use inside your home. That's because many of the options we offer are modular designs. Because of this, you can get them separately, or fit them together to create unique seating areas to suit any space.
For example, if your orangery has a bay front or curved facade, then you can fit Jepara furniture into the shape seamlessly. Also, this set of furniture has low backs, meaning you won't block out any of the glass in your orangery, ensuring excellent views.
Also, the Jepara range has a unique shape to stand out anywhere. The chairs are hexagonal, with a basic square shape embellished by two corners that are bevelled off. That improves their flexibility, as you can fit the designs together at more angles. Also, you'll get the same choice of accessories, including hardwood side tables.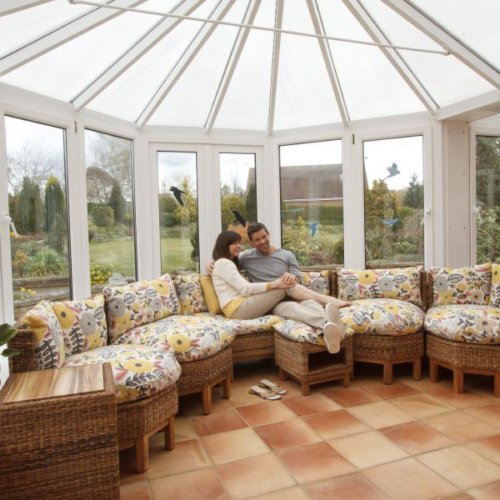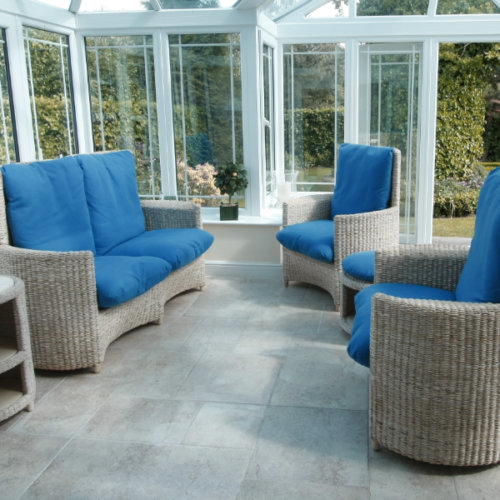 Orangery Furniture –
The Kartosuro Range
The Kartosuro collection is a set of smooth designs that suit any space. The chairs have straight vertical lines, but combine them with a circular cross-section for a unique shape. Based on a cylindrical drum, these chairs are comfortable and hard-wearing, ideal for dealing with the UV rays some orangeries can let in.
The sleek design also looks different depending on the view you have – if you see it from the back, the chair looks like a beautifully woven sculpture, but appears as an armchair from in front. And, with so many fabric and colour combinations, you can style the chair to suit your surroundings and reflect your home's personality.
Also, with Fair Trade Furniture, you can try the layout of your orangery furniture before you buy! Download our product footprints for the Karosuro chairs, side tables and footstools, and you'll be able to figure out the exact dimensions you'll need. That way, you can get more control over how you design your orangery with our furniture.
Orangery Furniture –
The Bantul Range
Finally, our Bantul collection of orangery furniture is as neat as it is petite. The chairs have a retro feel, with a curved back and straight sides, and weaved with distinctive banana fibre. The Bantul range has handcrafted quality, and attention to detail is everywhere. The cushions are special designs from Somerset for unrivalled quality and comfort.
You can install these furniture options with ease in even the smallest orangeries. As a result, they're ideal for the space-conscious homeowner. You can also choose between an 82cm low-back option or 97cm high-back, giving you the flexibility to choose between better views or better support.
Also, the Bantul range is another quirky set of orangery furniture for your home. Make your space stand out even more with rattan poles and woven leg-warmers, classic designs with a modern twist. Also, with our countless fabric and colour combinations, you'll get the right look for your orangery with ease. And, with Fair Trade Furniture, you'll be getting orangery furniture that is more sustainable.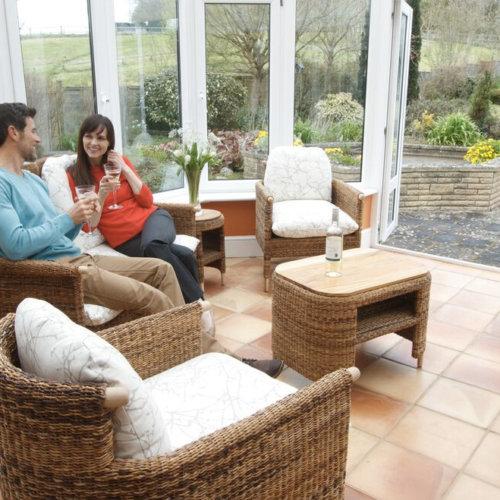 Fair Trade Orangery Furniture Prices
Find orangery furniture that's fairly sourced, comfortable and stylish with Fair Trade Furniture!
Visit our online shop to start your home improvement journey, or book an appointment at our showroom to see our furniture for yourself! Alternatively, use our online contact form to ask our friendly team anything, or give us a call on  01722 340 882.