Weatherproof Garden Furniture
Weatherproof garden furniture can help you relax in comfort for years to come. That's because, if you have furniture that can resist the damage wind and rain can cause, you won't have to worry about replacing it. All-weather garden furniture is ideal if you enjoy going outdoors, even if the weather does turn on you.
However, it can still be wise not to leave your furniture outside. That's because, after prolonged exposure, most furniture can begin to lose its shape and its colour in poor conditions. As a result, a lot of furniture can fade, wear down and crack over time.
Due to this, storing weatherproof garden furniture is as crucial as getting the right design. That way, you can keep your furniture safely tucked away, and you can pull it out when the sun arrives. If you have a conservatory or an orangery in your home, then you'll already have the perfect space to use your furniture while protecting it from the weather.
But what garden furniture options are weatherproof, and which is right for your home? At Fair Trade Furniture, we offer weatherproof rattan furniture, and other hard-wearing sofas, chairs and fabrics! That means you can get furniture that lasts longer, retains its bold, quirky looks, and is fairly sourced.
Which Garden Furniture Is Weatherproof?
If you want to add furniture to your garden, or any other space that is close to the outdoors, then choosing hard-wearing designs is a must. That's because some furniture, particularly leather sofas and chairs, can have a hard time in many conditions. If the sun comes out, the leather can fade as a result of ultraviolet light rays.
Additionally, it becomes sticky and difficult to use. And, when the rain comes out, it can heavily damage the material, causing it to wear down and break. At Fair Trade Furniture, our furniture collections use durable fabrics to prevent this. While fabrics are ideal for a conservatory or orangery though, they can eventually wear down under prolonged exposure to wind and rain.
The best option for weatherproof garden furniture is rattan. Rattan material doesn't damage nearly as much in wind and rain as other materials do. Because of this, it can last longer, and keep its strength and support, staying comfortable even in poor conditions. At Fair Trade Furniture, our Jogya range of weatherproof garden furniture uses rattan across its design.
That way, you can invest in sofas and chairs that have no issue staying outdoors for a limited time in pleasant weather. These designs allow you to get more use of your garden furniture throughout the year. Because of this, your garden could turn into a year-round space for you to use.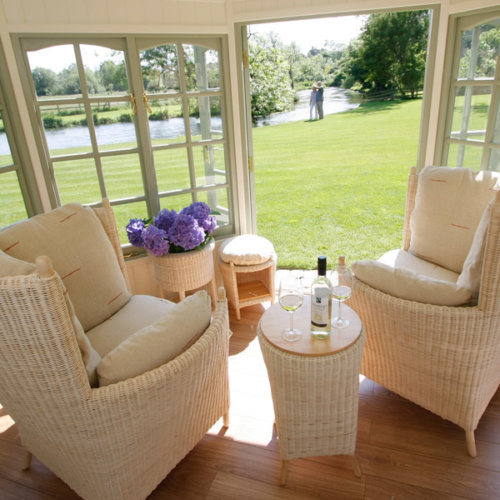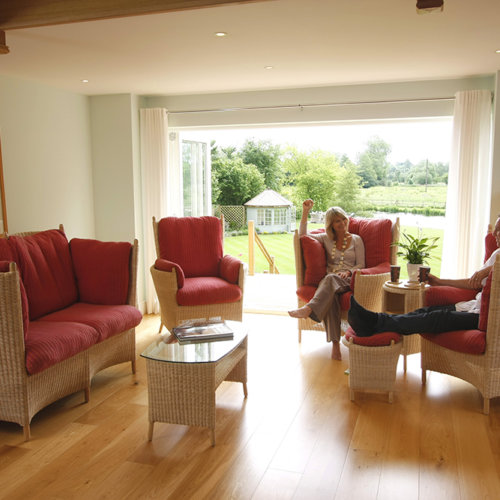 Indoor & Outdoor Garden Furniture
When you select weatherproof garden furniture, you might change your decision depending on where it'll go. If you want an outdoor furniture set, then rattan furniture is the best selection. With rattan, you'll get a hard-wearing set that'll be able to withstand most weather conditions.
Our Jogya range comes with accessories too, such as footstools and side tables. These use the teak and acacia wood species, which are also hard-wearing options. Because of this, you'll have a place to rest a drink, a book, or anything else you need to unwind in your garden.
However, you might have more options for weatherproof garden furniture if you have an indoor space in your garden. If you have a garden room, summerhouse or even a spacious shed, then you have the ideal space to use or store new furniture. In these spaces, our fabric furniture ranges are stunning ways to sit down and relax.
You could benefit from our Semarang, Jepara, Kartosuro or Bantul ranges, which use bold fabrics, unique designs and clever storage to give you furniture with a difference. Also, we offer countless unique fabric and colour combinations at Fair Trade Furniture. Because of this, you can create a more distinctive style for your home that won't fade for years to come.
Fair Trade Garden Furniture
With new weatherproof garden furniture, you can create a new way to go outdoors in comfort. However, at Fair Trade Furniture, we think furniture should always be fair in every way. That's why all of our designs are fairly sourced according to Fair Trade guidelines. That means everybody, from the designers to homeowners, can get a deal for fantastic furniture that works for them.
We were the first furniture company in Europe whose products have been guaranteed and independently verified by the World Fair Trade Organisation. As a result, you'll be investing in both all-weather garden furniture for your home, and supporting independent designers around the world.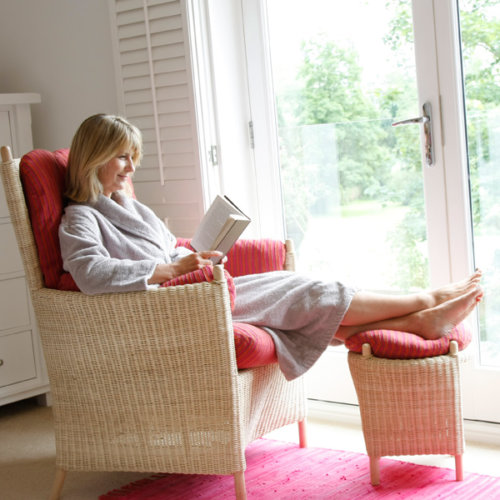 Weatherproof Garden Furniture Prices
Get weatherproof garden furniture for brilliant prices with Fair Trade Furniture! Get in touch with us today to explore our full range of bold collections, and discover how adding something quirky to your garden could make a huge difference.
Visit our online shop and explore our wealth of all-weather garden furniture options, or book an appointment at our showroom to come and see them for yourself.
And, if you'd like to find out more about Fair Trade Furniture, and why our designs are fair for all, use our online contact form to get in touch with our friendly team.
Find orangery furniture that's fairly sourced, comfortable and stylish with Fair Trade Furniture!
Visit our online shop to start your home improvement journey, or book an appointment at our showroom to see our furniture for yourself! Alternatively, use our online contact form to ask our friendly team anything, or give us a call on  01722 340 882.