Conservatory Furniture Oxfordshire
Discover the ideal feelgood furniture for your Oxfordshire home.
At Fair Trade Furniture, we're proud to provide stylish and comfortable conservatory furniture for homes in Oxfordshire and the surrounding areas. We've partnered with Malvern Garden Buildings to allow homeowners near their showroom in Henley on Thames to try our Fair Trade pieces for your conservatory, garden room or summerhouse.
Our conservatory furniture has always been created and refined with your comfort in mind. Our exquisite pieces are designed by Swedish visionary Tord Kjellstrom. Supremely comfortable and uniquely styled, our furniture is crafted with our feelgood mantra at its heart. We're committed to providing homeowners in Henley on Thames and all over Oxfordshire with the opportunity to experience our distinctive conservatory furniture in reality and discover its superior levels of comfort. Relax your mind, body and spirit when you choose our stunning Fair Trade furniture.
Our conservatory, garden room and summerhouse furniture is available in a range of distinct styles and is perfect for any Oxfordshire home. The team at Fair Trade Furniture and at Malvern are committed to respecting and supporting the skilled craftspeople responsible for bringing our incredible designs to life. We wear our Fair Trade values on our sleeves and work closely with all our passionate partners throughout the process to create exceptional conservatory furniture.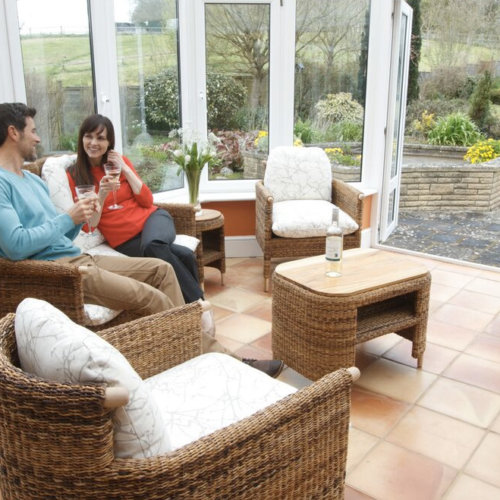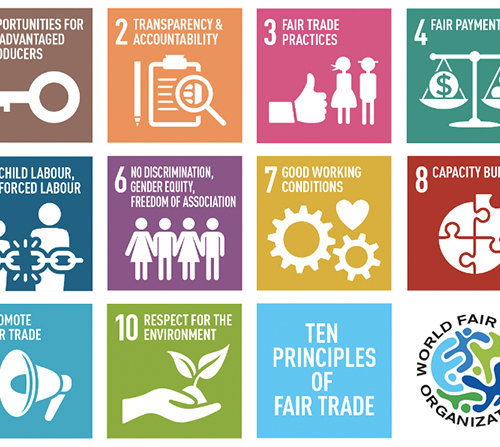 We are committed to Fair Trade throughout our whole process.
We're proud to live and work by the Fair Trade way of life. Everything we do, from the design of our conservatory furniture to its creation and display in our showroom, is defined by the values we hold dear. We understand that our furniture wouldn't be what it is without the hard work and dedication of the skilled craftspeople in Java who make it a reality. That's why we work to ensure excellent economic and personal opportunities for our partners across the world, as well as fair payment and healthy living and working conditions. Which is also why our conservatory, summerhouse and garden room furniture is so superior.
Fair Trade is in our name, and it's in our nature. We proudly display our verification badge from the World Fair Trade Organisation on our site and our products, and we're the first furniture company in Europe to be able to do so. Our conservatory furniture is made possible by our teams on both sides of the world to deliver a supremely comfortable and truly feelgood product to you in Oxfordshire.
When you visit our own showroom in Dorset or courtesy of our partners in Henley on Thames, you will discover how comfortable and well-crafted our conservatory furniture is. Our commitment to Fair Trade makes this possible, and we hope that when you choose our designs as the latest addition for your conservatory, summerhouse or garden room, you remember those who made it possible.
Explore our feelgood furniture at a showroom near you.
Our partnership with Malvern Garden Buildings means that homeowners near Henley on Thames in Oxfordshire can experience our exceptional conservatory furniture designs any time. When you visit the showroom, you will be able to try out some of our most popular ranges in a setting that will surely inspire you to add some of our Fair Trade pieces to your outside living space. Whether you're looking for conservatory, garden room or summerhouse furniture, we have designs that will work in your home all year round.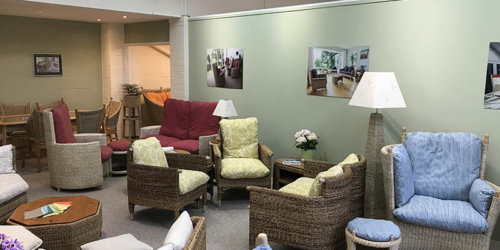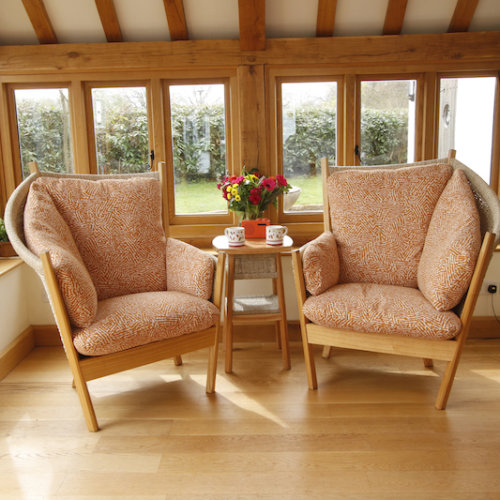 Beautifully quirky, supremely comfy.
Our flagship Semarang range boasts a distinctive design that is classically stylish and unbeatably comfortable. The chairs and other pieces in this collection are as much at home in a traditional extension, perhaps as part of a new living or dining space, as they are in a conservatory or summerhouse. No matter where or when you plan to use them, the conservatory furniture in our Semarang range will improve the look and feel of any Oxfordshire home.
The main attraction is the Semarang armchair. One side is higher than the other, generously cushioned with a high back to create a cosy corner in which to relax and unwind. Every homeowner in Henley on Thames and around Oxfordshire will find their own way to sit in a Semarang, and the only rule is that you enjoy it! We also offer the Semarang Dining range for the most comfortable and stylish way to host dinner parties with friends and family.
Wrap yourself up in a cocoon of comfort.
Due to the innovative style of the Jogya armchair, it's never been easier to sit back and relax. The high sides wrap around you while the low sides allow you to reach for a cold drink on a hot summer's day. Ideal as garden room or summerhouse furniture, these pieces are available with alternating high and low sides so you can build the perfect set for socialising and relaxing with friends.
With our conservatory furniture Oxfordshire homes will look more stylish and feel more comfortable than ever before. The Jogya collection features side tables, coffee tables and footstools, and is built around making sure you feel good. This range also includes a symmetrical chair to allow you to relax without any distractions. Visit the Henley on Thames showroom to experience this versatile conservatory furniture for yourself.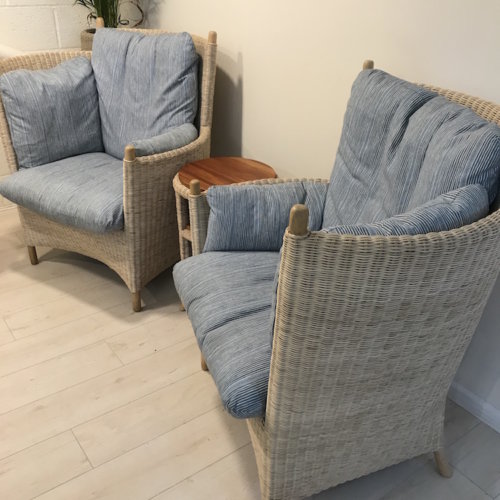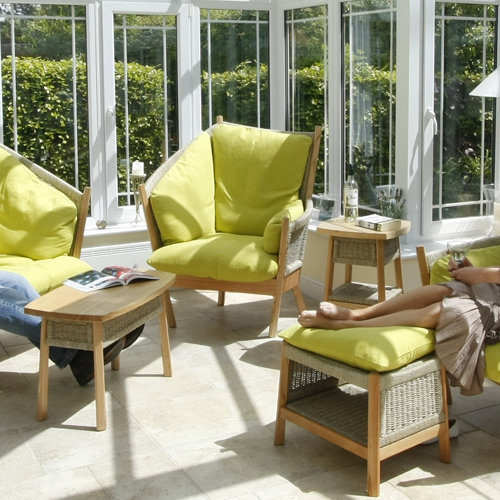 Conservatory Furniture Prices Oxfordshire
Feel better than ever with our truly feelgood furniture.
Here at Fair Trade Furniture, our commitment to providing superior conservatory furniture reaches from our designs' conception to their creation, all the way through to their delivery into your home. We feel that one of the best ways to understand our passion is to experience it. That's why we're proud for our stunning conservatory, garden room and summerhouse pieces to be displayed at Malvern Garden Buildings in Henley on Thames in Oxfordshire.
We also have our own stunning Dorset Showroom, where you can find our full range of conservatory, garden room and summerhouse furniture for your home. Our chairs, sofas and various other pieces will truly make you feel as good as they look. Call us today to book and appointment on  01722 340882, or contact us and we will answer any questions you might have.