Environmental impact
How we try to minimise our footprint.
The delicate balance between people and planet…
Our business model relies on us importing products from Indonesia – the skills and raw materials required by our designs do not exist in Europe. So we feel our task is to minimise our environmental impact within the constraints of this model.
We work hard to ensure our furniture is as eco friendly as possible, as part of our commitment to our Fair Trade values.
Environment is the 10th principle of our WFTO guidelines, so we are now measured and assessed on this as part of our regular auditing process. In this section we highlight some of the key issues that we are grappling with.
This video gives some insights into how we go about this.
The seagrass we use comes from the Pandanus bush, which grows prolifically on Java. It is harvested by local people for use in craft and furniture products. The wide leaves of the palm-like bush are cut down into thin and fine strips: these are sold to small-scale farmers who weave this raw material into a seagrass rope. Our producer partners buy from two small businesses based in Kulonprago, (near Yogyakarta), which specialise in collecting and wholesaling seagrass from local farmers who make the seagrass as a sideline to supplement their income.
Rattan is a type of vine which grows abundantly in the Indonesian rainforests. Indonesia is in fact the main country in the world where rattan is grown and harvested. Rattan provides a positive reason to maintain and nurture the tropical rainforest, and it is considered one of the most sustainable raw materials available. In Feb 2016 we were amongst the first to participate in a pilot project sourcing PGS-certified sustainable rattan from community projects in Kalimantan. We started by sourcing 1000kg of rattan poles from one of the community projects. The next step is to extend this pilot to the sourcing of our overall rattan.
Banana fibre comes from the stems which surround the trunk of the banana tree; these are peeled off the tree and plaited into a fibre which is both strong and beautiful. In its natural form, the fibre ranges in colour from yellow through green to brown. The banana trees are cut down each year after they have fruited (they grow again very quickly), and these leaves are a freely-available by-product, which would otherwise go to waste.
The main wood we use is Mindi, which grows fast and easily in certain parts of central Java. We currently use about 100m3 per annum. There is currently virtually no FSC-certified Mindi available. However it is important to us to continue using Mindi because it offers a high quality wood with low wastage levels; specifically the finished look which can be achieved is much less 'flamey' than teak or mahogany, and this is important to the look we are creating.
In October 2016, in order to get a better understanding of the provenance and sustainability of our wood, Hugh Ross visited the location where our main partner – Pondok Kayu Tropis (PKT) – sources their Mindi timber. This is near the town of Boyolali.
What we established was as follows:
The Mindi wood is grown at the edge of what can perhaps be best described as small farming plots. Mindi trees are used to help demarcate one plot from another. They provide a fast growing and tall screen, which can then be harvested when the farmer decides he needs an injection of capital.
The trees are not cut down until they are mature at 15-20 years old.
They are taken individually when they are ready, not as part of a clearance.
There is very little waste: any branches or small pieces of Mindi wood are all sold off.
The Mindi wood is then tracked right through the chain until it leaves on our container, to comply with the SVLK Legal Wood regulations. This is monitored by a local certification agency called Sucofindo.
The Mindi trees are replaced on a regular basis, whenever they have saplings available to fill the gaps left by the trees they have cut down, and the saplings pop up all over because birds eat and spread the seeds anyway.
It is therefore our assessment that this Mindi wood is being grown and harvested in a sustainable way, with minimal negative impact on the environment.
PKT have been working within the Indonesia Legal Wood system (SVLK) since 2012. They are now going through the first stages of getting certified as an FSC company.
We now have a second supplier of the Semarang range – the carpentry based company KWaS who are an existing FSC licensee, focussing on teak and mahogany. They have also agreed (in Oct 2016) to take the necessary steps to get their suppliers certified to supply FSC Mindi wood. This process is currently under way; it is hoped it will be concluded by the end of 2018.
All our other ranges (Jogya, Kartosuro, Bantul, Low Jepara) are produced by INORI and have now transitioned to 100% use of FSC-certified teak and mahogany.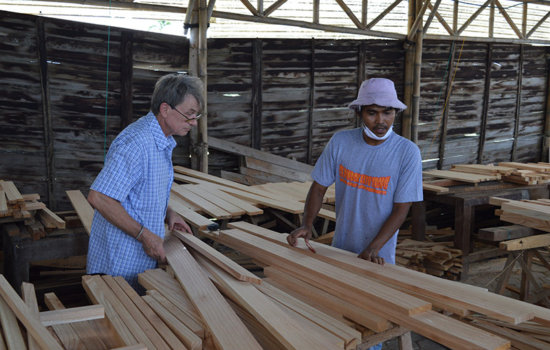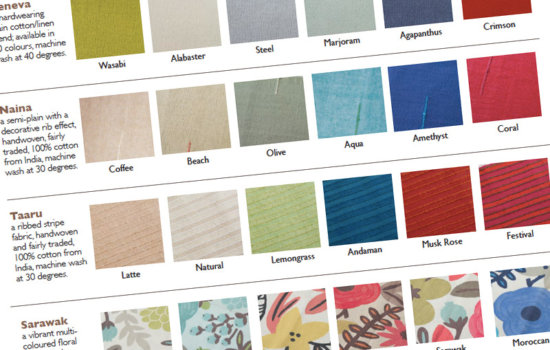 Textiles and other issues
We offer a range of fabrics, all based on natural fibres: cotton, linen and cotton/linen blends. The majority of what we use is sourced in the UK and woven in Europe. We also offer two fairly traded cotton fabrics which are handmade and hand-dyed in India for our UK partner Chandni Chowk.
To date we have been unable to identify an organic supply chain suitable for upholstery fabric.
As regards transport: we avoid air-freight on all shipments except urgent samples or prototypes. We currently import approximately ten 20ft containers per annum, using ocean freight.
In our UK operations we try to minimise our environmental footprint by:
recycling the large amount of cardboard packaging that comes in from Indonesia
sourcing our energy from Ecotricity
planning our deliveries as efficiently as possible to avoid single-trip journeys in our vans
encouraging the use of bikes by staff living within cycling distance of the office.