What Makes Modern Conservatory Chairs
What makes modern conservatory chairs a good investment? If you have one of these builds in your home, you might only think of it as an afterthought. However, adding some chairs could be the difference between a forgotten space and the focal point of your home. But, even if you have conservatory furniture already, you might have older, more outdated designs that feel tired and tacky.
So, what makes modern conservatory chairs a better idea? Is it the style and comfort that most colourful fabric designs provide for your home? Would you be looking for conservatory chairs that are more durable, versatile and ethically and sustainably sourced? Or would you fancy a look at a unique design that would make your conservatory stand out because of its modern furniture?
At Fair Trade Furniture, we create the modern conservatory chairs you may have been looking for. Our quirky collection of conservatory furniture includes colourful, customisable designs that stand the test of time. Not only that, we manufacture our conservatory chairs according to Fairtrade standards, and we're the only company in Europe to be independently verified for doing so. We even offer unique designs that you won't find anywhere else!
What Makes Modern Conservatory Chairs Stylish?
Modern conservatory chairs are a far cry from older designs. If you've had a conservatory for a while, then you might have chairs with tired patterns and colours that are beginning to wear down. Not only that, some conservatory chairs might be comprised of materials that don't work well in these spaces. If you have leather chairs, for example, then the leather becomes hot, sticky and fragile in hot weather and intense light.
Our modern conservatory chairs, though, use durable, hard-wearing fabrics. Because of this, there's much more resistance to sunlight in your conservatory, and harmful UV rays will cause less damage. Additionally, you can personalise our modern conservatory chairs to suit your home seamlessly. Why not take a look at your conservatory decor and choose new designs that complement it brilliantly?
Finally, our modern conservatory chairs are useful. With our wide range of collections, we believe we have a quirky design for everybody. Not only that, some of our ranges, such as Jogya, can perform even outdoors because of their durable, resilient design. As a result, your modern conservatory chairs could do a lot more than you expect when you invest in new designs for your home.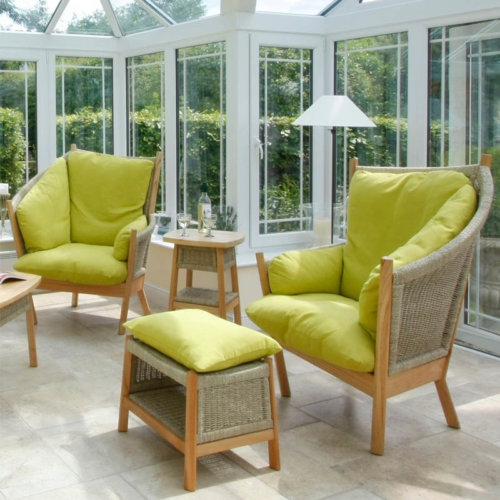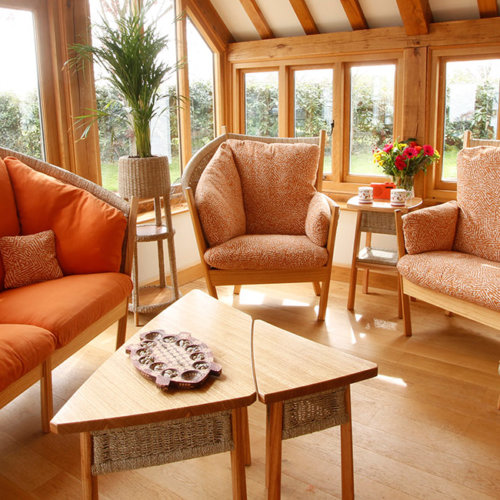 What Makes Modern Conservatory Chairs Sustainable?
What sets our modern conservatory chairs apart from the rest is how we make them. While most companies look to manufacture cheaply and protect their margins, we decide to protect our manufacturers. It's because, at Fair Trade Furniture, we're proud to follow Fairtrade standards in every aspect of our company. Because of this, we work with designers and craftspeople that are properly paid for their work.
Our commitment to these values is what allows us to work internationally. Our modern conservatory chairs have a Swedish designer, while craftspeople in Java carefully create the designs. You can be sure that, when you invest in our unique and quirky designs, everybody throughout the process is properly renumerated. And, with our commitment to sourcing sustainable materials, like our ethcially sourced Mindi wood, you'll help the planet too.
When choosing our modern conservatory chairs, you can make a better investment for the planet. And, by joining our cause for better pay for everyone in the process, you'll be helping the people who made your designs as well. If you believe in ethical, sustainably sourced products, then our modern conservatory chairs will fit the bill. We take a modern approach in every aspect of the design and production of our collections.
What Makes Modern Conservatory Chairs Unique?
Finally, some modern conservatory chairs don't look like anything else. By working with visionary designers throughout our range of furniture, we've been able to come up with concepts that others haven't. It's why, with Fair Trade Furniture, you can choose the unique asymmetrical chairs from our Semarang range. One of our flagship designs, this chair has a higher side than the other, meaning you can lean back into the chair and reach to the table with ease from the other side.
Conservatory chairs like these, then, are incredibly comfortable. When you've had a long day, you can allow your body to rest while being fully supported by incredibly soft pillows that are easy to plump back up. However, you also won't have to struggle with reaching over a high arm to get a drink, or even your book. Instead, you'll be able to move across with ease, as you use your new chair as a little slice of paradise.
With Fair Trade Furniture, you can also use our modern conservatory chairs in unique ways. Many of our designs are modular, meaning you can reconfigure the designs when you need them. As a result, our chairs are more versatile, as well as being more suited to conservatories than most other designs. If you'd like to invest in superb modern conservatory chairs that help people across the world, get in touch with us today!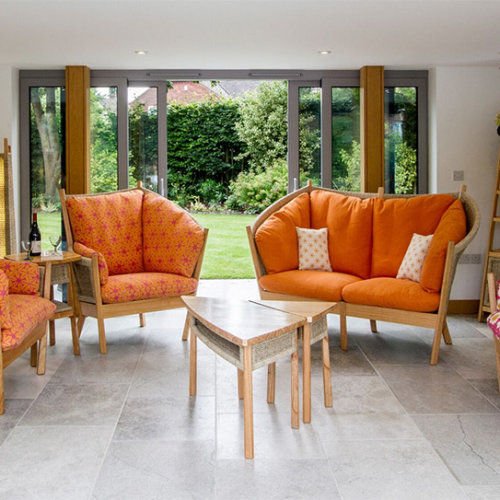 Modern Conservatory Chairs Prices