Conservatory Revamp Ideas
If your conservatory is feeling a little tired or not quite achieving its full potential, then it's probably time that you look at revamping it. Not only will it enhance the look and feel of the furniture itself, but it will also improve the overall ambience and aesthetic of the whole space.
Here at Fair Trade Furniture, we're the experts revamping conservatories with our stylish and comfortable furniture and accessories. Whether you're looking to change out your chairs and sofas completely or revamp the space with some new cushions, sidetables and accessories, we can help.
We wanted to put together this handy guide on some of the top ways to revamp conservatory furniture and the whole space. That way, you'll have a room that looks and feel like new – and the very best it can be. Read on to discover some of our unique insights, and if you have any questions, do feel free to get in touch with our friendly team.
What is a sofa or chair without cushions? A lot less comfy, that's what! Adding some new cushions to your furniture can revamp and refresh them so they have a new lease of life. For the biggest impact, you'll want to choose your colours carefully. Take a look at some cushion ideas across the web for inspiration, or some of the most popular colours for home improvements generally and take your pick.
Are you looking to complement your furniture or contrast? Create a subtle, relaxing look and feel, or make a splash with bold, bright colours? Whatever you're planning, swapping out your older cushions for new ones is a great way to revamp conservatory furniture.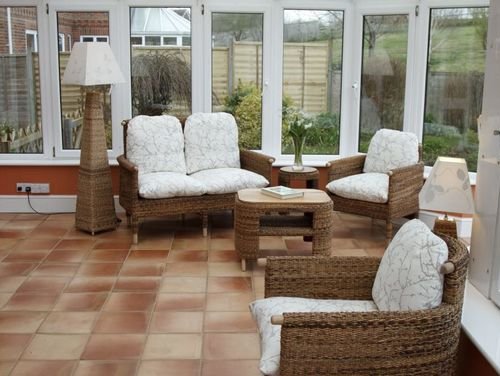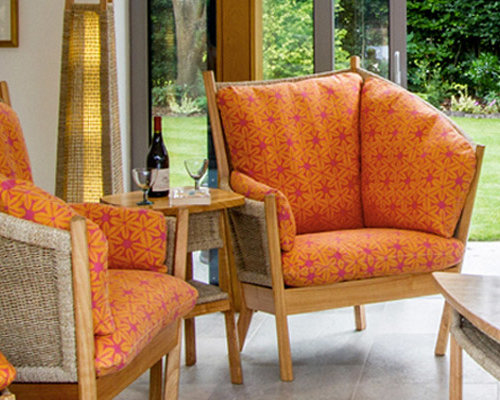 Cushion Plumping Masterclass
Once you've chosen your cushions, you'll want to keep them looking and feeling their best for longer! Our very own Hugh Ross has created a cushion plumping masterclass (and that's no exaggeration!) to give your cushions the boost they need to revamp your conservatory and allow you to sit comfortably!
Watch our video to see how it's done! From daily frisks to occasional overhauls, with our help you'll soon have the comfiest cushions around, for years to come! Our cushions let you give in the lap of luxury, filled in high quality duck feather for the snugiest feeling. Find out more about our top tips for product care, and get the most out of your furniture for longer!
Nothing says a revamped space than some new accessories to draw the eye. If you're looking to revamp your conservatory, then you don't have to completely change out what's already there – you can add to it! Without making your space feel to cluttered, a few smaller, compact items like sidetables, lamps or even footstools can make all the difference.
This is a more cost effective option than overhauling your conservatory altogether, and it's one that we've seen work very well before. It's a similar idea to the cushions we mentioned earlier, where adding a few select, handpicked pieces can draw the eye, attract attention and win you some more style points for your revamped space.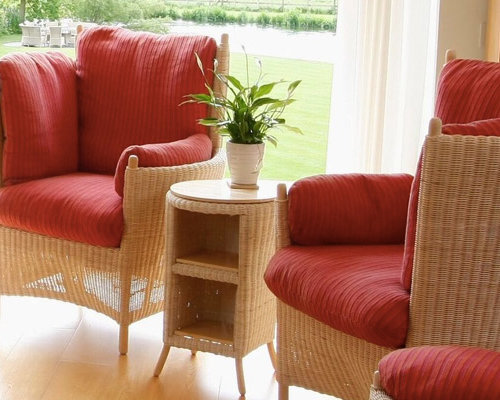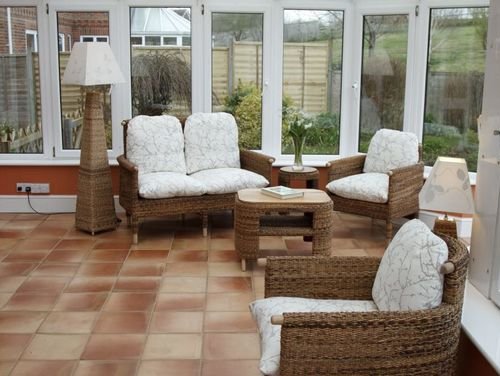 For the biggest impact, why not choose some brand new furniture for your conservatory revamp? It is perhaps the most noticeable and potentially therefore important, and it's the one we specialise in. As well as sidetables and other accessories, our comfy, stylish and ethical furniture is wholly Fair Trade, giving you another reason to relax in total comfort once you've outfitted your conservatory with our pieces.
From sofas and armchairs in all shapes and sizes, we're sure to have the perfect fit for you. Our striking designs can be symmetrical, as is traditional, or asymmetrical for something a little different – with one low side and one high side to reach for your drink and snuggle into respectively. Explore our website and online shop to see some of our most popular ranges and styles that we offer, and revamp your conservatory with Fair Trade Furniture.
Fair Trade Furniture's Conservatory Revamp Ideas
We want to make everyone as comfy as possible in their conservatory, which is why we set out to create stylish, comfortable and ethical furniture that ticks all the boxes. Take a look around our website to find out more about who we are and what we do. No matter how you want to revamp your conservatory, you've come to the right place.
Visit our online shop, explore our range of fabrics, and when you're ready, you can even arrange a visit to our stunning showroom in Dorset to see the pieces in situ. For any help or advice, feel free to contact our friendly team. We look forward to working with you to revamp your conservatory soon!