We asked: "can you design us a really comfy chair?"
Our design story started with the idea of creating a 'feel-good chair'. And by feel-good, we meant furniture that was really comfortable, attractive looking, made from sustainably sourced materials, and based on Fair Trade practices.
That combination created quite a design challenge.
We took that brief to a range of designers and furniture design schools with limited success; but eventually linked up with Swedish industrial designer Tord Kjellstrom, who like us, was connected with the Fair Trade pioneering company Traidcraft. From that moment onwards, the only way was up!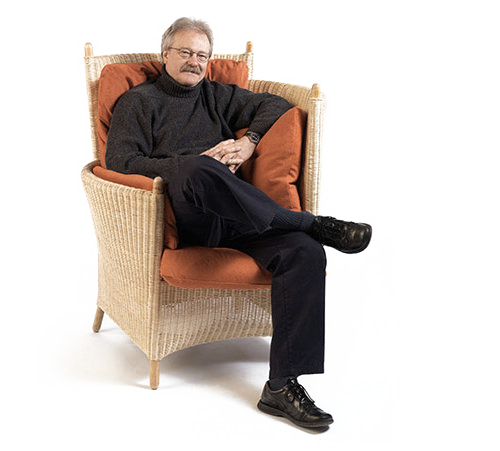 The designer's response
A series of possible approaches emerged
From his design studio in Hexham (Northumbria), Tord dreamed up a range of possible approaches, first in sketch form (see pictures below), and then creating 1:10 scale models of the front-runners, which were put into some informal research to gauge reactions.
The first two chair ideas used the concept of a curl-up corner, with one side of the chair being higher than the other so that the sitter could snuggle into the corner of the chair for maximum cosiness and comfort. This idea of asymmetrical chairs was controversial… some loved it, while others were sceptical.
You can hear Tord's own account of the design process on this video.
From idea to reality
Finding suitable production partners – a significant challenge
We decided to press ahead with the prototyping of four models. So the search began for suitable partners who had the right potential skills and an interest in Fair Trade, until eventually we found INORI, and a little later Pondok Kayu Tropis. Tord and Hugh then visited Indonesia to kick off an extensive period of product development activity.
Tord worked closely with our partners and their artisans to help them understand the designs, and to appreciate our European quality requirements, specifically as relates to conservatory furniture. He also helped them adapt their carpentry and weaving skills so that they could fulfil the potential of the designs.
The final stage – 'software'
The search for perfect cushions and suitable fabrics
Finding a cushion partner in the UK was the next tricky undertaking; these chair designs relied heavily on having the right shape and quality of cushions to fulfil their promise. After a few false starts we eventually found an excellent specialist company called Fine Quality Feather based in Frome, Somerset. Together with Tord we developed and refined cushion templates for all the chair designs, and defined the specification for the cushion fillings.
FQF now make all our feather cushions and textile covers to order. A range of fabrics have been used over our 10-year history, with our main 3 suppliers now being
Romo Fabrics (washable cotton-linens)
Chandni Chowk (handwoven fairly traded cottons)
Vanessa Arbuthnott (linen and Harris Tweed)