The Most Important Conservatory Furniture Features
(According to A.I.)
Always ones to keep up with the times, we asked one of the most popular AI language models on the web what are the most important features to consider when looking to invest in conservatory furniture.
The answers – either surprisingly or unsurprisingly, depending on your thoughts on AI – are actually pretty reasonable. While this doesn't necessarily prove that artificial intelligence is a match for the real thing and we're all out of a job, it does recognise that the features that make the right conservatory furniture are near universal.
Our team at Fair Trade Furniture have taken a look through one particular AI's opinions on conservatory furniture to see how they measure up to the stunning products we offer. Our insights into the industry mean we know exactly what our customers are looking for – and our experience in providing conservatory furniture that fulfils this has been demonstrated over many years. We know what's important – but does artificial intelligence agree?
Listed at number one in our AI's list of the most important conservatory furniture features is durability. We certainly wouldn't disagree with how key this is. With conservatory furniture, as with anything, you want your investment to stand the test of time and serve you well for many years to come. Durable, resilient furniture is an important factor.
Our conservatory sofas, chairs and accessories certainly fulfil this. Our Jogya range, for example, is one of our most durable collections, with rattan elements woven through the design. This makes our Jogya furniture well-suited for occasional outdoor use. However, we wouldn't recommend leaving them outside for extended periods of time, since their sustainable and eco-friendly profiles mean they are not as durable as plastic faux pieces.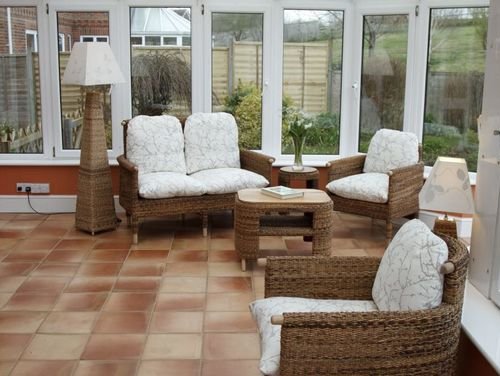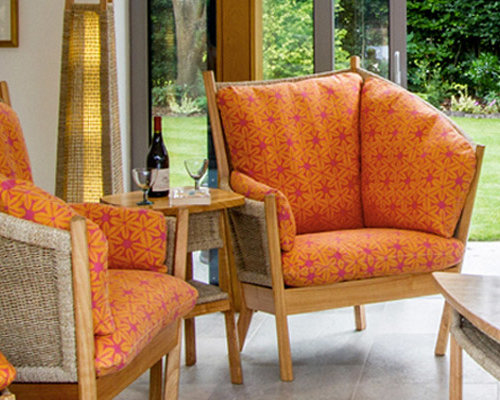 Comfort, again, is one of the most important features of conservatory furniture – likely with no objections from most. Sitting in your conservatory, garden room or summerhouse is a relaxing experience (or at least, it should be) so you want furniture that lets you fulfil this. Comfortable, cushioned furniture will let you truly unwind in your own unique space all year round.
At Fair Trade Furniture, our chairs and sofas feature duck feather-filled cushions for supreme comfort. You won't believe how comfortable you are until you've sat on them! Our Semarang range, like all of our popular collections, features pieces that are generously cushioned so you can enjoy the lap of luxury in your conservatory as you sit and relax all through the year. You deserve it!
Third on the list is style. For some, this might be the most important. Conservatories are the ideal way to create a unique extra space that you can use in any way you want, and an important part of this is getting it to look the way you want. Finding the right chairs, sofas, side tables and other accessories to complete the look can be the final piece of the puzzle.
Take a look at our fabric options to see some of the colours and patterns we offer. That's right, there are more choices than just the ranges themselves. Within these, you can choose from a selection of colours – some modern and on-trend, some classic and timeless – all of which will look great in any space and one will surely be the perfect fit for you. Plus, you can request a free swatch to see how the fabric looks close-up and see it in your space.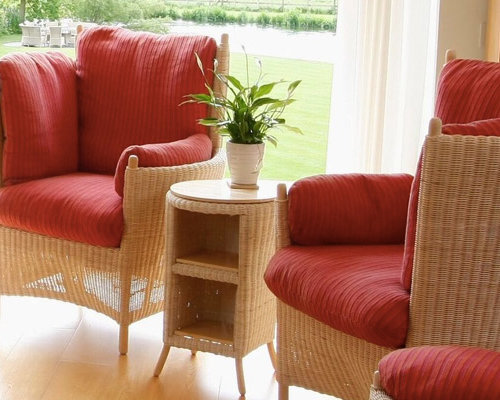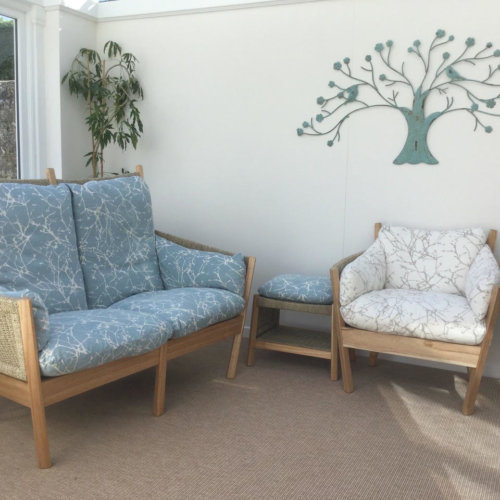 Even AI understands that no two conservatories are unique, not only when it comes to style but to their shape and size as well. For smaller conservatories, for example, you'll want to make the most of the space you have available and not fill it with oversized furnishings. Similarly, for a larger space, you'll have more scope for additional pieces like side tables and footstools to enhance the overall style and comfort.
Fair Trade Furniture's ranges include plenty of extras like coffee tables and footstools. What's more, our Bantul range is perfectly positioned as the furniture of choice for space-conscious homeowners. Its compact design is neat and petite, meaning it neatly slots into smaller rooms, maximising comfort and style without overwhelming the space.
The Most Important Conservatory Furniture Features from Fair Trade Furniture
Here at Fair Trade Furniture, we offer conservatory furniture that can make even the most artificial of intelligence sit comfortably at home. Uniquely suited to conservatories, garden rooms, summerhouses and all kinds of living spaces, our pieces are durable, stylish and comfortable – all key features according to the AI hive mind and our customers.
Don't take someone else's word for it – especially if that someone else is AI. The best way to experience our furniture is to try it for yourself. Sitting is believing! Take a look at our retail partners across the UK to see if there's a show site near you. Or, if you're local to the Dorset area, you can arrange a visit to our gorgeous main showroom. We look forward to seeing you soon!