Conservatory Furniture Buckingham
Homeowners in Buckingham can now experience our comfy feelgood furniture.
Fair Trade Furniture has partnered with Malvern Garden Buildings to bring our stylish and comfortable furniture to their show-site in Buckingham. Here, you will be able to try some of our most popular collections of conservatory, garden room and summerhouse furniture for yourself. Our selection includes the Semarang, Semarang Companion and Jogya ranges of garden room furniture for your Buckingham home.
For homeowners in Buckingham conservatory furniture from our stunning and stylish collections couldn't be more accessible – or more comfortable.
Our conservatory furniture is the creation of Tord Kjellstrom, a visionary Swedish designer responsible for dreaming up our unique asymmetrical designs. Many of our pieces boast this distinctive appearance. It allows you to snuggle into the corner of your conservatory chair or sofa on one side, while easily reaching for your drink or other essentials on the other. We tasked our designer to come up, above all else, a really comfy chair. Experience our conservatory furniture in Buckingham for yourself to see if he succeeded (hint: he did).
If you're looking to improve your conservatory, summerhouse or garden room with furniture in Buckingham, why not visit our partners at Malvern? The best way to find out more about our furniture is to try it yourself – as we always say, sitting is believing! Our stylish, comfortable and ethical Fair Trade Furniture makes a fine addition to any home.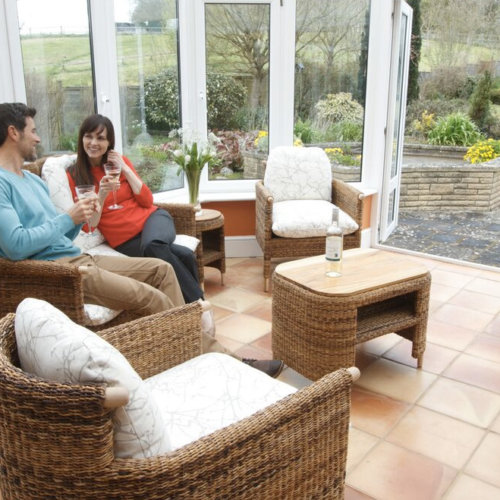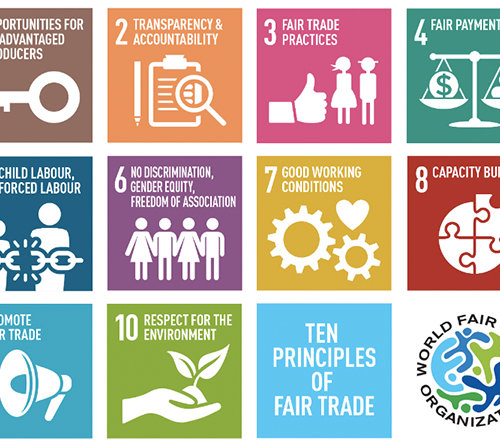 Conservatory furniture as ethical as it is comfortable.
Here at Fair Trade Furniture, we are the first company of our kind to be accredited by the World Fair Trade Organisation. Every part of our conservatory furniture design process is conducted fairly, ethically and diligently with our Fair Trade values in mind. We work closely with our skilled craftspeople in Java, Indonesia, to bring our stunning pieces to life. We understand that without their care and hard work, we would not be able to bring our comfy conservatory and garden room furniture in Buckingham to you.
Our products are perfect for any living space, be it a garden room, summerhouse or even indoors. We create our eco-friendly furniture using sustainable materials as part of a wholly ethical construction process. Every individual involved in crafting our Fair Trade conservatory furniture is committed to creating the very best product – and it is this passion that feeds into their exceptional quality.
Come and see our conservatory furniture in Buckingham for yourself to understand how comfortable our ethical chairs are in your home, summerhouse or garden room. Our commitment to Fair Trade, and the successes of our partners across the world, is woven expertly into every chair and sofa. It's part of what makes them so comfortable!
Feel better than ever when you try our feelgood furniture.
You can see and try our stunning conservatory furniture in Buckingham when you visit Malvern Garden Buildings' show-site. We've partnered with the members of our display network across the country to bring our ethical furniture closer to you. Relax into our chairs and sofas and ensure your next conservatory furniture investment is Fair Trade.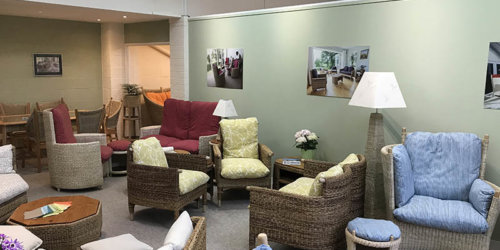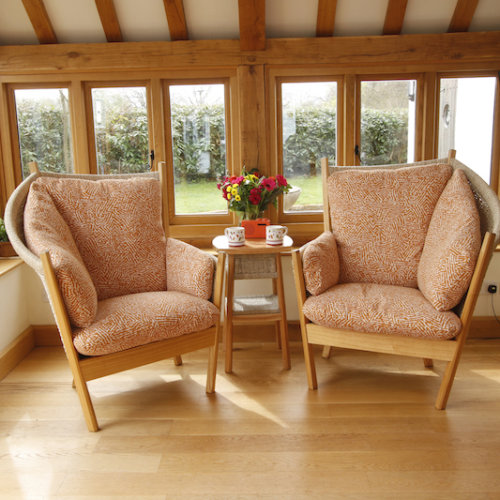 Expertly crafted for a quirky design that offers supreme comfort.
The Semarang range is our flagship collection, named after a port in Indonesia close to where our Fair Trade partners create our stunning furniture. Any conservatory, summerhouse or garden room in Buckingham will benefit from the style and comfort that our Semarang range provides.
At the heart of this collection is the Semarang chair. Available in high-left and high-right styles, it creates a cosy corner for you to snuggle into while letting you reach for your drink on a hot summer's day. You can choose the perfect fabrics option so your new conservatory chair will complement any space you're in.
Visit Malvern to try our conservatory and garden room furniture in Buckingham and you will also get to experience the Semarang Companion collection. This variation features a slightly lower back and is designed as a companion to the asymmetrical chairs. We offer the companion chair and companion sofa, so you can assemble your dream conservatory and garden room furniture suite any way you want for your Buckingham home.
A bold, modern and comfortable cocoon-like conservatory chair.
The Jogya conservatory furniture range is renowned for its wrap-around sides that keep you comfortable in their warm embrace. They once again feature our unique asymmetrical design, so your essentials will always be close at hand. The Jogya range works well in any space, whether you're furnishing a cosy summerhouse or spectacular garden room in Buckingham.
The Jogya conservatory chair is available in high-right, high-left and symmetrical styles. Its versatility is matched only by the incredible levels of style and comfort it provides. Choose your perfect fabric to decorate your new favourite furniture your way.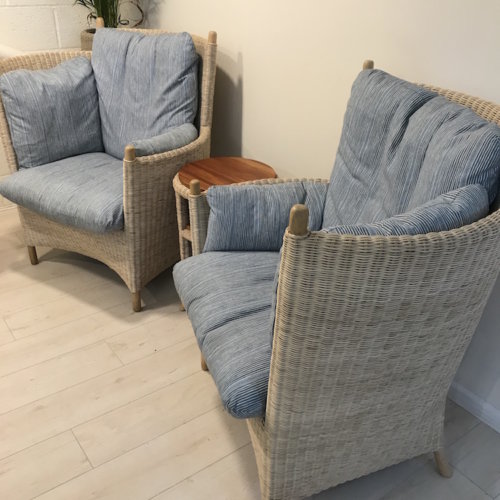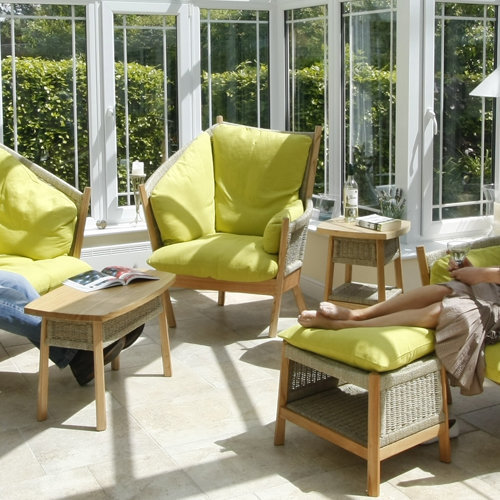 Conservatory Furniture Prices Buckingham
Ethical furniture for your conservatory, summerhouse or garden room.
Homeowners in Buckingham are flocking to try our feelgood furniture for themselves. Our eco-friendly designs are expertly crafted with our Fair Trade values leading the way and driving everything we do. It's all part of our commitment to fulfilling our original mission statement of creating really comfy chairs.
To see all our ranges, why not book an appointment to visit our stunning Dorset Showroom? We'll be happy to show you all our conservatory, summerhouse and garden room furniture in countless styles and configurations – and you can try them all. Give us a call on 01722 340882 or contact us online to start your Fair Trade journey.