The Most Comfortable Garden Room Chairs
With spring just around the corner, our leisure time slowly moves back towards the outdoors. Whether it's curling up with a good book in the sun or taking a nap listening to Sunday afternoon radio, the furniture we choose to do it on is important. Here at The Fair Trade Furniture Company, we specialise in modern garden room furniture.
Over the course of the pandemic, many people found themselves in their homes a lot more than they had been previously. Many people invested in a new garden room or found themselves redecorating their outdoor spaces with modern furniture. Questions can quickly arise for those looking to redecorate their outdoor spaces. What size of furniture will be best for me? What materials are fair trade? What are the current trends with modern garden room furniture? We can answer all these questions here at The Fair Trade Furniture Company.
What makes the most comfortable garden room chairs? For many people, comfort is subjective, but there are a few key and universal ways to measure it that we at Fair Trade Furniture have identified as being the most important.
We believe that comfortable garden room chairs should make you feel physically relaxed. This could be because of the fabrics, the design of the furniture, or the ways in which they were manufactured. Fortunately, we combine all three of these elements together – and much more – to ensure that our garden room chairs are the most comfortable around.
At Fair Trade Furniture, we hear our hearts on our sleeves. Our commitment to Fair Trade values is right there in our name, and it is reflected in everything we do. As you snuggle into our garden room chairs, you can do so safe in the knowledge that they have been sourced sustainably and manufactured in line with these values.
In this guide to the most comfortable garden room chairs, we'll take you through some of our most popular ranges and all the features of their design, manufacture and customisation that means they truly stand out from the crowd and allow you to relax in total, absolute comfort.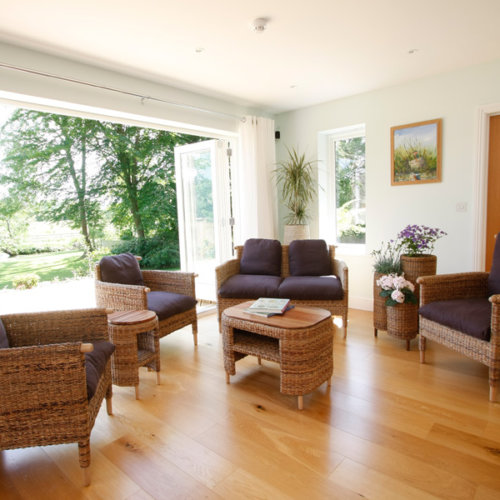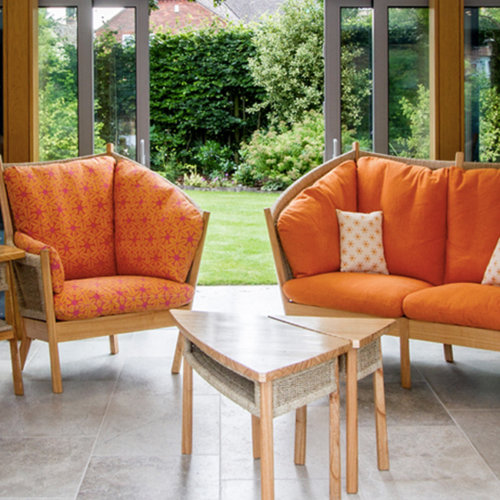 Comfortable garden room chairs should make you feel good. That's why our furniture designs were created with our "feelgood" mantra at the heart of them. Swedish designer Tord Kjellstrom was tasked with creating beautiful furniture that makes you feel as good as it looks. Everybody who tries them agrees that he absolutely succeeded!
The most comfortable garden room chairs should make you feel relaxed and completely at peace. That's where our furniture comes into its own. With their innovative asymmetrical designs in many cases, our garden room chairs are more comfortable than most because they create a cosy corner for you to snuggle into thanks to one higher side. Then, with the other lower side, you can easily reach for your favourite drink or latest reading material to unwind.
The best way to experience our "feelgood" garden room chairs is to try them for yourself. We have a number of retail partners across the country that you can visit. We also have our stunning showroom in Dorset where you can see and try our most popular options. It's like we always say, sitting is believing! And you won't believe how comfortable our garden room chairs can be.
The Semarang range is our flagship collection, combining elegant craftsmanship with supreme comfort. Ideal for garden rooms, as well as conservatories and summerhouses, this collection contains our recognisable (and incredibly comfortable) asymmetrical chairs, with one higher side and one lower side, so you can relax however you choose.
Additionally, our Semarang range holds more traditional chair designs and symmetrical options. As you choose a style, you'll want to consider our wide range of fabric options in various collections to suit your living space.
For the most comfortable garden room chairs, you'll want pieces that suit your space perfectly, blending in with your existing decor while standing out in all the right ways. Plus, of course, you'll want them to be cosy and easy to relax in. Our Semarang range does all that and more, and you can complement your chosen chairs with tables, lighting options and more to complete the look.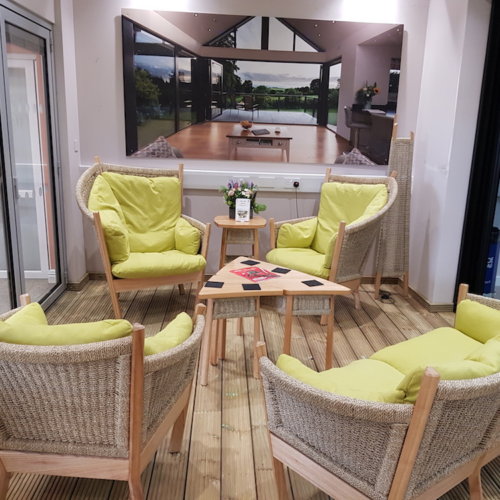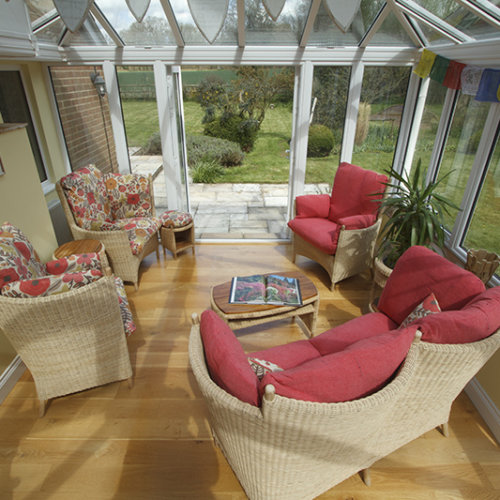 The Jogya range is regarded as a "cocoon of comfort" – making it an ideal candidate for the most comfortable garden room chairs. Their bold design features wrap-around high sides that embrace you and allow you to relax; alternatively, you could opt for lower sides that provide easy access to your drink or reading materials. Whichever you find more relaxing!
The versatility of the Jogya range is one of its many excellent features. Many people choose to have two of these seated in a smaller garden room or summerhouse to look out at the view and enjoy in total comfort. With countless popular fabric options to choose from, you can personalise the pieces to suit your space.
For comfortable garden room chairs, you'll want to choose a collection that looks as good as it feels. The bold design of our Jogya garden room chairs allows them – and the spaces that they're in – to stand out. With their rattan features, they're highly desirable as well as more weatherproof than some other options, so they'll be an excellent choice for your home.
The Bantul collection combines a retro feel with the latest modern levels of comfort. For some of the most comfortable garden room chairs that maintain a classic look, these are an excellent investment. Their stunning, woven design highlights the expertise of our Fair Trade craftspeople and weavers, combining their skill with our designs for supreme comfort.
As compact as they are comfortable, our Bantul garden room chairs fit neatly into any room plan, making them the ideal addition to your space. They look great in a cosy corner as a subtle (and comfy) addition. Alternatively, their eye-catching aesthetic including their distinctive banana fibre weaving and "leg warmer" look means they are just as good as the centre of attention in your garden room.
The most comfortable garden room chairs don't have to be those that are loud and proud. Sometimes a subtle aesthetic that quietly slots into your existing space is all you need, and these neat and petite, unassuming chairs can be an excellent option. Whether you opt for the Jogya range as the main feature or a more discreet addition, their gorgeous design and luxurious feather-filled cushions make them a truly comfortable garden room chair choice.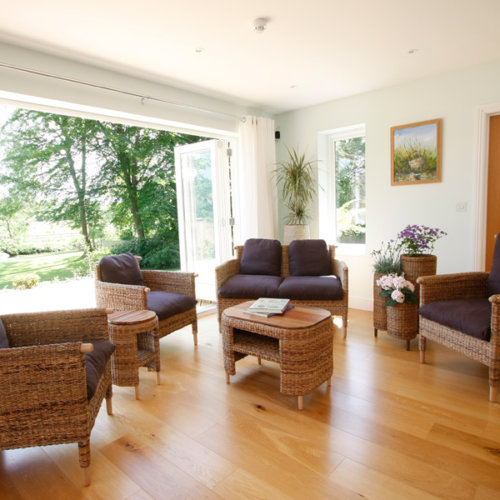 Fair Trade Furniture – The Most Comfortable Chairs
For the most comfortable garden room chairs – or indeed, comfortable chairs for any space, like a conservatory, summerhouse or even your living room – you can rely on Fair Trade Furniture. Our Semarang, Jogya and Bantul collections are our most popular ranges, and any one of them would make a stunning, standout addition to the look and feel of your space.
Find out which of our chairs is the most comfortable for you uniquely by trying them for yourself. Will you prefer the symmetrical or asymmetrical design? The classic Semarang, cocooning Jogya or neat and petite Bantul? The choice is yours! Book a visit to our showroom to see and try the furniture for yourself.
Enhance your garden room with the most comfortable chairs available. Sustainably sourced, innovatively designed and expertly manufactured, our ranges are objectively comfy – and not everyone garden room chair company can say that! Come and visit us to try them for yourself – sitting is believing!