Conservatory Furniture Wellington
Here at Fair Trade Furniture, we're passionate about our conservatory furniture as well as the ethics of the production behind it. Our retail partners at Chandni Chowk have made our designs more accessible than ever to homeowners in Wellington, so they can try or comfortable designs for themselves.
All our conservatory furniture is manufactured by expert craftspeople in our partners' factories in Indonesia. That's why we're so dedicated to Fair Trade values, so we can improve their wellbeing and quality of life. Without this partnership, our furniture wouldn't be what it is today, and our showrooms and your homes in Wellington and all over the country would be less stylish and comfortable as a result.
Swedish designer Tord Kjellstrom is responsible for our furniture designs and the feelgood mantra behind them. We provide the highest quality products to deliver supreme style and comfort to Wellington homes. Kjellstrom's passion was to make everybody's body, mind and spirit feel as good as our conservatory furniture looks.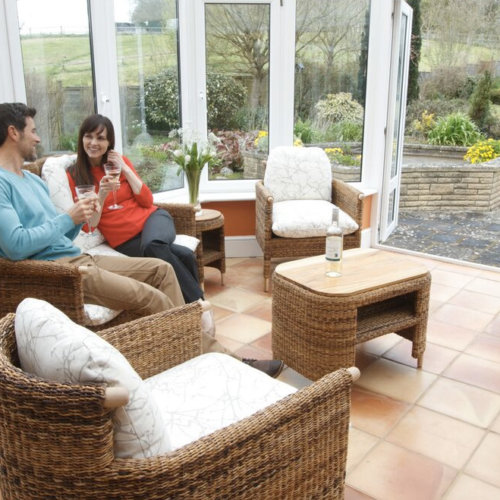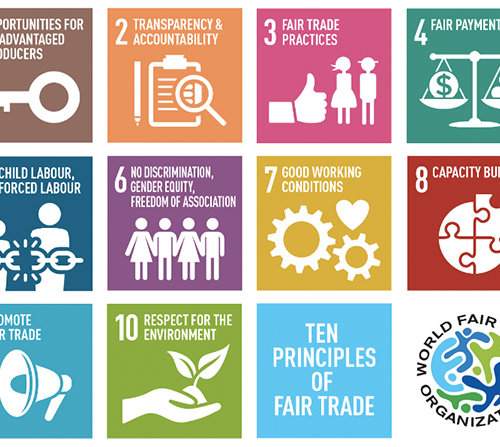 We value the wellbeing of our trusted suppliers and craftspeople.
Our products proudly bear the verification logo of the World Fair Trade Organisation, and we're the first furniture company in Europe to pass the audit to be able to hold that accolade. We hold our values close to our heart when designing and manufacturing our conservatory furniture, and we want to share them with homeowners in Wellington.
We know that without our hard-working craftspeople in Java, our conservatory furniture wouldn't exist as it does. At Fair Trade Furniture, we appreciate the passion and dedication that our partners express, and we hope to reciprocate that to ensure they have safe and comfortable lives across the world. We also work to reduce our carbon footprint and the environmental impact of our factories.
Our conservatory furniture available in Wellington offers unrivalled levels of comfort. As per the mantra of feelgood furniture, it's easy to lose yourself in one of our armchairs. But we hope you will also find the time to remember the workers in Indonesia that we partner with to make our products possible. We're proud of all our conservatory furniture, and we know our craftspeople are as proud as we are.
Discover our feelgood furniture at a showroom near you.
We've partnered with Chandni Chowk to bring a showcase of one of our most popular ranges to homeowners in Wellington. Often, the style and comfort of our conservatory furniture must be seen to be believed. Their showroom houses one of our most traditional and classic designs, so any home can enjoy the versatile stylings of our feelgood furniture.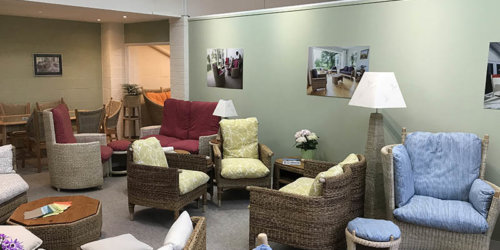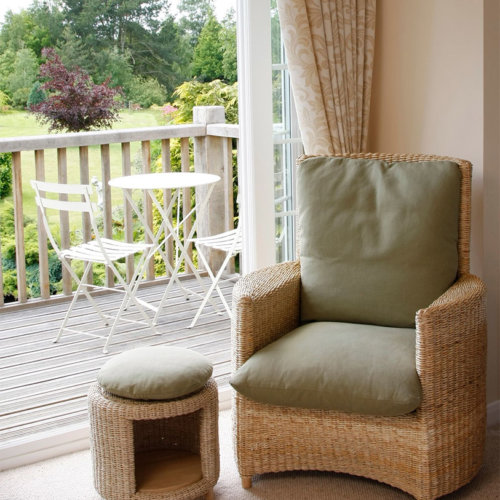 Enjoy our neat and petite chair.
Our Kartosuro design was inspired by a cylindrical drum, which this distinctive chair resembles when viewed from the back and sides. This stunning piece of conservatory furniture features an intriguing contrast between the armchair's straight vertical lines and its nearly circular cross-section when seen from above. From whichever way you look, the Kartosuro conservatory furniture is a truly stunning addition to your Wellington property, as part of any living space such as a summerhouse or garden room.
This traditional and well-balanced armchair is a gorgeous woven sculpture. It's more than conservatory furniture; it's a work of art that we encourage you to sit on – it's so comfortable! While the Kartosuro design sits neatly in your Wellington home as a solo occasional chair, it also works wonderfully as part of the complete set.
Invite guests over to enjoy the full collection.
Once you've invested in the eye-catching profile of Kartosuro conservatory furniture for your summerhouse, garden room or other living space in Wellington, you'll surely want to show it off. Which means you'll need more stunning chairs to entertain, plus a table and even a full suite. Drum up some company with the Kartosuro range that encourages you to welcome company in your home, with a style that can be personalised to suit your taste.
The full Kartosuro collection includes the headlining armchair, a two-seater sofa, as well as a coffee table with an optional wooden or glass top. Choose the right combination of conservatory furniture for your home. If you're lucky enough to own some other Fair Trade Furniture pieces already, the Kartosuro footstool works well with other ranges that don't have their own, such as Bantul, so there's always a may to make your Wellington home more comfortable.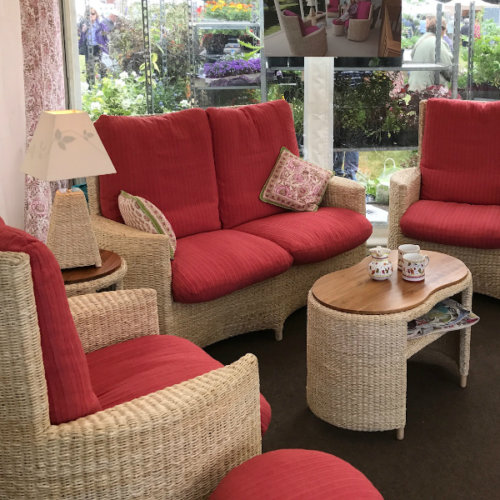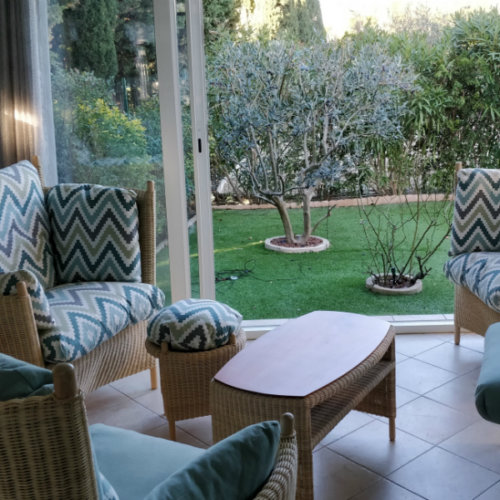 Conservatory Furniture Prices Wellington
Discover one of our most popular ranges for your home in Barnstaple.
If you're looking to try our furniture for yourself and see how good it makes you feel, our showroom in Wellington is the perfect opportunity. We work with Chandni Chowk to allow more people than ever to experience the quality, comfort and craftsmanship of our conservatory furniture.
You could also make the trip to visit our dedicated Dorset Showroom. We have all our conservatory furniture ranges on display, so you can spend all day trying them out. Or, if you would like to talk through your options, you can call our friendly team on 01722 340882.