Conservatory Furniture Cushions
Conservatory furniture cushions are the comfiest part of any sofa or chair – but how do you keep them that way? Some cushions can wear down over time or lose their plumpness, meaning you lose the comfort of sitting down in your furniture.
Many companies will provide cushions with fabric covers you have to wash by hand or are hard-wearing. Because of this, they can stain in the sun and begin to become frayed and coarse, leaving you with a sofa or chair you don't want. Over time, these issues can grow, especially without regular cleaning and maintenance.
Fair Trade Furniture Cushions
If you want conservatory furniture cushions to stay comfy, though, choose Fair Trade Furniture. With us, you can invest in conservatory furniture replacement cushions that help you take back control of your home's comfort. All of our cushions are low-maintenance options that can deal with sunlight without wearing down.
Additionally, you won't have to worry about maintaining them. Their fabric covers are all machine-washable, and plumping them back up is simple and straightforward. And, with Fair Trade Furniture, you can choose from a wide variety of quirky designs sourced from top independent providers.
Caring for Conservatory Furniture Cushions
At Fair Trade Furniture, we make sure our conservatory cushions are easy to care for. The fabric covers are machine-washable and hard-wearing, meaning you won't have to worry about spending time maintaining them. All you'll need to do to keep them at maximum softness is to plump the cushions now and then.
In our stunning rattan chairs, for example, you'll get side cushions with a foam core and a back cushion filled with impossibly soft duck feather. To keep them comfy, you'll only have to give them a little shake each day to make sure they look and feel their best. That way, you'll have a chair ready for you to sink into after a long day.
Alternatively, if the cushions have sagged a bit over a few days, the best thing to do is to throw them to the floor and smack the air back into them. It's a brilliant way of not only keeping your conservatory furniture cushions comfy but taking out any anger you have as well. Once you've done it, place them back, and you'll have comfy conservatory cushions that always feel cared for.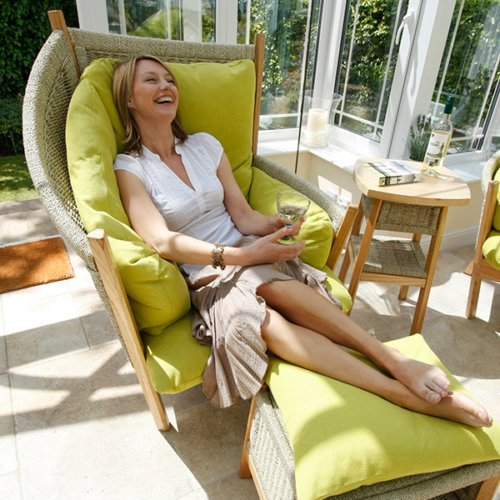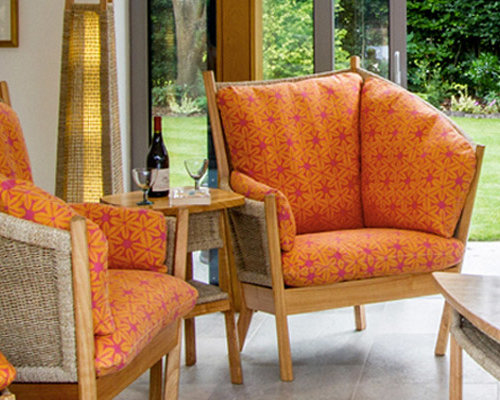 Conservatory Furniture Cushion Design
What makes our conservatory furniture cushions so easy to maintain is the way we design them. Our cushions are hard-wearing, meaning they can deal with the challenges that a conservatory can pose for them. For example, on hot days, intense sunlight can shine through the glass in your build. However, our cushions are stain-resistant, preventing damage in the light.
Not only that, but you won't have to worry about any spillages on your cushions or fabric covers. Our cushion fabrics are machine-washable, meaning cleaning a spillage is as easy as it would be on clothes. Once done, you can put them back on the cushion and plump it back up, giving the comfort of your conservatory back to you.
Additionally, we offer a wide range of conservatory furniture that is just as resilient as our cushions. For example, our Jogya collection uses rattan, which can make your new furniture weather-resistant. As a result, you could even leave your furniture outside without needing to worry about damage.
Conservatory Furniture Cushions From Fair Trade Furniture
With Fair Trade Furniture, you can get conservatory furniture replacement cushions that are wonderful for any space. Whether you have a garden room or a sunroom, our cushions work just as well. We have five unique collections sourced from some of the best independent designers in the world, meaning you can add a quirky new touch to any space.
Not only that, but we are the only furniture company in Europe who are guaranteed and independently verified by the World Fair Trade organisation. That means you'll get a brilliant design, but you'll also be investing in the people who make it. With us, you'll pay a fair price that values everyone.
Our conservatory furniture cushions are a quality investment for any home. With machine-washable fabric covers and duck feather inside them, you'll get softness and comfort that's hard to find anywhere else. And, thanks to our partnerships with independent designers, you'll get designs that make your living space stand out.
Conservatory Furniture Cushions Prices
If you'd like conservatory furniture cushions for fair prices, get in touch with Fair Trade Furniture today!
You can explore all of our collections in our online shop to see which design suits you best. Also, if you'd like to see our conservatory furniture cushions for yourself, why not book an appointment at our showroom ?
For any further information, get in touch with our team using our online contact form, and we'll get back to you as soon as we can.