Creative Ideas for Decorating Your Conservatory
Whether you plan to use your conservatory for entertaining friends and family, relaxing on your own with a good book or glass of wine, working out in a home gym or working hard in a home office, you want to make sure you have it decorated in the right way to meet your needs and suit your personality.
Here at Fair Trade Furniture, we're committed to helping homeowners to get the most out of their conservatory. We specialise in a range of ways to make the most of your space, from comfy chairs and sofas to stylish side tables and lamps. That's why we've put together this list with a handful of creative ideas for decorating your conservatory, summerhouse or garden room.
So here are our team's six favourite creative ways to make your conservatory our own. From incorporating new furniture, accessories and plants to enhance your space, the choices are almost endles, so let us help you to make the right one. Looking for inspirational ways to transform your space? Read on to discover more!
Use Furniture to Define Spaces
If you have a larger conservatory, then you can start defining the spaces into different areas to make them feel more distinct from one another – while it's great to have a cohesive room, it's also good to separate it out. That way, you don't have to choose between one use for your conservatory; you can have several! For example, you can have a dedicated dining area and a home office; or a chillout seating space and a gym. The options are endless, adding intrigue and character.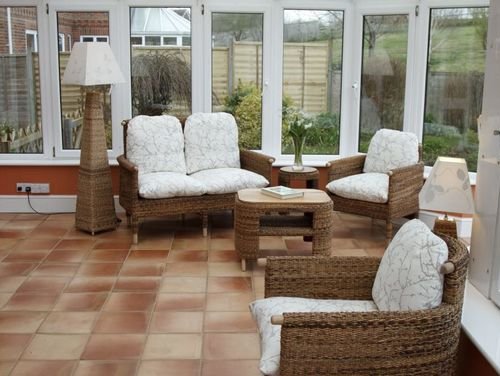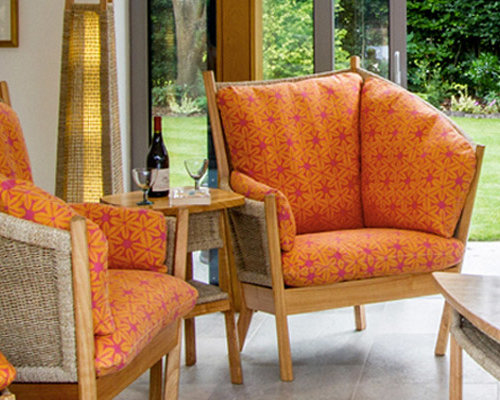 Incorporate Natural Materials
Adding a natural feel to your conservatory is an excellent way to make it feel even more relaxing. Materials like bamboo, rattan and wicker, or those that evoke these and the associated lifestyle, will let you feel even more tranquil. There's a reason why these options are tried and tested conservatory classics. For one idea, you could look at rattan style coffee tables or planters to achieve this look.
Further to this, bringing the outside in will bring with it a greater sense of calm and tranquility. Adding plants will help to purify the air, so you can breathe easy – literally. Find the right choice to suit your available space and light levels. So whether you're looking at planters, potted plants or herb gardens, you can bring some life and fresh air into your space.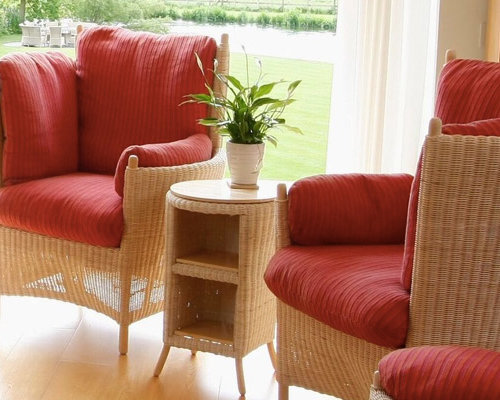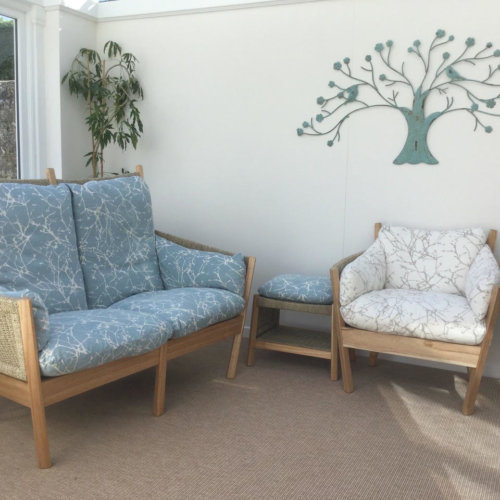 Accessorise with Colours & Patterns
Cushions, furniture fabrics and rugs will bring a splash of colour and extra texture to your conservatory. Take a look at some design blogs for creative ideas for decor. You may want to choose bold, bright tones to stand out, or perhaps opt for something more seasonal, like burnt orange in autumn and cool blue in winter. Make your furniture 'pop' with some extra decoration.
Add in something that draws the eye with a statement piece in your conservatory. Whether this is a striking sculpture, some inspirational artwork or a shimmering chandelier, for example, it'll add some renewed interest to your space. And don't worry about it detracting from your other decoration – you'll only be adding to the overall appeal.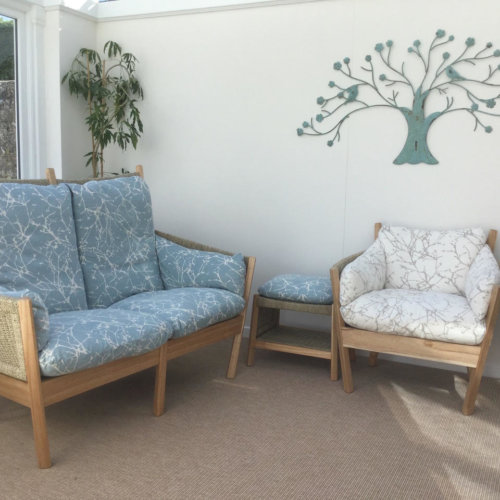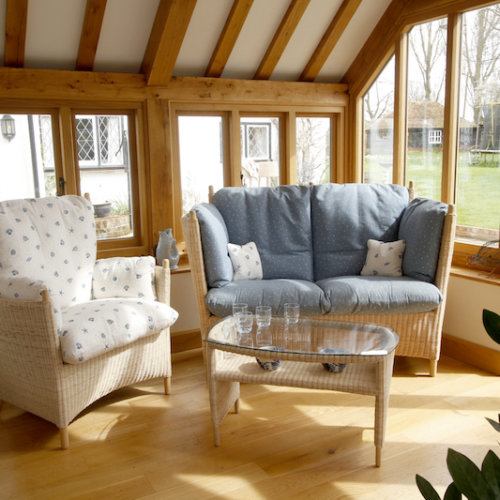 Choose Dual Purpose Furniture
We all want to get good value for our money and to make the most of our space, and multi purpose furniture is a great way to do this. How about looking at tables that offer extra storage underneath, or even footstools that do the same? We offer both right here at Fair Trade Furniture – and they really are game-changers, and they're perfect for smaller spaces.
Set the mood with some gorgeous lighting options for your conservatory. Get creative with the placements and the type of source – from table lamps and ceiling lights to floor lamps and built-in LEDs, you can shape your space, your way. As such, you can control the lighting so it works for whatever purpose you want, adding to its versatility and performance.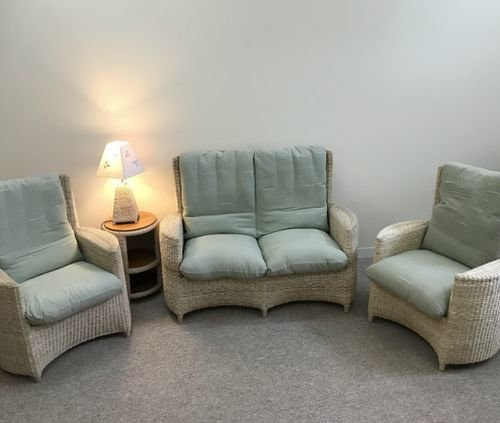 Creative
Ideas from
Fair Trade Furniture
We want you to have all the inspiration you need to decorate your conservatory, summerhouse or garden rooms, so we hope these ideas will act as a starting point for you and your creativity.
Here at Fair Trade Furniture, we're passionate about helping homeowners get the most out of their conservatory with our comfy, stylish and ethical furniture. Take a look around our website to see our products, fabric options and online shop and enhance your living space. You can also arrange a visit to our showroom to see the pieces in situ and get some more inspiration!