Visit our Dorset showroom
The best way to choose furniture is by seeing, touching, and trying. In our showroom you can do this all-year, because we have all the ranges on display.
However we are a small business, and we are often out at shows or visiting customers, so we do ask you to book an appointment with us. That way you are sure to get our undivided attention and the place to yourselves!
Hit the button below to book an appointment.
Alternatively, please email hugh@fairtradefurniture.co.uk or call us on: 01722 340 882
You may want to see or try these chairs before you make a purchase. We certainly recommend it! Our mantra is "sitting is believing"! We recommend a visit to our showroom if you can, book an appointment using the form below.
Our showroom is situated in beautiful Dorset, making it perfect for a day out! We can recommend the best places to visit while you wander around our showroom displays. Why not make a day of it!?
We have exciting new products and fabrics on display, including our 8-seater dining set with unique 'sided' dining chairs, and the cunning new low Semarang footstool which has 5 different positions, and which tucks away underneath the chairs and sofas.
Our full range of furniture is on display, including the new Semarang Dining Range, planters, shelving a a full range of fabric swatch samples.
Semarang Range: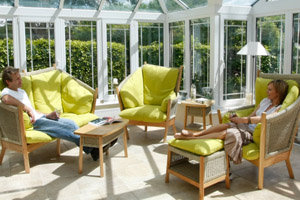 Semarang chairs, 2-seater sofa, and stool in Kaiko Pumpkin and Geneva Pumpkin
Semarang 3-seater sofa in Vanessa Arbuthnott handpainted stripes (Artists Collection)
Semarang companion chair in Linara Iola
Semarang new low footstool, two-part coffee table, original coffee table, shelving planter unit and cabinet
Jogya Range:

Jogya left and right chairs, sofa and footstool in Vanessa Arbuthnott printed linens
Jogya glass-topped coffee table, and side table
Bantul Range:

Bantul normal chair, high-backed chair and side table in Sefina Oyster
Kartosuro Range:

Kartosuro sofa, chairs, coffee and side tables, footstool in Geneva Malachite
Semarang Dining Range

8 seater dining set with unique 'sided' dining chairs
Planters and Lighting:

Seagrass, rattan and dark banana planters
Pyramid light, floor light, table lights (large and small)
Talk to a member of our team