Modern Garden Room Furniture
With spring just around the corner, our leisure time slowly moves back towards the outdoors. Whether it's curling up with a good book in the sun or taking a nap listening to Sunday afternoon radio, the furniture we choose to do it on is important. Here at The Fair Trade Furniture Company, we specialise in modern garden room furniture.
Over the course of the pandemic, many people found themselves in their homes a lot more than they had been previously. Many people invested in a new garden room or found themselves redecorating their outdoor spaces with modern furniture. Questions can quickly arise for those looking to redecorate their outdoor spaces. What size of furniture will be best for me? What materials are fair trade? What are the current trends with modern garden room furniture? We can answer all these questions here at The Fair Trade Furniture Company.
Fair Trade is a key part of our vision, so much so that we attached it to our name. We believe that everyone should be treated fairly and equally in the production of our furniture so that you can sit comfortably on sustainably sourced materials. The Bantul Range perfectly displays how fair trade is a key element of modern garden room furniture. Our valued partners use banana fibre to create our gorgeous wickerwork that you'll find on our "neat and petite" range. Banana fibre is a material that requires little water, energy and no extra space for its continued growth and, crucially, no chemicals. Although the initial growing period is long (about 18-24 months!), the continual growth after the initial harvest ensures that banana fibre is sustainable in its production.
Our ethical values are central to everything we do here at The Fair Trade Furniture Company. We are committed to respecting the people who make our furniture and the planet our materials come from. Modern garden room furniture should have sustainability and fair practice at the heart of its design. Those values are at the heart of our company.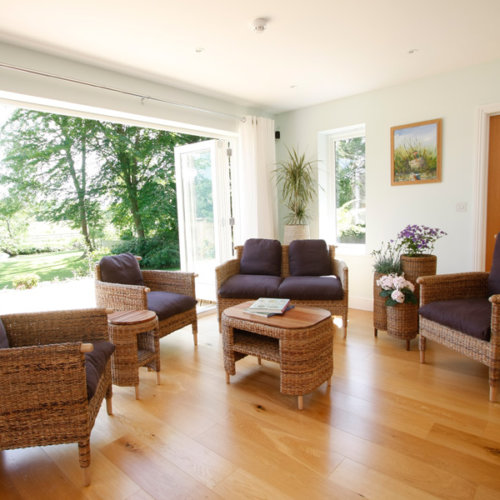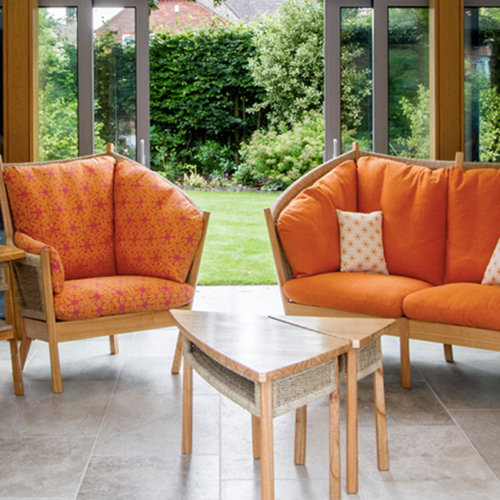 Modern garden room furniture, we believe, must also be contemporary in design. That begins with sustainable and fair trade materials and working conditions but extends to our products' shape, size, and versatility. Our flagship Semarang range displays our brand's unique and distinctive design. Tord Kjellstrom, a visionary Swedish designer, showed us the possibilities of modern garden room furniture when he told us about asymmetrical design. Our chairs in the Semarang range feature a high side and low side. The high side gives you that additional support to snuggle into. In contrast, the low side allows you to reach over to your cuppa easily.
The Semarang set also features traditional designs. We don't believe modern garden room furniture should completely do away with the tried and true methods. Slightly larger than those in the Bantul range, the symmetrical chairs, footstools, side tables, and sofas are extremely comfortable and ideal for a summer house, conservatory or outdoors under the sun.
Modern garden room furniture needs to be durable and weatherproof for those who want to sit under the sky. The cocoon style of our Jogya range is an extension of the high sides of the Semarang range, allowing you to nestle into the cuddle of these chairs. Swing a blanket around yourself, and you'll be wrapped up warmer and more comfortable than you could imagine. You can use your modern garden room furniture even on a cold rainy day!
We use durable and long-lasting materials in our furniture. Our rattan sets are hard wearing and able to withstand various weather conditions. Modern garden room furniture should be used in all situations, whether on a bright sunny morning or a windy and cloudy day. If you're looking to place your tables and chairs outside at some point, then our rattan sets are the way to go. Rattan is a highly durable material made for use in all settings. Therefore, it is perfect for those that like to move their furniture around.
Furthermore, we use durable fabrics for all our furniture here at The Fair Trade Furniture Company. These fabrics can eventually wear down with excessive exposure to wind and rain but are sturdy enough to handle most weather conditions. These are best kept inside a conservatory or modern garden room.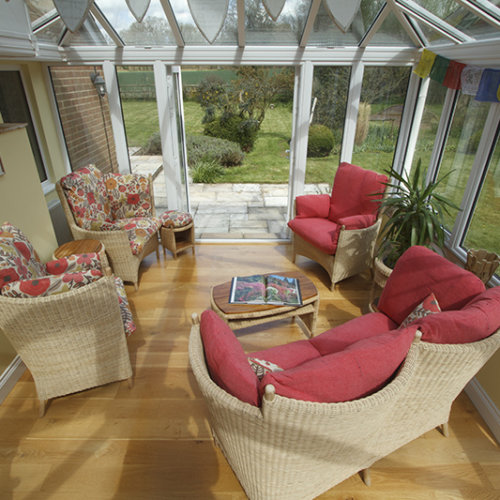 Fair Trade Furniture for the Modern Garden Room
At The Fair Trade Furniture Company, we consider ourselves to be at the forefront of all things sustainability, durability, and design of modern garden room furniture. Our Bantul range expresses our fair trade and sustainability values using banana fibre in their beautiful weaves. Our flagship Semarang range displays our garden room furniture's unique and modern design features. Our Jogya range expresses our commitment to versatility and durability using rattan material. We have something for anyone looking to redecorate their outdoor areas or garden rooms.
Feel free to explore our online shop to look at our prices and features across the various ranges. You can also contact us with any specific questions you may have. Please book a showroom visit if you want to see any of our modern garden room furniture in person! We would be delighted to show you around.