Successful training session completed. New recruit passes chair and sofa assemblage test with flying colours!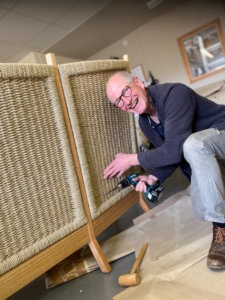 We are running a skeletal team at the moment but still trying to get orders out that were placed before the current crisis took a proper grip.
So Prue and I have been honing our production skills this last couple of days: it's safer for us to do this work ourselves at the moment rather than dragging other team members in and risking exposing them to carriers of the virus.
We started on Semarang chairs, and I dusted down my assembly experiences and ran an impromptu tutorial for Prue. Luckily for me she is an upholsterer (among many other talents) and a very practical woman. By the end  of Monday she was teaching me a few new tricks, and redeploying her upholstery tools to great effect on some rogue pieces of seagrass!!
Today we graduated to a much more significant challenge; a 3-seater Semarang sofa. Luckily for us it went together beautifully with no headaches or technical challenges along the way. That sofa is on its way to the Peak District next week along with 3 other orders!