October in Indonesia

I got the idea of coming to Indonesia for a whole month when I lost my wife in March this year. On previous visits I had always felt under time pressure to get back to the UK – because I am at heart a home-loving boy, not a natural adventurer: and although I enjoyed the visits, I was always in a hurry to get back to my darling Rachel and the comforts of the UK.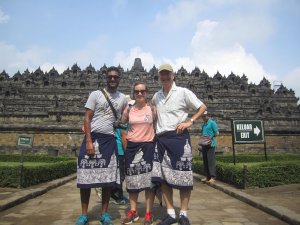 But when Rachel passed away, and I was struggling to find any positives in the midst of my grief, the idea of an extended trip took hold. I decided I had an opportunity to use my most unwelcome but new-found independence to see a bit more of the country where all our furniture is made. I also invited my daughter Julia and her husband Partho to come with me so that we could enjoy some time together exploring Indonesia. It seemed the right thing to do, and a potential source of healing for us all.
So I dedicate these thoughts and scribblings to Rachel, in the hope that she would have approved of this mini-adventure, just as much as she did of our overall furniture venture.
First impressions: "Heat, humidity, chaos…"
It's a long old journey to Semarang by air. Over 24 hours travel time, and 16 or 17 of those in the air, with stops in Dubai and Singapore. So when you eventually walk off the plane down to the tarmac at Semarang's small 'international' airport, the heat and humidity envelop you immediately. Big black clouds shrouded the hills behind Semarang, with puddles indicating a recent heavy downpour. The rainy season had started earlier than usual.
We queued in an orderly fashion for passport control, but had to purchase our visas and had no local cash. So the guy in charge of issuing visas escorted me out to the departure area to a cash-point.  That meant bypassing passport control. Can you imagine being allowed to do that at Heathrow?! (Excuse me Joe, I've got one here without any cash, I'll just take him to a cash point alright? Back in a jiffy!)
But at Semarang airport, bags are security checked on arrival (as well as departure), so I had to fight my way through the queue for baggage checking, figure out how to use the ATMs, then fight my way back in past the customs officials, before we could purchase our visas. Only then could we start the official process of passport control and getting our bags through security and customs.
So when we eventually got to the arrivals side, where my business partner Tommy and his driver were waiting, I was bathed in sweat. Then the real chaos started…
The parking and pick-up arrangements at Semarang airport have to be seen to be believed. I am recommending all students of transport planning have this as a case study of how NOT to do things. All cars and taxis coming into the airport follow the same circuitous route through the car park. Cars then park more or less anywhere off this route, so at any one time there are always cars trying to get into, and out of spaces. Then as they swing round and get nearer to the drop-off and pick-up areas, a few rows of parking spaces appear. This means that there are then 4 or 5 lines of traffic pushing to get to the front of the airport, to drop people off, and to collect arrivals, but at this point the road narrows down to a maximum of 2 lanes, most of which are obstructed by people parking up in the wrong place, then jumping in and out of cars… thus creating the log-jam of all log-jams!
To these insane bottle-necks, add a huge population of locals coming to leave or greet their loved ones, a furore of honking cars, a good dollop of shouting from taxi touts and uniformed traffic officials, the heat in the air, and the new smells of exotic food and people, and there you have it: your first alcohol-free mocktail of the holiday "Semarang sublime" (a.k.a. airport chaos!).
Welcome to Central Java!