What is Modern Furniture vs Contemporary Furniture?
Modern and contemporary are two words that are used a lot these days, often interchangeably. And that seems sensible at first – they both evoke the same sense of up-to-dateness and keeping up with the latest design trends. But if you delve deeper you'll find there is a key difference between the terms, and that's what we'll explore in this guide.
Here at Fair Trade Furniture, our innovative designs are perfect for all living spaces – from conservatories and summerhouses to garden rooms and, quite frankly, anywhere in the home where you want to be the most comfortable. Which, we're sure, is everywhere! That's why we often have our furniture described as modern because it combines style and comfort without having to choose between the two.
In line with the definitions above, our designs are firmly in the "contemporary" camp. Our innovative furniture was designed by Swedish visionary Tord Kjellstrom and features comfort-first designs that you won't see in many other places.
Our chairs and sofas, for example, have asymmetrical high and low sides. One side is higher, so you can nestle in and get cosy, while the other is lower, so you can easily reach for your drink or chosen reading material without any awkwardness or discomfort. Moreover, our furniture is available in some of the latest and most popular on-trend colours and fabrics to impress visitors and give your space the style you're looking for.
Nothing says contemporary like having everything you want in one perfect package. Now, there's no need to choose between comfy furniture and stylish furniture. You can enjoy the best of both worlds – indeed, every world – with our Fair Trade Furniture.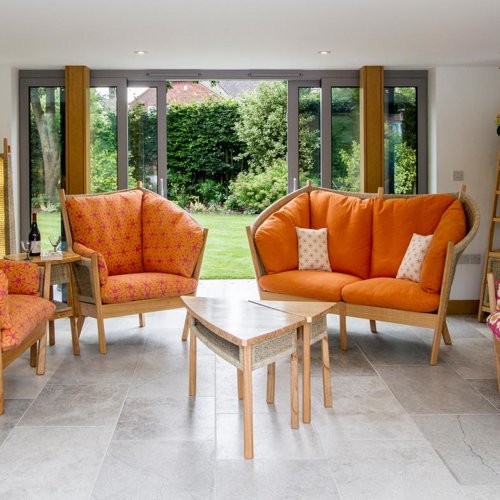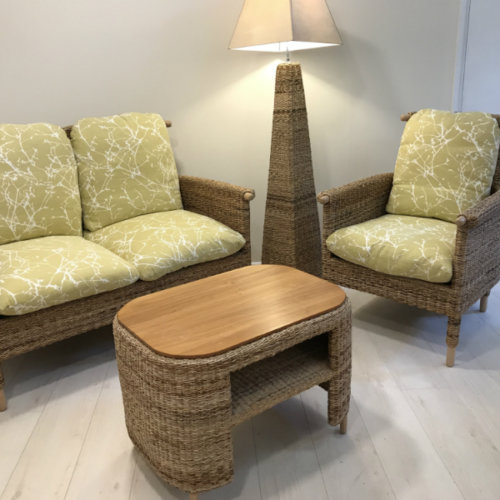 Modern & Contemporary Furniture
With so many satisfied customers across the country, we've had many excellent words used to describe us. We're sure a few have called us modern and contemporary, and we're not about to disagree with that! Whether you're using the architectural definitions or simply expressing your unfiltered positive feelings when sitting in one of our comfy chairs, we won't argue. The smile on our customers' faces when they try our furniture for themselves says more than words.
Look no further than our online shop for contemporary and modern furniture that's truly unique. You can browse a wide range of styles and pieces to see which is the right fit for your summerhouse, garden room or conservatories. Or, for more advice, you can contact our friendly team online or even arrange a visit to our Dorset showroom, where you can see a wide selection of pieces in situ. Sitting is believing!
Modern And Contemporary Furniture Online 
"Fair Trade" is at the heart of our processes and our products. Our manufacturing partners across the world help us to create stylish, comfy and innovative furniture that truly fills a gap in all kinds of conservatories, summerhouses and garden rooms – to make a house a home.
If you've been inspired, why not contact us today and see what we can do for you? You can reach us online or alternatively, arrange a visit to our Dorset Showroom. Get in touch today and let's add a modern or contemporary touch to your home.