Garden Furniture for Summerhouses
One of the main benefits of having a summerhouse is the easy accessibility between it and your garden. As a result, it makes sense to choose furniture that's as much at home inside as outside. 
That's what makes our summerhouse furniture such an excellent investment. Our stylish and modern furniture is as comfortable within the four walls of your summerhouse as it is in the great outdoors. 
In this guide, we'll take you through what makes the best furniture for gardens and summerhouses, as well as what sets our pieces apart from the rest. If you're ready to invest in your home, you can explore our online Shop or contact us for more information.
Garden Furniture for Inside Summerhouses
So you've got yourself a summerhouse – a gorgeous new space you can enjoy all year round, taking in the beauty of your garden while remaining warm and comfortable inside. All you need to do now is find the perfect furniture to fill it with. 
Here at Fair Trade Furniture, our summerhouse furniture is the ideal choice. Our three champion ranges – Semarang, Jogya and Bantul – each offer distinct advantages and bring a unique feel to your space, while providing exceptional comfort and quality across the board. What's not to love? 
Our flagship Semarang range is renowned for its asymmetrical designs that feature one side higher than the other. You'll always have a cosy corner to snuggle into, while your other side can easily reach down for your drink or a good book. Our Jogya range also offers the high/low design in some variations while wrapping you in a cocoon of comfort. And the Bantul collection is neat and petite, perfect for smaller spaces or for sitting more of your friends and loved ones in one place. 
The beautiful furniture we offer fits perfectly into all kinds of summerhouses thanks to the wide range of fabric options and styles. What's more, while they make an attractive feature in any interior space, they're just as much at home outside as garden furniture.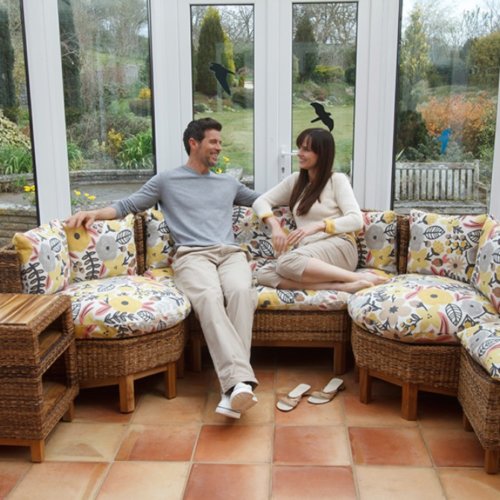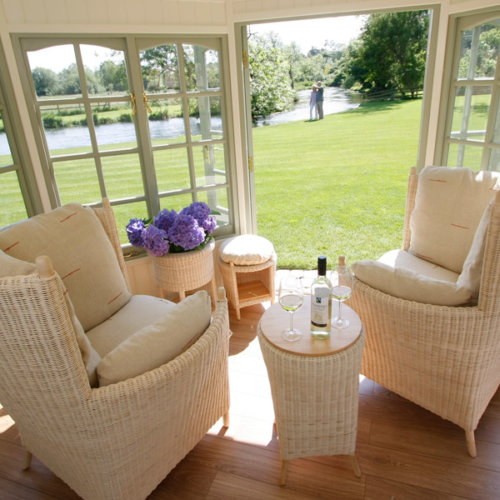 Garden Furniture for Outside Summerhouses
Picture the scene – it's a warm summer's day, and as comfy as you are in your summerhouse, you'd like to venture outside to enjoy the sunshine and fresh air. But you're almost too comfortable to move, so you want to stay seated once you're outside. Can your summerhouse furniture cut the mustard as garden furniture? 
At Fair Trade Furniture, it's a resounding yes! Our chairs and sofas are exceptionally high quality, handcrafted by our Fair Trade partners in Java, Indonesia. These are the real deal, made with love and built to last. They look striking inside and outside, and you'll sit comfortably wherever you are. 
It's here that we want to shine a spotlight on our Jogya range. This collection is made with rattan as a primary feature, making it more durable than many other options on the market. In pleasant weather, Jogya chairs are perfect for occasional outdoor use, as they're supremely suited to you and your home. 
At this point, we want to clarify that our furniture should remain indoors primarily. Our pieces are conservatory, summerhouse or garden room furniture at heart, so while they undoubtedly look great and are incredibly popular to enjoy out in the garden during pleasant weather, you wouldn't want to leave them out in the rain overnight. Plenty of care goes into their manufacture, so make sure you show the same levels of care at home. 
Conservatory Furniture Online & At Our Showroom
Fans of summerhouses, garden rooms and conservatories all across the UK enjoy the attractive and comfortable options available here at Fair Trade Furniture. Made with love and sure to impress friends and family who visit, they're the ideal choice to make an extra living space as comfortable as possible. 
Take this enjoyment further when you sit in our chairs and love them as garden furniture too. In pleasant weather, they're the perfect way to relax in the fresh air and sunshine in total comfort. 
Browse our online shop today to see the abundance of choices available and find the perfect fit for your home. Once you've made your choice, you can purchase online or contact us for more information. Additionally, you can arrange a visit to our showroom in Dorset to see and try our garden furniture for yourselves!